Want to find some of the best bear viewing in Alaska and the rest of the United States? Look no further than the national park system. The American national parks will provide some of the best chances you can find to see a brown bear, grizzly bear, or black bear in your lifetime (and even maybe a polar bear).
Some of the best bear viewing is in remote Alaska national parks near Anchorage such as Katmai National Park and Lake Clark, where visitors typically fly-in to their destination and cannot drive to or through the park. However, bears can be found in national park units across the United States, including iconic parks like Yellowstone, Yosemite, Great Smoky Mountains and Shenandoah.
Before we provide you a list, it is worth taking a moment to reiterate the importance of checking in with the park rangers at your destinations in the park system about food storage and bear safety. Having visited numerous parks with resident bear populations, we have received a variety of advice over the years tailored to keep us and the local bear population safe, including the minimum safety distance, that may vary between the parks.
Brown Bears or Grizzly Bears
In Alaska, all eight national parks have brown bears (or grizzly bears). Ninety-five percent of brown bears in the United States live in Alaska, with an estimated population there of approximately 32,000. Katmai National Park and Lake Clark National Park on the Alaska Peninsula southwest of Anchorage have large populations.
In the lower 48 states, there are only four national parks with brown bears or grizzlies. These parks are Yellowstone, Grand Teton National Park, North Cascades and Glacier National Park. All four parks contain the grizzly bear, a subspecies of brown bears that is found inland (without access to the ocean).
Approximately 700 grizzly bears are located in Greater Yellowstone, 300 are living in Glacier National Park and 10 or fewer live in the North Cascades. The North Cascades grizzlies are considered the most at risk bear population in North America, with the last verified sighting in 1996.
In Glacier National Park, grizzly bears are typically seen in Many Glacier Valley, Huckleberry Mountain or the Logan Pass area.
Black Bears
Seven of the eight national parks in Alaska have black bears, and across the entire state the population of black bears is estimated to be approximately 100,000.
There are approximately 1500 black bears in Great Smoky Mountains National Park. When we were there for a weekend in August, we saw the highest population of black bears while on the Cades Cove loop, though we also saw one on the Roaring Fork Motor Nature Trail and another along the roadside between Sugarlands Visitor Center and Newfound Gap.
There are approximately 200 to 1000 black bears in Shenandoah National Park. Bears in the early 1900s were nearly eliminated from the area, with an estimated bear population as low as 10 in the park in 1944.
There are estimated to be 500 to 650 black bears in Greater Yellowstone (including Grand Teton and Jackson Hole). This is slightly lower than the estimated population of brown bears
There are approximately 300 to 500 black bears in Yosemite National Park. We did not see any bears in the Yosemite Valley while we were here for three days in mid-June. Several hundred black bears are also estimated to live in the nearby Sequoia and Kings Canyon National Park units.
Olympic National Park has a population of black bears high enough that people frequently see them. There is also a significant black bear population in the North Cascades, and a handful in Mount Rainier National Park. The population of black bear in Washington state is estimated to be as high as 25,000 or 30,000 overall.
In other areas, there is less likelihood of seeing a bear because the population is lower. However, that does not mean that you can take them for granted and not prepare for such an encounter. There are a believed to be a couple dozen black bears in Rocky Mountain National Park and Guadalupe Mountains National Park.
They can even be found in Everglades National Park, with some of the state's Florida black bear population located in the everglades.
Polar Bears
This is the one bear that you are not likely to find in a national park. There are only two national park units where polar bears live where their home range extends into the park boundary, and neither one has the national park designation. These two units are Bering Land Bridge National Preserve and Cape Krusenstern National Monument. The polar bears typically live on the nearby ice flows and on occasion range into the parks. In the United States, polar bears are believed to be found in the wild only in Alaska, with a population of between 4000 and 7000 estimated bears.
There is a higher population in the Canadian High Arctic, where there are approximately 15,000 polar bears. Churchill, Manitoba is one of the best places in the world to see them. If you are committed to seeing one in the United States, try Kaktovik in Alaska.
Glacier Bears
The rare glacier bear (aka blue bear) can be occasionally found among the glaciers in Glacier Bay National Park. They are a type of black bear with blue or grey fur.
World Class Bear Viewing Areas in the United States:
Brooks Falls Bear Viewing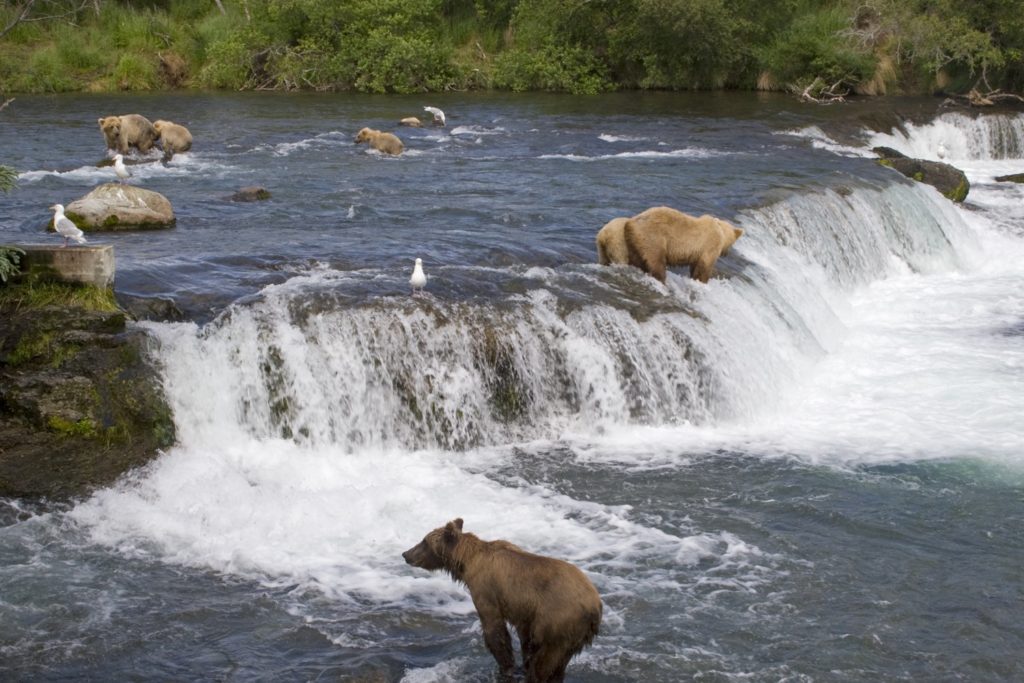 Brooks Falls is the most popular destination in Katmai National Park This is one of the most famous places to watch bears in Alaska, and perhaps the world, with brown bears congregating there in July to feed. There is a waterfall located on the Brooks River a mile and a half from Brooks Lake which slows the spawning migration of the salmon there.
Chinitna Bay Bear Viewing
Chinitna Bay is one of the world's best bear viewing sites. It is located on the southern end of Lake Clark National Park. The bears congregate in the estuaries from early spring until fall, and can be seen eating sedges or clamming there. The sedges grow in the salt marshes and the clams are found year round in the tidal flats. There are three bear viewing sites there.
Hallo Bay Bear Viewing
Hallo Bay is located on the Pacific Ocean coast near Afognak Island and is usually reached from either Homer or Kodiak. There is also an eco-friendly wilderness camp located in the area. The grizzlies can be seen there from June through September.
Best Alaska National Parks for Bear Viewing
Katmai National Park Bear Viewing
Brooks Falls and Hallo Bay offer world class brown bear viewing in Katmai.
Lake Clark National Park Bear Viewing
One of the most popular destinations for Lake Clark bear viewing is Chinitna Bay, which can be accessed by boat from the Homer area or by float plane from numerous local communities. Crescent Lake and Silver Salmon Creek are two other popular bear viewing areas in Lake Clark National Park. Silver Salmon Creek is located on Cook Inlet northeast of Chinitna Bay. Crescent Lake is located north of these locations ab
Denali National Park Bear Viewing
Denali is the home of grizzly bears, one of the big five mammals that park visitors hope to see. Denali bears are active all day during the summer. According to one report of a survey of shuttle buses about wildlife viewing in Denali from 1999 to 2011, most passengers that went to Eielson and beyond saw at least one grizzly bear. The Sable Pass area at mile 39 and the surrounding area from miles 37 to 43 in particular is grizzly bear country, with this area permanently closed to humans (other than the buses and road surface).
Glacier Bay National Park
The shores and islands of Glacier Bay are known more for their glaciers than their bears, but they offer the prospects of the rare glacier bear (aka blue bear). The glacier bear is a mutation of brown bear with blue or grey fur that surely proved valuable to hide the creatures among the glaciers. They are from time to time seen in the park as well as Tongass National Forest and the Juneau area. The coastline of Glacier Bay offers the prospects of seeing other bears, but not likely in the concentrations of Brooks Falls or Chinitna Bay. However, they are a bit more accessible, as they can be seen from a Glacier Bay cruise rather than require an air taxi to reach the destination.
Other Top Alaska Bear Viewing Areas:
Anan Creek Bear Viewing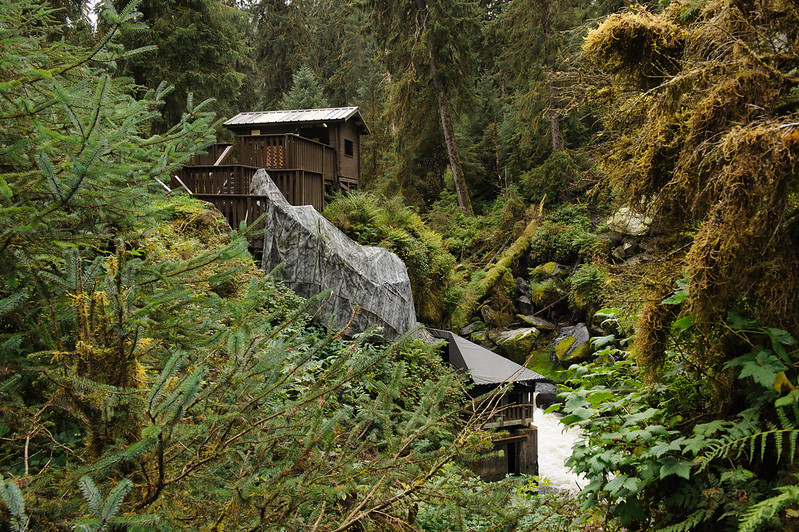 Photo Credit: Forest Service photo by Mark Meyer
Anan Creek is a world class bear viewing site as the creek holds one of the largest runs of pink salmon in Southeast Alaska. It is located in Tongass National Forest in Southeast Alaska around 35 miles south of Wrangell. Both black and brown bears feed on the salmon migration here, though black bears are the main attraction. Day use permits are required during the peak season of July 5-August 25. From the landing area for floatplanes, it is a short hike to the viewing platform.
Pack Creek Bear Viewing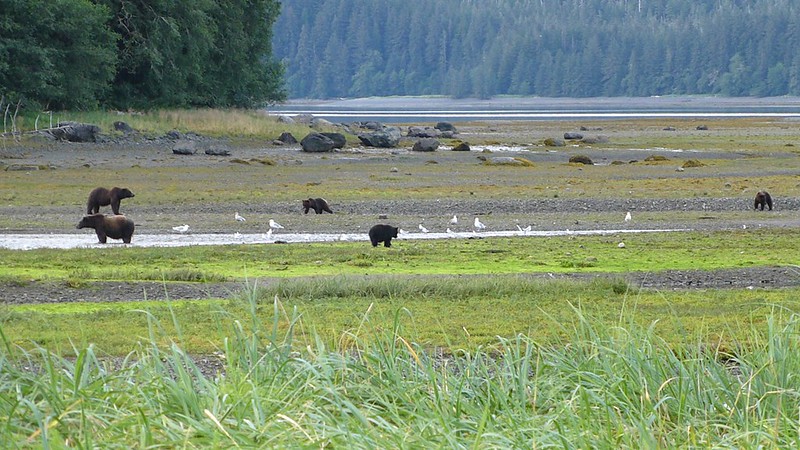 Pack Creek is located on Admiralty Island in Tongass National Forest and is co-managed by the US Forest Service and Alaska Department of Fish and Game. The island is home to around 1500 bears, a healthy population of approximately one bear per square mile. The viewing area known for its coastal brown bears is a thirty minute plane flight from Juneau. It is in a Wilderness Area, with no facilities or bathrooms. A permit is required to visit the area between June 1 and September 10.
The bears gather there for the spawning of pink and chum salmon starting in the first week of July. The headwaters of Pack creek start about 4000 feet above sea level and descend to the upper Seymour Canal. Sediment at its mouth has created a 400 acre estuary where the mudflats also serve as another source of food for the bears.
McNeil River State Game Sanctuary
The Alaska Department of Fish and Game calls this the largest known gathering of brown bears in the world. The sanctuary is located on the northern border of Katmai National Park and protects about 200 square miles. The bears are initially drawn to the area by the red (sockeye) salmon run up Mikfik Creek, and then even more gather at McNeil Falls and the McNeil River for the chum salmon spawning migration which starts in early July and peaks in late July. The spawning concludes by mid-August. Visitors for the bear viewing period between early June and late August must apply for a four day permit. Most visitors fly from Homer to the McNeil River area and camp at an established campground with a nearby cabin for cooking. The sanctuary is about 100 air miles west of Homer and 250 air miles southwest of Anchorage.
Fish Creek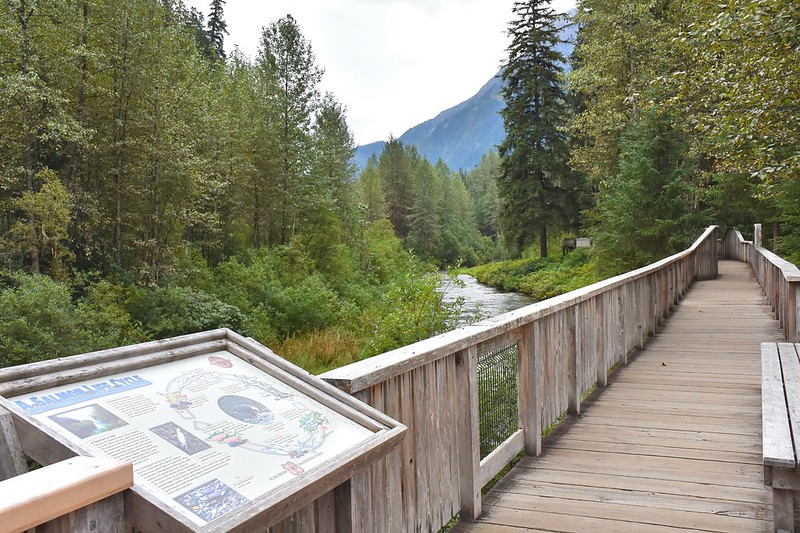 Forest Service photo by Paul A. Robbins
The Fish Creek Wildlife Observation Site is a day-use recreation area in the Salmon River valley near Hyder, on the border between Alaska and British Columbia. Brown bears and black bears can be seen at Fish Creek from mid-July to early September as they feed on chum salmon and pink salmon. There is an elevated viewing platform around 1/4 mile long along the bank of Fish Creek to allow visitors to observe and photograph the bears. Fish Creek is in the southeast corner of the Tongass National Forest. There is no waterfall here to congregate the bears here, but this is the only Alaska bear viewing site accessible by highway, as it is connected by road to the Canadian Highway system. It is three miles north of town accessible by a dirt road, and a 41 mile trip from the Cassiar Highway at Meziadin Lake Junction.
How to See Bears in the Lower 48 National Parks
You do not have to go to Alaska to see bears. We have seen around a dozen bears in our trips to national parks in the lower 48. From Yellowstone to the Great Smoky Mountains and Shenandoah National Park, we have seen them across the United States.
Our first wild bear was seen in Yellowstone at the beginning of our national park vacations. We saw a number of cars on the side of the road and people were looking off into the distance. We quickly pulled off the road and found what they were looking at – a mother bear and cub.
Since then, we have found that one of the best ways to find bears is simply to drive around in areas of the parks whether there is a high enough concentration to be lucky and come upon them. And when we see a car on the side of the road, we slow down and look closely as they may be looking at a bear.
Once you have been to Yellowstone, you will be familiar with this technique, as if you are there long enough you are likely to see a "bear jam" at some point. Our biggest bear jam was not at Yellowstone however – it was at Cades Cove in Great Smoky Mountains National Park. At Yellowstone, the park rangers eventually come along and move either the bear or the people along.
Cades Cove has a stretch of one lane, one way road for miles through the area. About midway through the loop, we saw our first black bears eating in the trees. It was our first bear jam of the day, but shortly after, we moved on to an area where there was a mom and two cubs which were just off the road and really stopped traffic. Despite a park ranger or volunteer trying to keep the cars moving, the traffic was not moving. It took almost an hour to reach a spot where we could park.
So the next time you get to a traffic jam in a park, you will know to look around for bears!