Imagine the beauty of the Hetch Hetch Valley as you explore the rest of Yosemite National Park including Hetch Hetchy Reservoir and the O'Shaughnessy Dam, 15 miles to the north of Yosemite valley.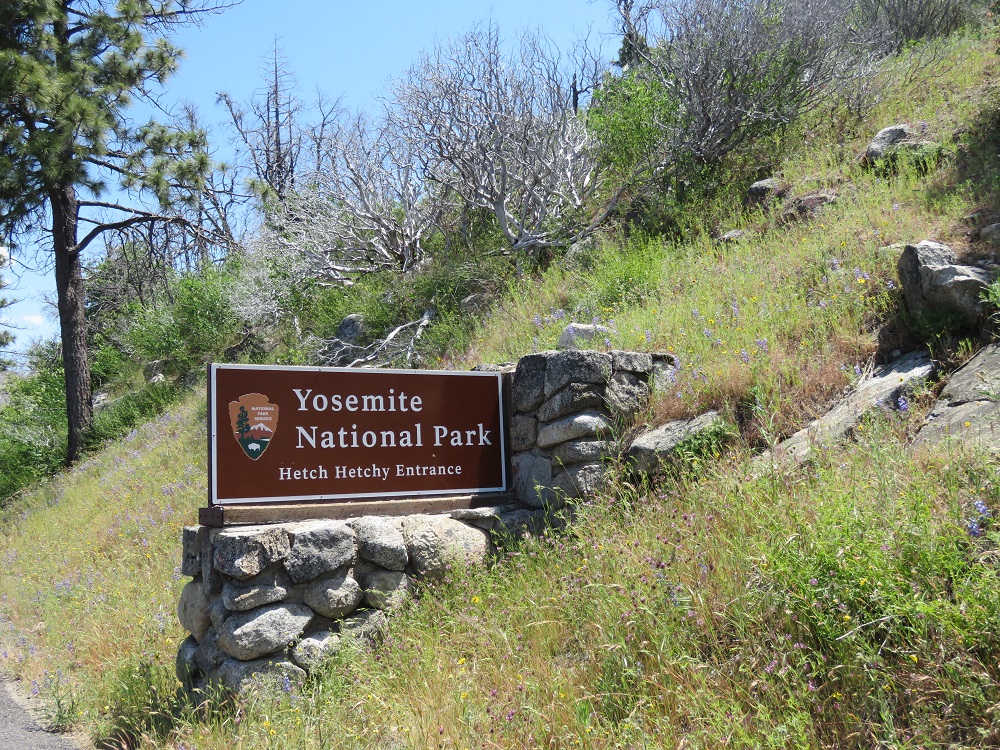 Hetch Hetchy Dam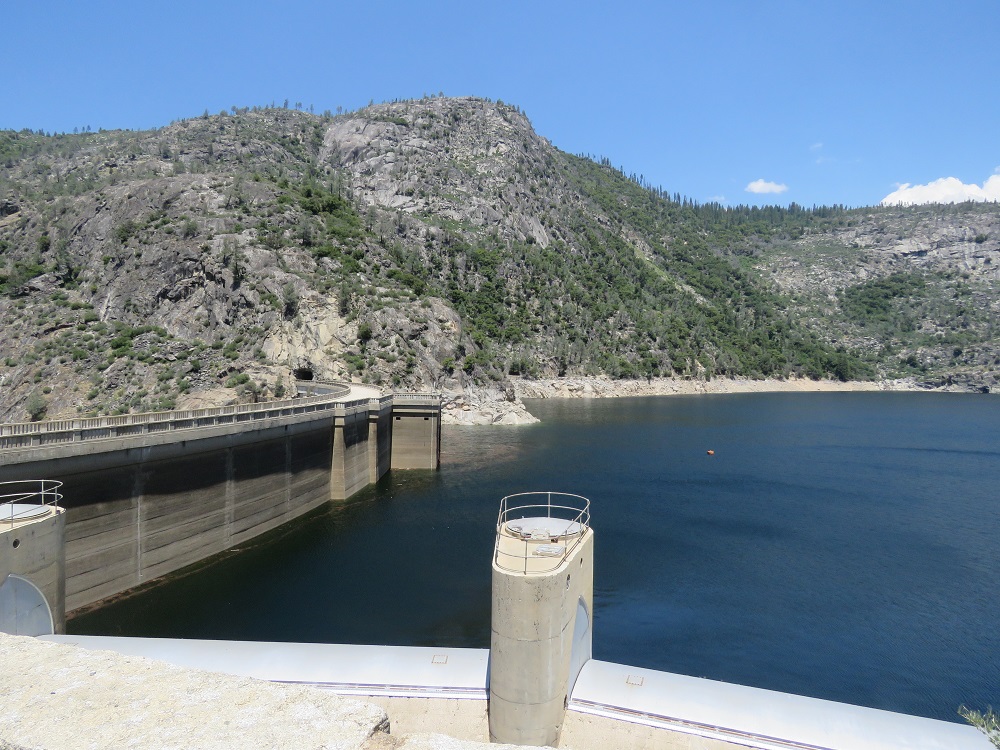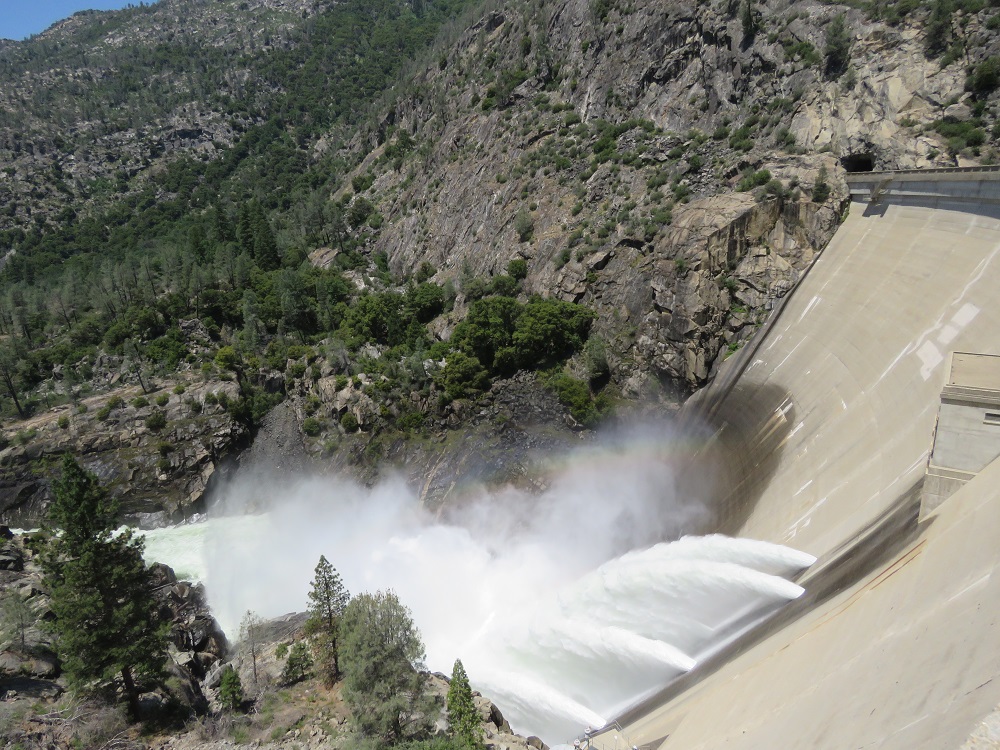 The O'Shaughnessy Dam is a 430 foot high concrete arch-gravity dam that impounds Tuolumne River and formed the Hetch Hetchy Reservoir. Construction began in 1919 and was completed in two phases. It was initially completed in 1923, and later raised in 1938. Visitors can walk across the dam to explore and pass through the mountain tunnel on the other side to continue on the hiking trails through the area.
Hetch Hetchy Reservoir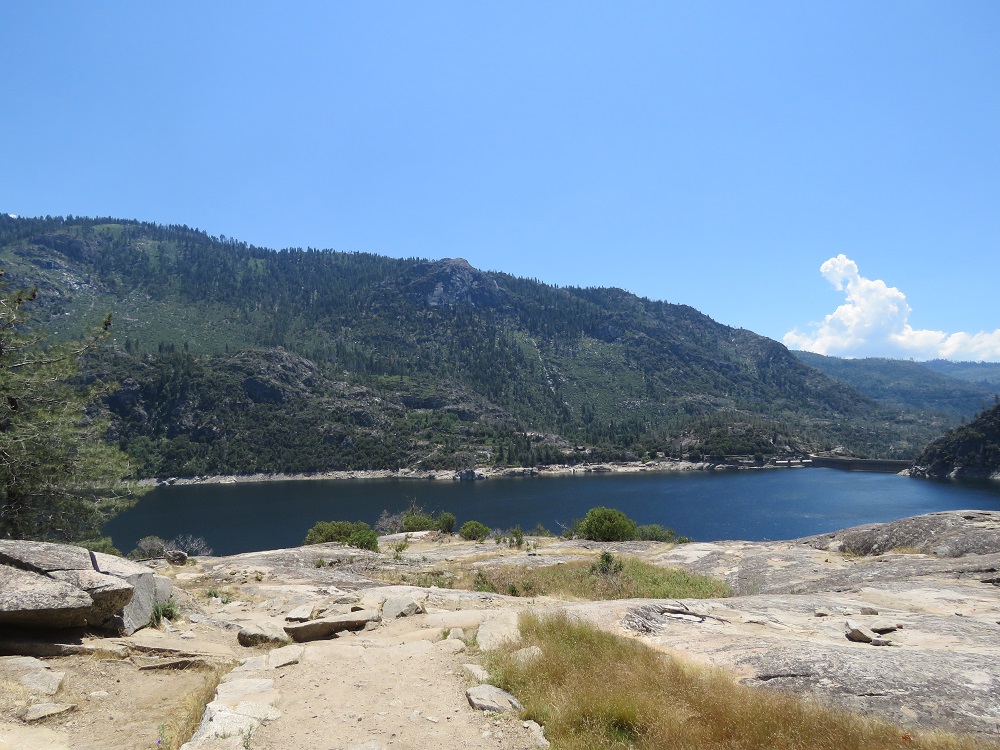 The reservoir is eight miles long, with an approximate surface area of under 2000 acres and a maximum depth of 306 feet. From the reservoir, diverted water travels 160 miles via gravity to the Bay Area, where it is the major source for all of San Francisco's water needs. The reservoir is surrounded by Kolana Rock on the south side and Hetch Hetchy Dome on the northside.
Hetch Hetchy Waterfalls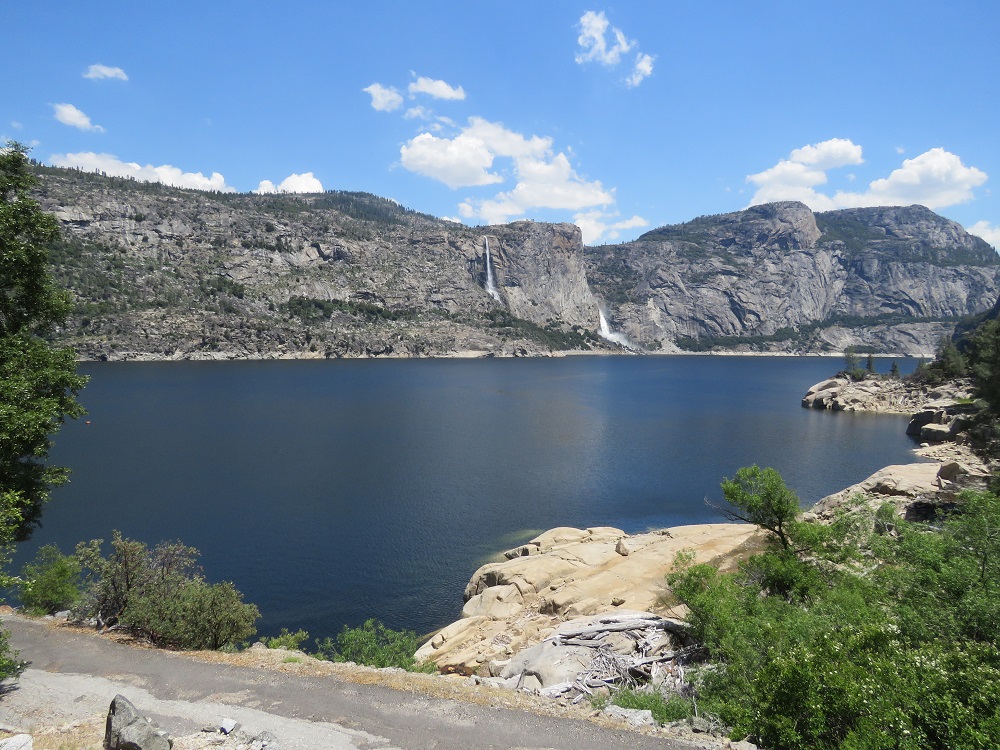 Tueeulala Falls and Wapama Falls are located on the north side of the reservoir and were visible from both on the drive into the area as well as from the dam. A hiking trail on the north side of the reservoir takes visitors past these waterfalls. In the spring,
Hetch Hetchy Fishing
Fishing is permitted year-round in Hetch Hetchy Reservoir, and part of the year in Tuolumne River and area streams. However, since no boats are permitted on the reservoir, it requires fishing from the shoreline. We did not go fishing while we were here, but the one thing that you should know if you are planning to do some fishing there during your trip is that the trail around the lake from the dam to the falls runs well above the reservoir's water line. You will have to figure out a way to get down to the shore, and that did not look easy while we were there – (other than just off the road right in front of the dam). If you do spend the time there to get down, it may be worth it though! There are some great wild fish shown on Youtube videos from people who went fishing there.
Hetch Hetchy Camping
There is a backpackers campground near the overnight parking area. If you have a wilderness permit, you can spend one night there before and after your hike. The payment fee of $6 per person may be paid in cash using envelopes at the campground.
Hetch Hetchy Valley History & Controversy
This glacier carved valley which was said to be as beautiful as Yosemite Valley 15 miles to the south was the subject of an intense debate at the beginning of the 20th Century over whether this section of the national park should be used to provide water to San Francisco. In 1913, President Woodrow Wilson signed the Raker Act to permit it to happen. The O'Shaughnessy Dam was completed as a result and the valley filled with the Hetch Hetchy Reservoir. To this day, there is a struggle to return Hetch Hetchy to its natural state by removing the dam. A lawsuit from 2015 to 2018 sought to restore the valley, but was ultimately unsuccessful. A report produced in 2019 estimated that the valley could be worth $100 billion if the reservoir was drained and the valley restored.
Tuolumne River
FREQUENTLY ASKED QUESTIONS
How far is Hetch Hetchy from Yosemite Valley?
Hetch Hetchy is located about 40 miles away from Yosemite Valley. The drive takes about 1 hour and 20 minutes to complete, without traffic. It may take longer when the park has a high number of tourists, or there is construction on the road (as there was when we were there).
Can you kayak Hetch Hetchy?
Swimming and boating are not permitted in Hetch Hetchy Reservoir, since it is used as part of the San Francisco water supply. A bill was recently considered by the U.S. House of Representatives to allow limited boating, such as canoeing and kayaks, on the reservoir, but the legislation failed. There was concern that the pure water that supplies San Francisco might be contaminated.
Is Hetch Hetchy worth visiting?
We made the hour long drive to Hetch Hetchy after checking out of our lodging in Yosemite Valley when we were vacationing in Yosemite and Sequoia. We had hoped to spend the day exploring the road to Tioga Pass, the eastern entry point to Yosemite National Park. However, the pass was still closed when we were there in mid-June due to a heavy snowfall, so we did not have that option. Rather than head to Kings Canyon and Sequoia a few hours earlier, we decided to make a stop at Hetch Hetchy. The reservoir is bright blue and beautiful on its own, and the picturesque overflowing spring Hetch Hetchy waterfalls take it to a whole new level. We had planned to merely stop here for a short period of time, but ended up taking a hike around the lake to the waterfalls. We had a great time (other than the fact that we forgot to take enough water), and it is a hike that we remember to this day.
If your time in Yosemite National Park is limited, you may be wondering whether Hetch Hetchy is a must do during your trip or can be safely postponed until next time. We only had a few days in Yosemite Valley, and it was a fantastic part of it. But it will take at least four hours out of your trip, and there are plenty of other things to do in Yosemite. So where should Hetch Hetchy be on your priority list?
Hetch Hetchy is truly beautiful, and if you are planning a week long in Yosemite National Park, should definitely be on your list. This is particularly true for people who love history and conservation stories, of which Hetch Hetchy has a unique past. You will be standing on the dam marveling at what the Hetch Hetchy Valley would have looked like if the dam had not been constructed and it was not flooded. However, there are plenty of other things which should probably be higher on your list if you only have two or three days around Yosemite Valley. Exploring the valley and the surrounding area (whether a Half Dome hike or easier to reach overlooks such as Taft Point and Glacier Point) will be highlights of the trip. If you have more time, then consider Hetch Hetchy!