The closest Yellowstone National Park airport options are in Jackson WY and Bozeman MT. If you are looking for a larger Yellowstone airport, try Salt Lake City which lies six hours to the south of the park.
More than four million people visit Yellowstone National Park every year, with half of visits occuring in June, July and August during the peak summer vacation system. This creates substantial demand for Yellowstone flights among those people who live too far from the park to drive.
When we booked airline tickets to Yellowstone a few years ago, we actually used Denver airport. We had a family event in the area and drove from Denver with stops in Estes Park (Rocky Mountain National Park), Jackson Hole (Grand Teton National Park) and then Yellowstone. The drive to Yellowstone from Denver can be done in less than 10 hours in the car. However, the Denver airport is by no means either the closest airport or major metropolitan area. Here are a few that are closer if the purpose of your trip is a Yellowstone vacation – be sure to comparison shop for the best price and cheap flight:
Jackson Airport
Jackson, Wyoming is the main airport for Grand Teton National Park, located about two hours south of Yellowstone. It is served by popular airlines such as American, Delta, Skywest and United. The Jackson Hole airport is the busiest airport in Wyoming with a couple hundred thousand passengers per year. Flying in to Jackson Hole has the additional benefit of enabling a visit to Grand Teton and Bridger-Teton National Forest.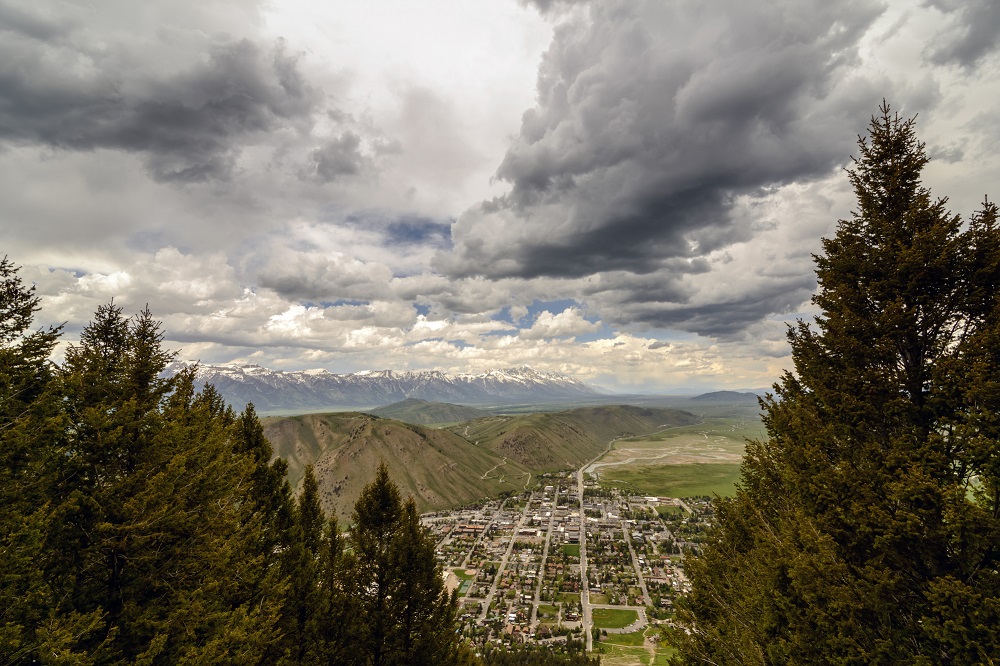 The above is an aerial view of Jackson. Can you imagine starting your summer vacation with a flight into a city with such beauty?
Bozeman Airport
Bozeman Yellowstone International Airport with airport code BZN is located north of the park in Montana. The airport now serves more than 1.5 million passengers a year. In 2018, Money Magazine ranked BZN as the #5 best airport in the United States.
Salt Lake City Airport
Salt Lake City, Utah is the closest major metropolitan area to Yellowstone National Park. The Salt Lake City International Airport is located approximately 6.5 hours and 350 miles from the park. About 4 miles west of the downtown area, the SLC airport serves more than 25 million passengers a year. It is a major hub for Delta Air Lines and one of the top 25 busiest airports in North America.
Driving vs. Flying to Yellowstone
Yellowstone is a classic summer vacation road trip destination. If you have never been to Wyoming, it is a beautiful place. However, getting to Yellowstone by car can eat up a substantial amount of your vacation. Plus, Yellowstone is a large place so you are already going to lose a substantial amount of time driving around there. Flying can get you to the park faster, and give you more time to see the sights of the park. The drawback is that it will definitely cost you more, as there is not a close major metropolitan airport. So you have to carefully weigh the pros and cons of your travel options between flying and driving.