Shoshone Lake is the second largest lake in Yellowstone National Park and may be the largest backcountry lake in the lower 48 states. It is located in the southwest section of the national park. The lake had five or six names in the 1800s, before Frank Bradley of the second Hayden Survey gave it the name Shoshone Lake.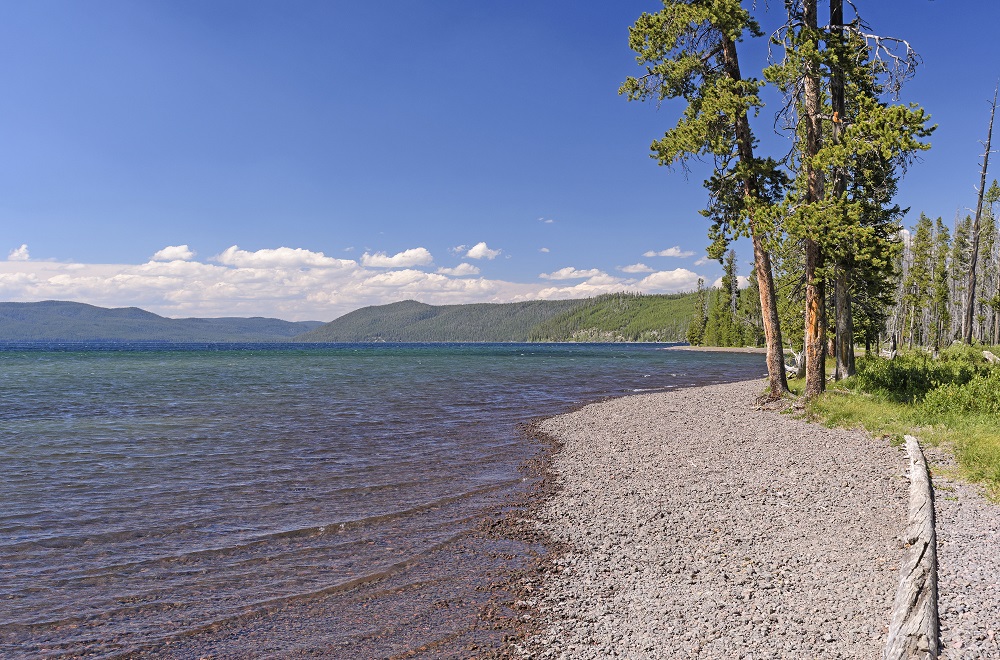 How to Get There
There are no roads that go to the lake, but Shoshone Lake can be reached by several hiking trails. One option is the 6 mile out and back DeLacy Creek Trail, which departs from the trailhead 8.8 miles west of West Thumb Junction. It follows DeLacy Creek south. There is a parking area at the trailhead. The creek and trail were named for Washington DeLacy, the leader of an expedition through Yellowstone in 1863. The north shore of Shoshone Lake has black sand beaches of obsidian.
Another option to reach Shoshone Lake is the Dogshead Loop Trail. It is an 11 mile loop that includes the north shore of Lewis Lake and the Lewis River Channel. The trailhead for the loop is located off the South Entrance Road on the north side of Lewis Lake.
No motorized boats are allowed on Shoshone Lake. Canoes and kayaks can reach the lake by Lewis Lake and the Lewis River Channel. The boat launch on Lewis Lake is on the southeast corner. The Lewis River Channel is in the northeast corner of Lewis Lake, and is the only river where boats are permitted in the park. After it becomes too difficult to continue upsteam, boats are portaged or dragged through the cold water of the creek the rest of the way.
The only place that the park service recommends attempting to paddle across Shoshone Lake is the Narrows. Open water crossings are dangerous due to high winds and storms. The cold water temperature makes capsizing in the waves perilous.
Permits are required for all boating on Shoshone Lake as well as all overnight trips to Shoshone Lake. It appears there are around two dozen backcountry campsites around the Shoshone Lake area.
Fishing
Fish were introduced into Shoshone Lake in the 1890s. It is believed to have been without fish prior to 1890, when lake trout and brown trout were introduced. There are restrictions on fishing, including a license requirement and the use of only flies and artificial lures – please check with the park service for details.
Ice out usually happens around mid-June, when the water temperatures are still barely above freezing. Water temperatures rise into the low 60s by late summer / early fall.
Lewis River
The Lewis River runs from the outflows of Shoshone Lake to Lewis Lake and then eventually flows into the Snake River. It is 18 miles long and runs entirely within the boundaries of Yellowstone.