Jones Lagoon in Biscayne National Park is an area south of Elliott Key and Adams Key which contains a number of lagoons, creeks and channels lined with mangroves. It is a part of the paddle eco-adventure run by the Biscayne National Park Institute. Old Rhodes Key and Totten Key surround the lagoon, and Key Largo sits a few mile south.
We did the full day trip with the Biscayne National Park Institute – The trip to Jones Lagoon came in the afternoon after we stopped at Adams Key for lunch. Jones Lagoon is closed to motorized vehicles. Our boat was parked outside the zone and we paddled in to the area.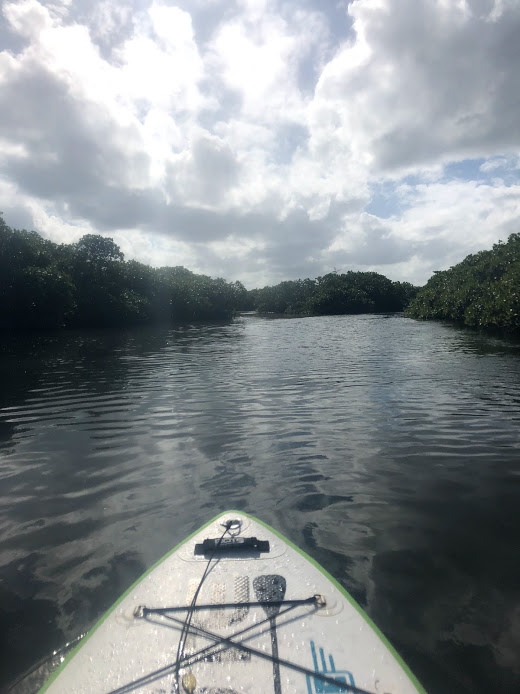 We made our way down to Jones Lagoon for exploration on inflatable paddleboards provided by the Institute. Our guide led us around and it turned out to be a beautiful and serene day on the water. We would have been totally lost in the area for quite some time without the guide.
Jones Lagoon is listed on the Biscayne Birding Trail location. It is a good area to see wading birds and nesting colonies. We saw plenty of birds over the course of our boat trip but we really did not see any while we were on the paddleboards. We were probably so busy enjoying the water and paddling that we just missed them.
When we got into a particularly quiet area, we stopped and enjoyed the beautiful day for a while. There were jellyfish in the area and our boat captain / guide helped us to touch a jellyfish in the water.
Jones Lagoon is shallow and also considered to be a great place to see rays and schools of fish. We have also seen pictures of sharks that were in the shallows of the area.
Both sides of the channels here were lined with mangroves. We were able to examine them up close earlier in the day when we were snorkeling, and paddling through them was quite serene. Seeing them up close in Biscayne National Park took a little bit of the thunder away from the mangroves that lined the canal on our Everglades National Park boat trip the next day.
You do not need to be a part of a guided trip to enjoy the area. If you have your own boat, you can anchor near Jones Lagoon and paddle in on your own kayaks or stand up paddleboards. The National LPark Service provides GPS coordinates on its website for locations to anchor a boat. Be sure to tell someone where you will be and when you will return in case you get lost in the mangroves.