Stiltsville is a community of wood stilt houses located in Biscayne Bay about one mile southeast of Cape Florida. Stiltsville is located in the northern section of Biscayne National Park.
Stiltsville can be seen from Bill Baggs Cape Florida State Park. Bill Baggs is at the south end of Key Biscayne in Miami Dade County. The park also houses the Cape Florida Light lighthouse, which marks the deepest natural channel into Biscayne Bay. There has been a lighthouse on the site since 1825 and the present version dates back to 1878.
Stiltsville can be seen from walking down the trail to the bay from the lighthouse. The first were built in the 1930s and there were 27 in the community at their peak in 1960. The houses are abandoned and the area was deeded by the State of Florida to the federal government as part of Biscayne National Park in 1985. Seven buildings remain since Hurricane Andrew in 1992.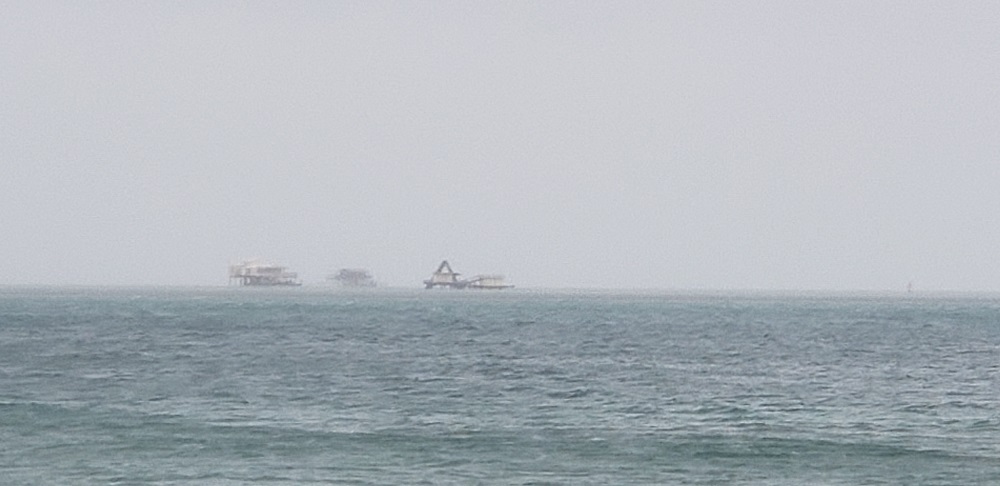 Bring binoculars or a powerful telephoto lens to have a better view of Stiltsville from shore. However, since they are located in the middle of the water over a mile away, it is tough to pickup much detail. We used my Samsung Galaxy Note 10 to capture a few pictures despite the rain and clouds.