Bear Lake is a scenic alpine lake in Rocky Mountain National Park at the end of Bear Lake Road. It is a popular destination and trailhead for scenic Rocky Mountain National Park hikes. It is past Glacier Gorge Trailhead, which serves as the starting point for the hiking trail to Alberta Falls and The Loch. There is a separate parking area for Bear Lake.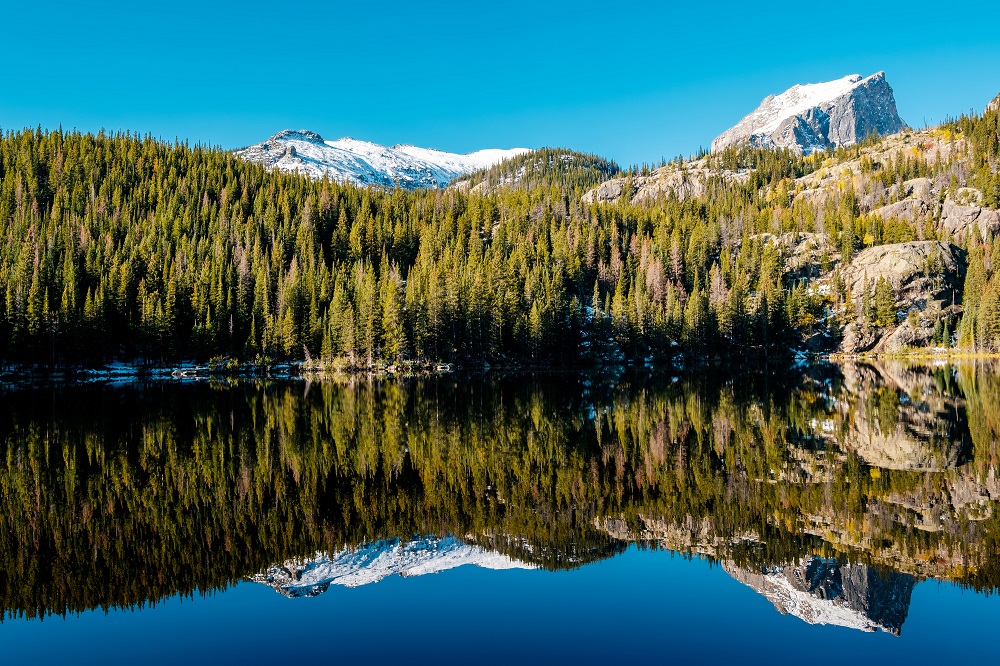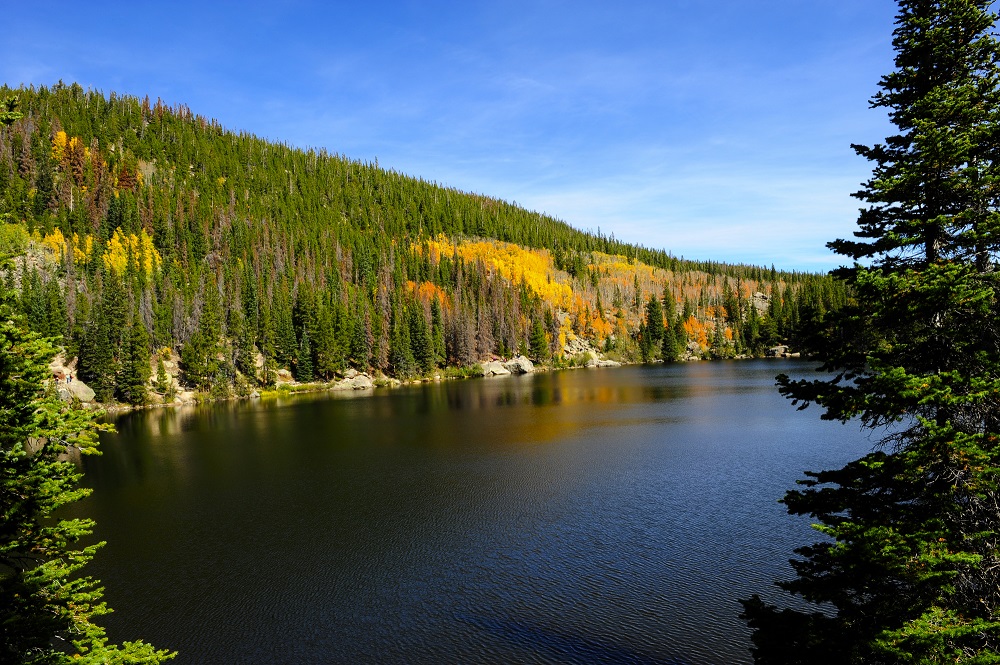 Due to the popularity of the Bear Lake Trailhead, you should plan to arrive early in the morning or consider the park shuttle when it is running, typically from late May to mid-October. The Bear Lake Shuttle runs from the Park & Ride to the Bierstadt Lake Trailhead, Glacier Gorge Trailhead and Bear Lake. It departs every 10-15 minutes from 7 AM to 730 PM.
Nymph Lake
Nymph Lake is reached by a one mile out and back trail from the Bear Lake Trailhead. If you choose not to stop and turn around, the trail continues to Dream Lake (a popular destination for cutthroat trout fishing) and splits there with options for Emerald Lake and Lake Haiyaha.
Dream Lake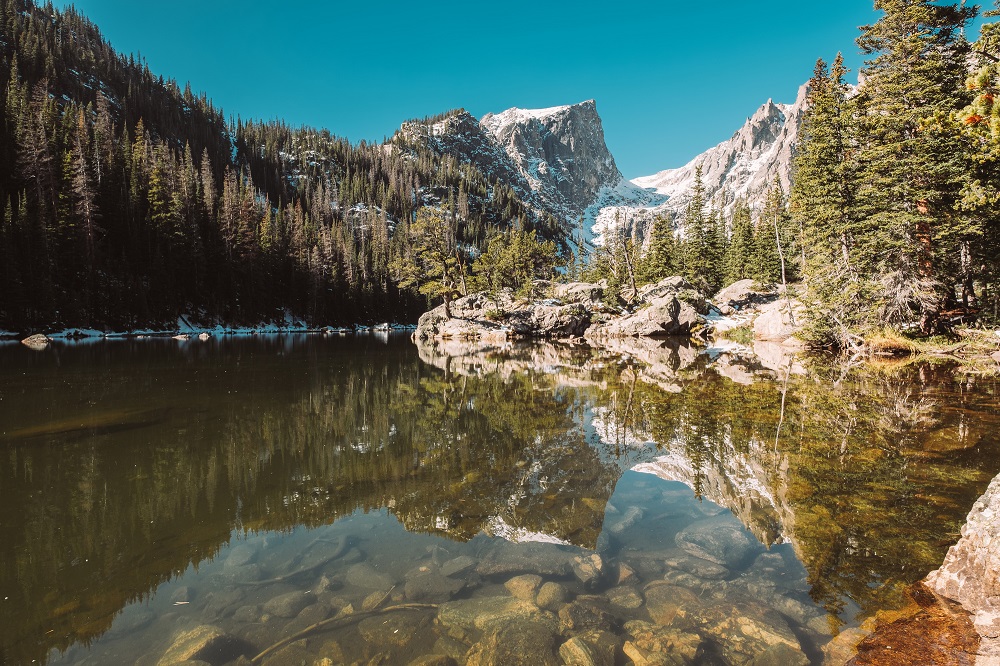 Dream Lake is a popular alpine lake destination in RMNP. It sits at an elevation of 9905 feet above sea level. Steep cliffs circle the lake, which is known along with Emerald Lake for their blue-green waters. Dream Lake is a 2.2 mile roundtrip hike from Bear Lake.
Emerald Lake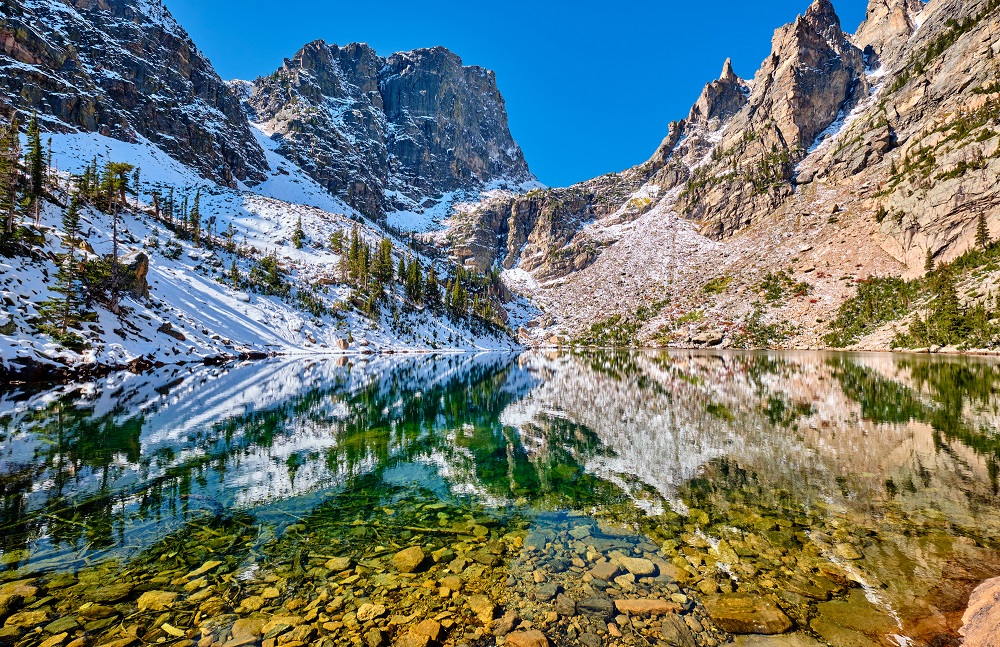 The hike to Emerald Lake is a 3.6 mile roundtrip hike from the Bear Lake Trailhead. It sits at an elevation of 10,110 feet and provides hikers with views of Hallett Peak and Flattop Mountain.
Lake Haiyaha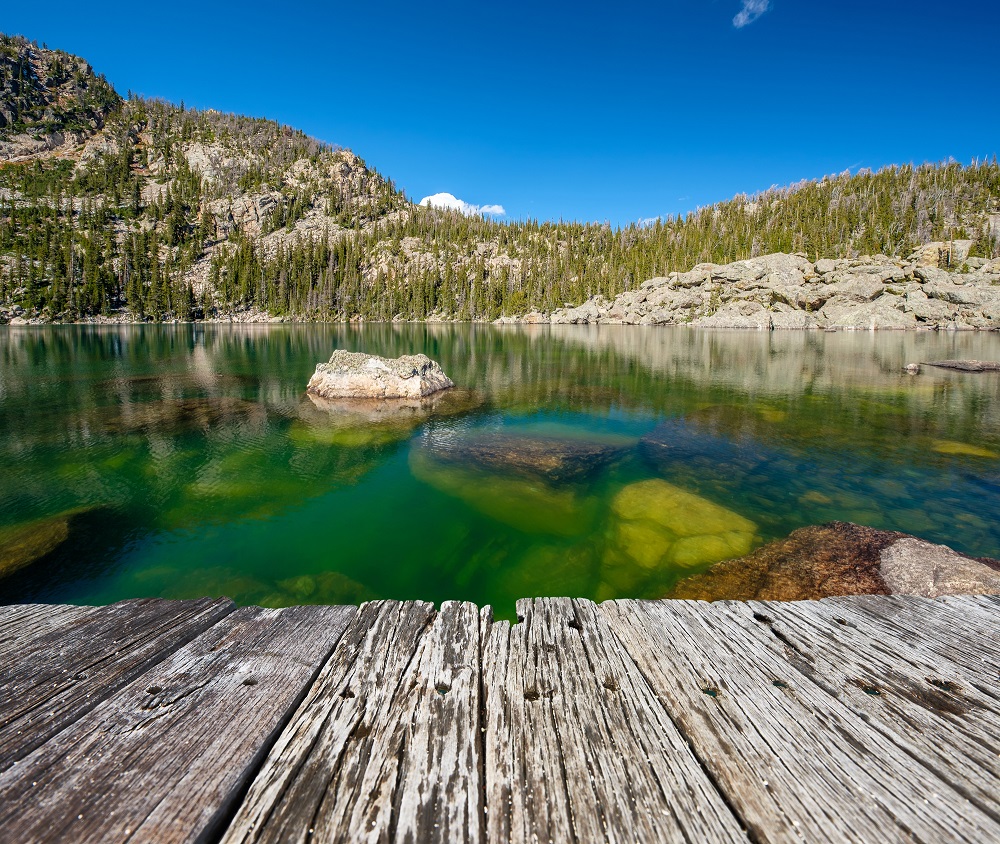 This is a boulder-filled alpine lake known for the large boulders that compose its shoreline. The trail to Lake Haiyaha starts at Bear Lake and passes by Nymph Lake and Dream Lake. For a longer and more difficult hike, you can proceed past Lake Haiyaha and loop down back toward Alberta Falls or do an out and back to The Loch or Sky Pond.
Glacier Gorge Trailhead
Alberta Falls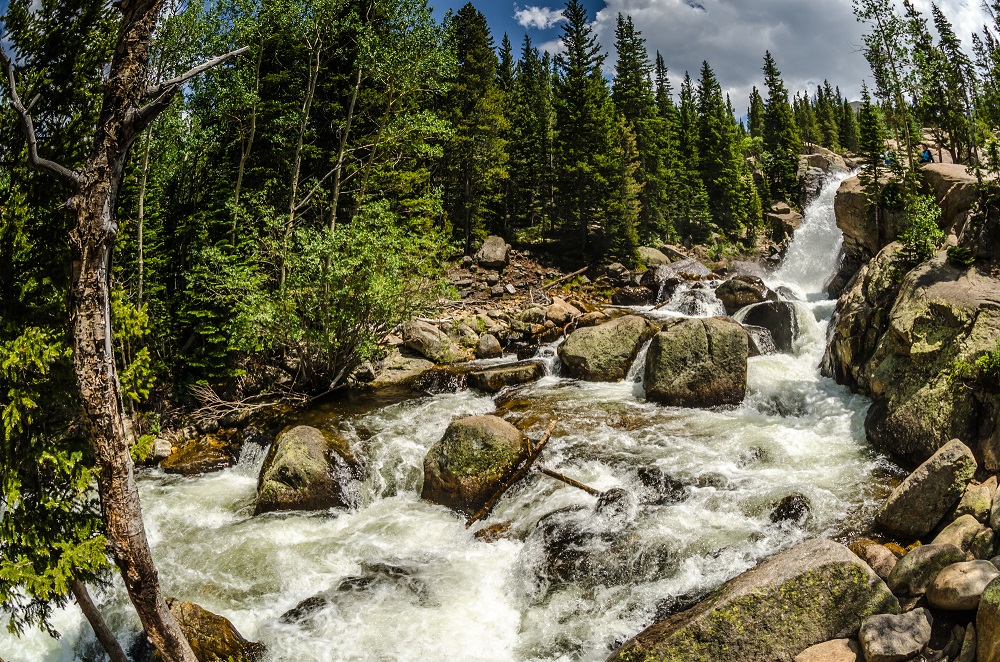 Alberta Falls is a short hike from the Glacier Gorge Trailhead or Bear Lake on the way to Mills Junction. It has a 25 foot drop and is named for Alberta Sprague, who with her husband built a lodge at Sprague Lake.
The Loch (aka Loch Vale)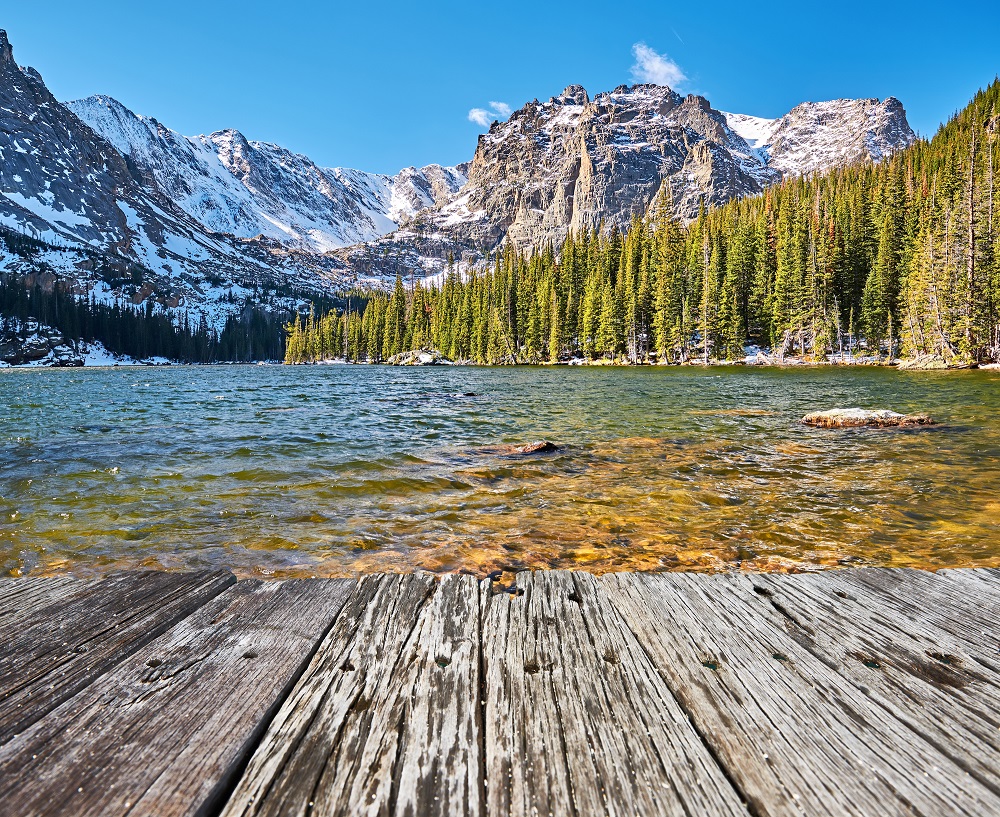 The Loch is a popular destination for hiking, fishing and photography, sitting at an elevation of around 10,200 feet. The trail begins from the Glacier Gorge Trailhead.
Timberline Falls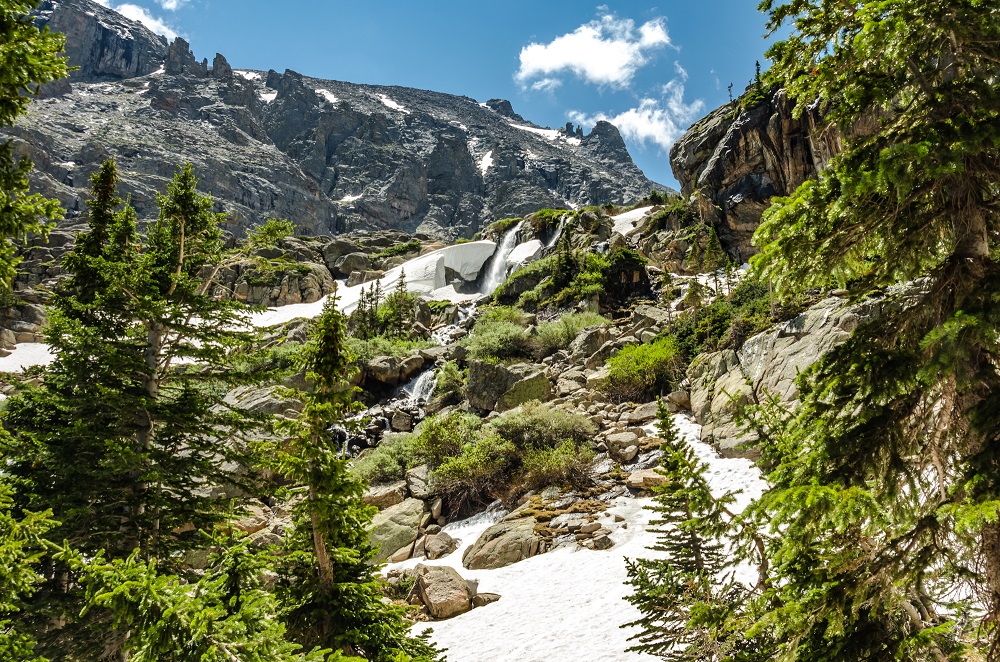 Timberline Falls is a waterfall on the trail from the Loch to Sky Pond, just below Lake of Glass. It is 4.1 miles from the Glacier Gorge Trailhead. There is a substantial elevation gain to reach the falls, and the trail to the two lakes above it is a scramble up the rocks next to the waterfall.