The Fern Lake Trail in Rocky Mountain National Park runs from Moraine Park past Fern Lake to Odessa Lake. It also provides access to nearby Spruce Lake. There are two waterfalls along the way: Fern Falls and Marguerite Falls.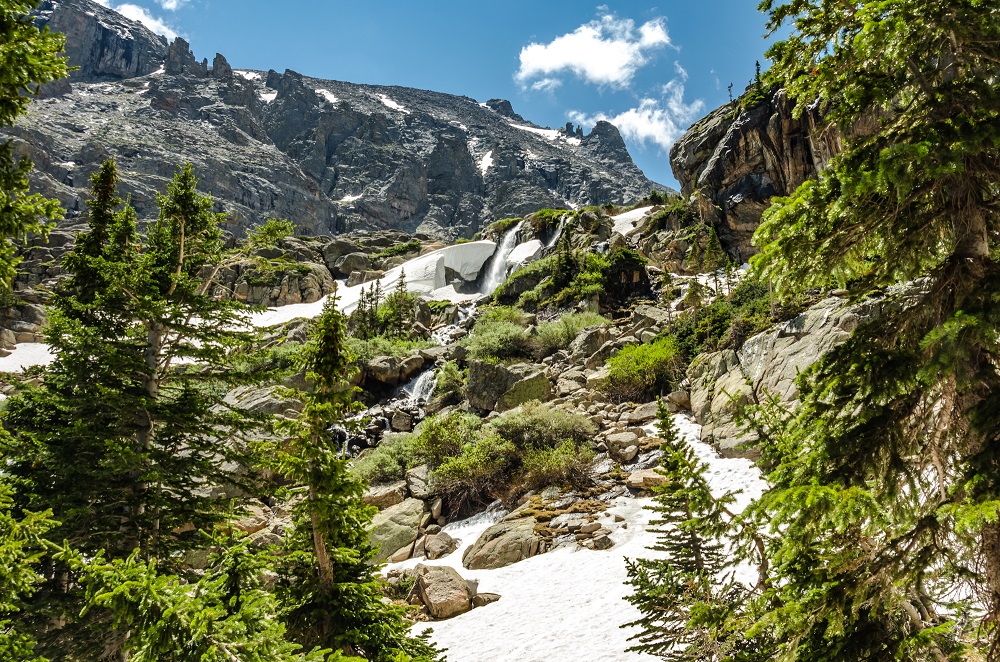 There is a small parking lot at the trailhead for this popular day hike. We managed to get a spot there in the middle of the day about a week before Memorial Day, but probably only because morning hikers were leaving. There were not many available spots and we would have had to back track to another parking lot along the road which would have added to our hike.
Big Thompson River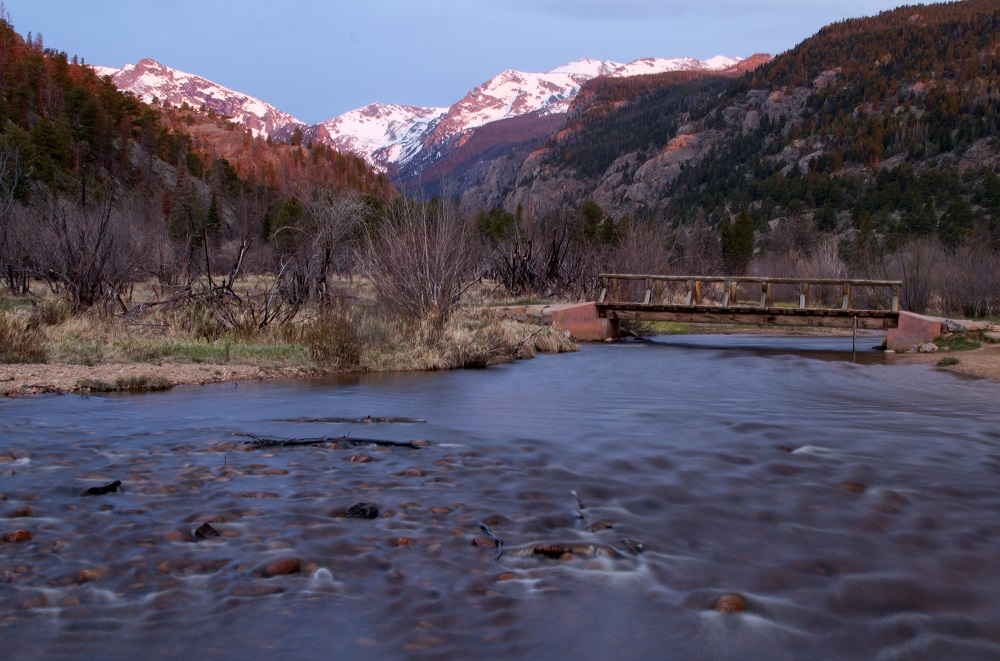 The road to the trailhead passes by the Big Thompson River and the first section of the trail continues to follow the river. I ended up fly fishing here along the road, which was picturesque. The first two miles of the trail are relatively flat.
The Pool
1.7 miles from the Fern Lake Trailhead is a pool in the rapids as well as a bridge for the trail to cross the river here. The Pool was formerly the site of a small lodge called the Forest Inn, which closed in 1951.
Fern Falls
After The Pool, the trail begins to climb with a switchback on the way to Fern Falls. In the spring, the waterfall can be heard down the trail as you approach due to the high volume of water from the melting snow. We kept thinking that we were almost there as we climbed because we could hear it, but it still took us a while to get there.
Marguerite Falls
The trail continues from Fern Falls upwards toward Fern Lake. Marguerite Falls is a cascade found along the trail below Fern Lake. We did a portion of the Fern Lake Trail, but turned back after Fern Falls before reaching Fern Falls when we encountered snow on the trail. We had not planned on hiking through the snow and it was warm at lower elevations, so plan according if you plan to hike here in the spring (we were there just before Memorial Day).
We ended up turning back since it was also getting late in the day and we wanted to make sure that we could get back before dark. The journey back to the parking lot ended up going pretty quickly since it was all downhill, and we made it back with time to spare.
Fern Lake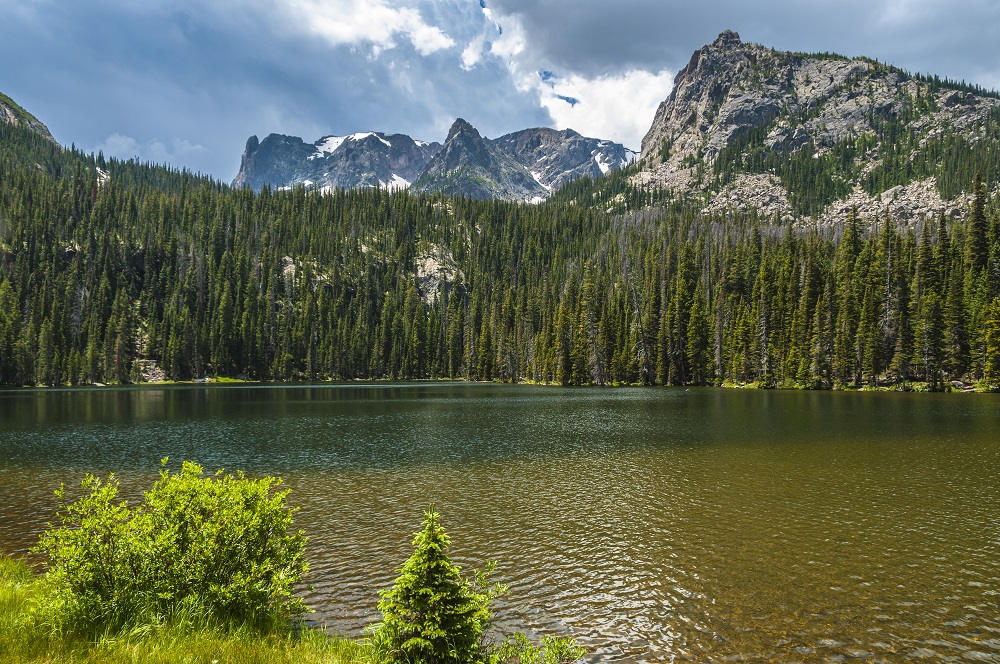 Fern Lake sits at an elevation of around 9500 feet above sea level. It is a popular destination for hikers and fisherman.
Odessa Lake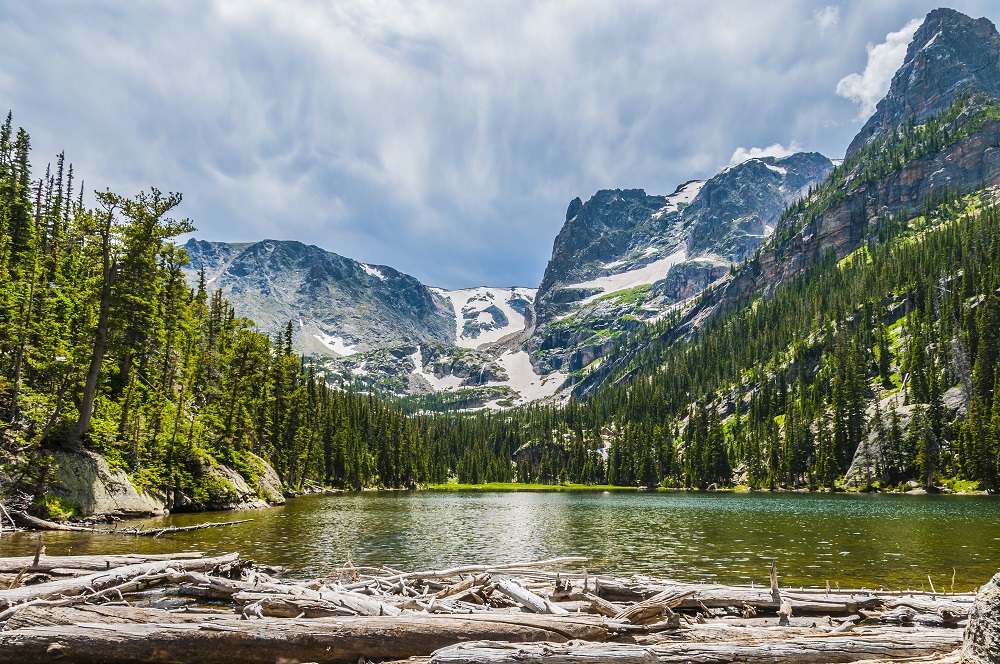 The hike up to Odessa Lake gains another 500 feet or so in elevation. It is a 9 mile out and back trail from the Fern Lake trailhead to Odessa Lake and back.