Loggerhead Key is the largest island in the Dry Tortugas National Park and is open to the public for day use. It is located three miles west of Garden Key.
The passenger ferry does not stop at Loggerhead Key so you must have your own boat to explore it. Access is restricted by the park service to 24 people per day. If you are making a trip there, it must be included on your boat permit. The dinghy beach is on the east side of the dock – only the park service is permitted to use the dock.
Loggerhead Key and the lighthouse are visible from the Yankee Freedom as it circles around Garden Key to dock. Here is a photo that we took in the morning on the way to Fort Jefferson: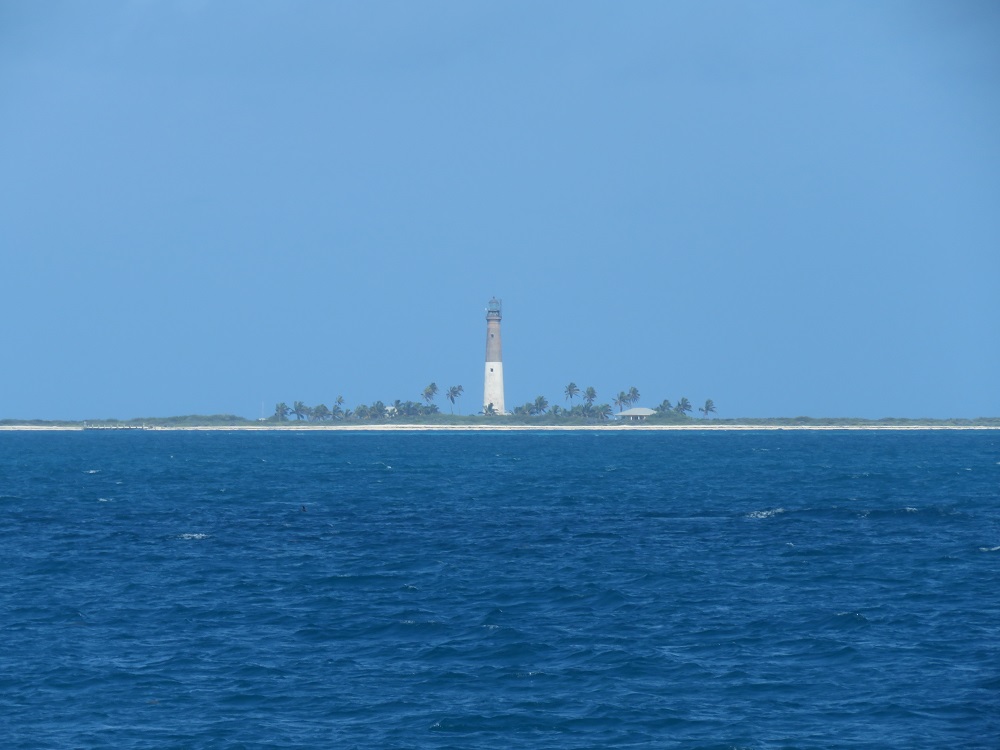 Loggerhead was named for the loggerhead sea turtle, the most common sea turtle in the southeatern United States and listed as threatened under the Endangered Species Act. They are one of the turtles that commonly nests in the park. The Loggerhead is considered a keystone species, on which other animals depend for their survival. The turtles are primarily carnivores, with strong jaws that allow them to crush conchs and horseshoe crabs. Loggerheads are threatened by fishing nets, coastal development, pollution and climate change.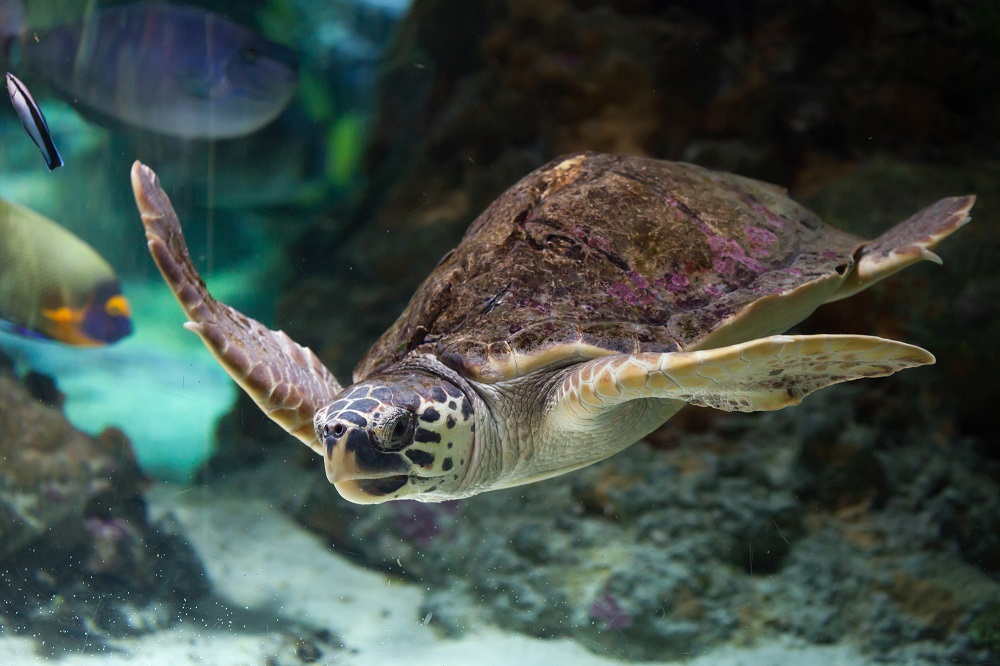 (This picture above is of a loggerhead turtle but was not taken in the park.)
Loggerhead Lighthouse
The Loggerhead Light was completed in 1858 and originally called the Dry Tortugas Light. It was maintained by the US Lighthouse Service through World War 2 and then the Coast Guard until 1982 when it was fully automated. There are reports online it was decommissioned in 2015.
This is our picture of the Loggerhead Lighthouse that we took from the top of Fort Jefferson. It must have been taken quickly since the horizon is askew. We were trying to take pictures quickly as we were running from place to place – sorry!
Little Africa Reef
This coral reef is located a few yards off the western shore of Loggerhead Key. It is named for the continent because the coral reef has the shape of Africa when looking down from the air. Despite its name, it is not little.
Windjammer Wreck
This shipwreck is located less than a mile southwest of Loggerhead Key and is one of the most easily accessible shipwrecks in the park. There is a mooring ball for day use. This sailing vessel called the Avanti ran aground on the reef in approximately 20 feet of water. It is a popular dive site because much of the iron ship remains and the fish and fauna are highly visible.