The fishing waters in and around Dry Tortugas National Park are considered an angler's paradise and offer world-class fishing for a number of saltwater species.
There are private Dry Tortugas fishing charters online advertising single day and multi-day trips to the Dry Tortugas, but we also saw plenty of fishing poles among the campers at the national park during our day trip there.
If you are making a one day trip via the passenger ferry and this is your first trip, I expect you should just leave your fishing gear at home. Between exploring the fort, attending a ranger talk, lunch and some time swimming/snorkeling, you will not have much time for it. There will also be plenty of people on Garden Key while the Yankee Freedom is docked, so it may not be the best experience. If fishing is your goal, it would be better to simply book a charter out of Key West. Of course, if your goal is simply to dip a line in the national park waters (as mine often is), that is a completely different matter.
Fishing is a better option for campers who have the island to themselves once the boat leaves. Fishing can be done from either a kayak or the shore, and we saw a number of reports of success online (although we did not try it ourselves). The National Park Service permits fishing from Garden Key at:
– The seaplane beach east of the main dock, when there is no seaplane.
– Main dock, when the Yankee Freedom is not there.
– Two westernmost finger piers.
– Either dinghy beach provided subject to certain restrictions.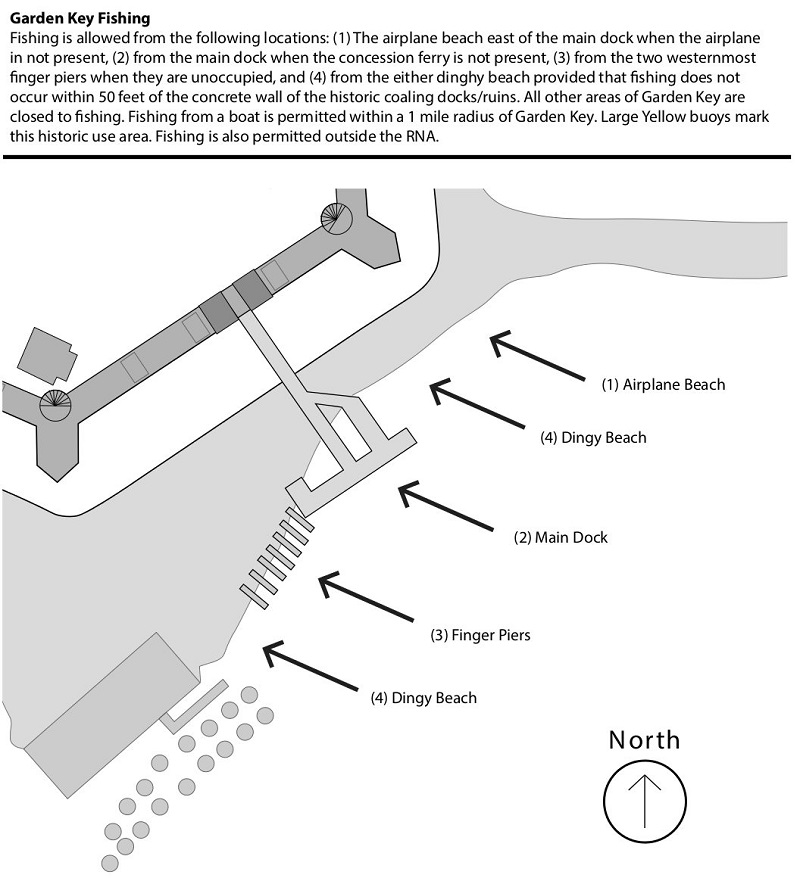 A Florida saltwater fishing license are required unless you are under 16 years old or a Florida resident over the age of 65. The shoreline-only fishing license would not be valid because the shoreline is reached by boat, which is excluded. The cost of an annual license for Florida residents in 2020 was $17 and the cost for a non-resident is either $17 (3-Day) or $30 (7-Day). Additional rules and regulations may apply – for example, fishing is not permitted in the Research Natural Area (a 46 square mile marine reserve established in 2007).