Isle au Haut is an island in Acadia National Park off the coast of Stonington, Maine which contains the Duck Harbor Campground, the Isle au Haut Light and . Half of the island is privately owned and the other half is park owned. The park land was donated to the federal government in 1943 by heirs of the founder of the community. The island was named by Samuel Champlain in 1604.
Isle au Haut Lighthouse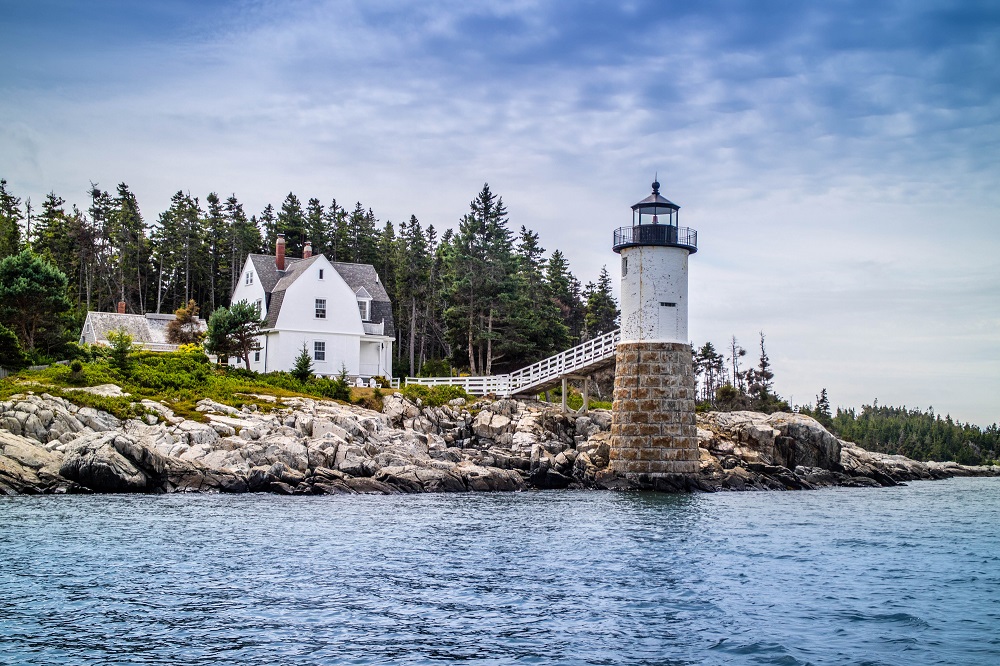 There is a 1907 Victorian lighthouse at Robinson Point on the island. It was built by the US Army Corps of Engineers and stands 40 feet tall. There is a 2.5 story Victorian house connected to the light by a catwalk.
Duck Harbor Campground
There are five primitive camp sites on the island that are available from mid-May through mid-October by reservation only. They contain lean-to shelters which are three-sided with a roof and floor. The maximum stay is 4 days / 3 nights.
This is a photo taken in the Duck Harbor area:
Biking and Hiking Trails
There are eighteen (18) miles of trails for hiking. There are also five miles of paved roads and seven miles of unpaved roads for biking, on which a mountain bike is recommended. Bicycles are prohibited on the hiking trails.
Transportation to the Island
There is a passenger ferry that serves the island year round from Stonington to the town landing year round, with a stop at the Duck Harbor Boat landing from mid-June through late-September. The ferry is on a first-come, first-served basis and is operated by Isle au Haut Boat Services. The number of visitors allowed on the island for day trips is limited by the park service.
Stonington is on Deer Island southwest of Mount Desert Island. It is a sixty mile drive from Bar Harbor which requires returning to the mainland from MDI to reach.
Isle au Haut Map