Bass Harbor Lighthouse
This is the only lighthouse on Mount Desert Island, located on the southwestern tip of the quiet side. It receives tens of thousands of park visitors every year and is one of the most photographed lighthouses in Maine. You can see why from this photograph at sunset.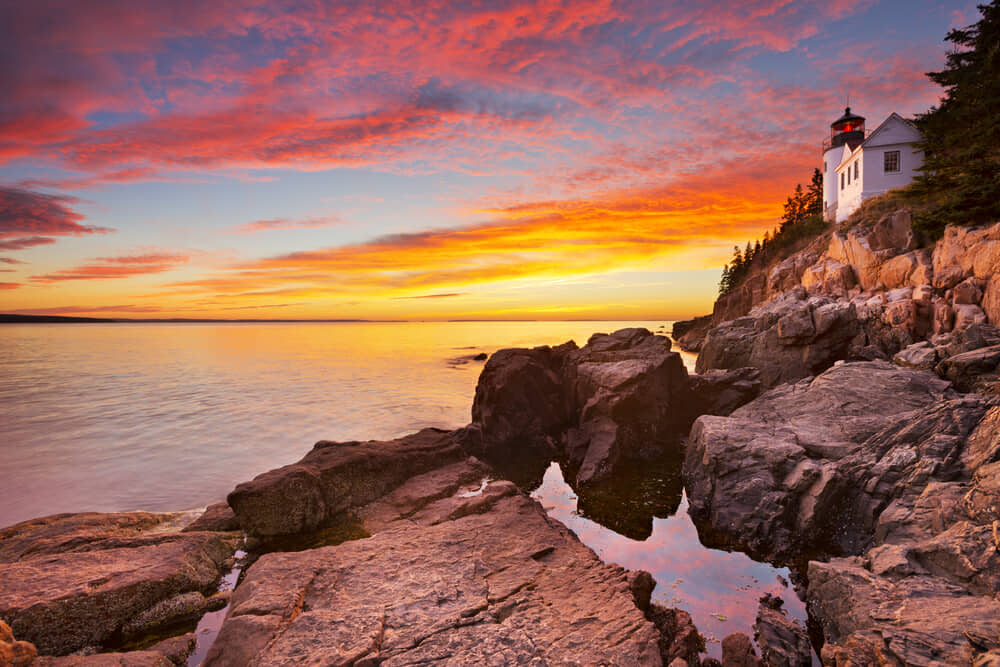 It can be viewed by a short path around the house (right side when facing the house from the parking lot) or a trail (on the left when facing the house from the parking lot) to a stairway and the rocks below. There is a small parking lot on the grounds that fills up when it is busy. Bass Harbor Head Lighthouse is operated by the United States Coast Guard and ownership was transferred to the National Park Service in November 2017. The inside of the buildings are not open to the public.
A 32 foot tall lighthouse was build there in 1858 with a fixed red light. The fixed color was created by placing a red chimney over the oil lamp's flame. The light marks the southeast entrance to Blue Hill Bay and warned mariners of the Bass Harbor Bar. The light was converted to electric in 1949 and automated in 1974.
Seawall
Seawall is an area of Acadia National Park found on southwest Mount Desert Island where there is a campground and picnic area. As route 102A travels north from near Bass Harbor Head Lighthouse to Southwest Harbor, it passes this area and pulls alongside the ocean where there is a natural seawall.
The strong currents of the Atlantic Ocean pull up cobbles and the surf deposits them on the shore here. They have been assembled by the powers of the ocean into a massive natural seawall. Reminder: It is illegal to remove rocks from a national park. While you may be tempted to keep one or more as souvenirs, please leave them where you find them so that they can be enjoyed by others.
We visited here in October 2017 after the Bass Harbor Head Lighthouse and had a great time for an hour watching the waves crash into the rocks while the seagulls played. The Seawall Campground would make a quiet escape away from the hustle and bustle of the tourists racing from location to location around the park loop road. If you decide to stay here, you will admittedly be quite a drive from some of the park's more popular attractions. But you will have plenty of time to enjoy the quiet from the seawall during the sunrise over Great Cranberry Island.