Jewell Hollow Overlook is a west facing overlook at Mile Marker 36.4 on Skyline Drive in Shenandoah National Park. There is an upper and lower parking area at the overlook. It is located between the Pinnacles Overlook and the Pinnacles Picnic Grounds.
Luray, Virginia lies to the west of the overlook in Shenandoah Valley. Luray is the county seat of Page County and has a population of around 5,000. It is best known for the Luray Caverns, which is an underground cave system in the area that was discovered in the late 1800s.
Lake Arrowhead and Morning Star Lake are also both visible from the overlook. Lake Arrowhead is a 39 acre impoundment constructed in 1971. It is located in Lake Arrowhead Park, which offers a beach, nature trail and picnic shelters.
The Jewell Hollow Overlook is south of Thornton Gap, which allows entry into the park from the Luray area via 211. The Pinnacles Picnic Area is just south of the overlook.
There is a sign at the upper parking area of the overlook that discusses how the overlook walls were made. The stones at this overlook were dry-laid walls. They could be made by lower skilled stone workers in the Civilian Conservation Corps (CCC) camps because they required more muscle than skill to move and align the stones. In other areas, more experienced masons built mortared ashlar masonry walls.
Jewell Hollow Overlook and the picnic area are the start of a popular 7 mile out and back on the Appalachian Trail that traverses the summit of The Pinnacle and has its destination for the turn around point as Marys Rock. The Marys Rock summit has an elevation of 3,514 feet and The Pinnacle is the highest mountain in Rappahannock County and the third highest summit in the park. In 2016, it was listed as one of the 10 Must Do Hikes in Shenandoah National Park on the Virginia Tourism blog due to the outstanding panorama available at The Pinnacle and the 360 degree views at Marys Rock.
View from the Lower Parking Area: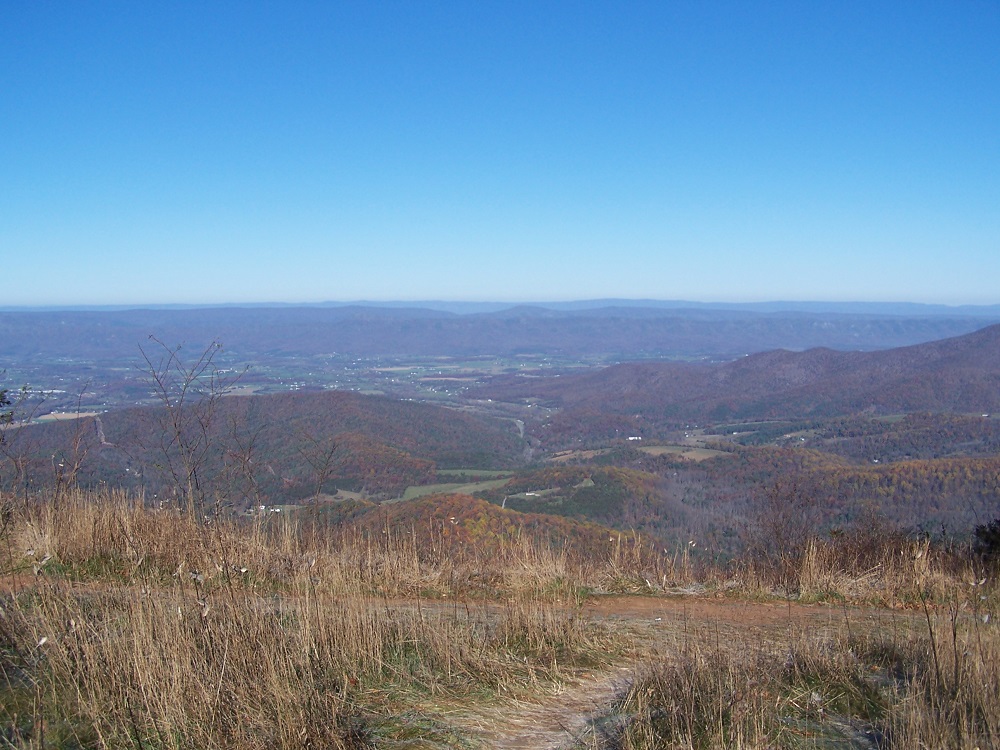 View from the Upper Parking Area: