Skyline Drive is a National Scenic Byway with 75 scenic overlooks running through the Blue Ridge Mountains. The road was created in the 1930s and bisects Shenandoah National Park.
How Long is Skyline Drive?
Skyline Drive is 105 miles extending from Front Royal, Virginia in the north to Rockfish Gap, Virginia in the south.
How Long does it take to Drive the Skyline Drive?
It takes three hours to drive from Front Royal to Rockfish Gap at the maximum speed limit of 35 miles per hour. Most people will take longer though as they enjoy the overlooks along the way, stop for a hike to one of the many waterfalls, and enjoy the comfort of one of the NPS lodges along the way.
Skyline Drive Cost & Free Days
The entrance fee for one vehicle and passengers for seven consecutive days is $30. The cost for one motorcycle and one passenger is $25. An annual pass for Shenandoah is $55 and the America the Beautiful Annual Pass is $80.
Every year, the National Park Service announces a handful of fee free days for entry onto Skyline Drive. These typically include Martin Luther King Jr. Day, the kickoff day to National Park Week, the NPS birthday in August, National Public Lands Day in September and Veterans Day in November. Please check the NPS website for Shenandoah for a complete list. In 2019, the days are January 21, April 20, June 15, August 25, September 28 and November 11.
Skyline Drive Access Points
There are only four access points for vehicles on the 105 miles through Shenandoah National Park.
– The northernmost access point to Skyline Drive is at Front Royal via I-66 and Route 340.
– It is accessible at Thornton Gap via Route 211. The entrance station is at mile post 31.5. The entrance station is 7 miles west of Sperryville and 9 miles east of Luray.
– It is also accessible at Swift Run Gap via Route 33. This entrance station is located at mile post 62.7. The station is 24 miles east of Harrisonburg and 8 miles east of Elkton.
– The intersection of Skyline Drive with the Blue Ridge Parkway is the southern entrance to Shenandoah National Park and the start of the road at Rockfish Gap. It is accessible via I-64 and Route 250.
Skyline Drive Hours
The road is usually open 24 hours a day but has been closed annually at night during hunting season from 5 PM to 8 AM. Hunting is not allowed in Shenandoah national park and the closures assist park rangers in reducing illegal hunting activity. Hunting season is from mid-November until the beginning of January. The central portion of the road usually remains open as long as Skyland Resort is open.
Skyline Drive is also intermittently closed due to inclement weather. Visitors may still enter the park on foot to hike when the Drive is closed. If the road is closed, it will be broadcast on the NPS park alerts.
Skyline Drive Map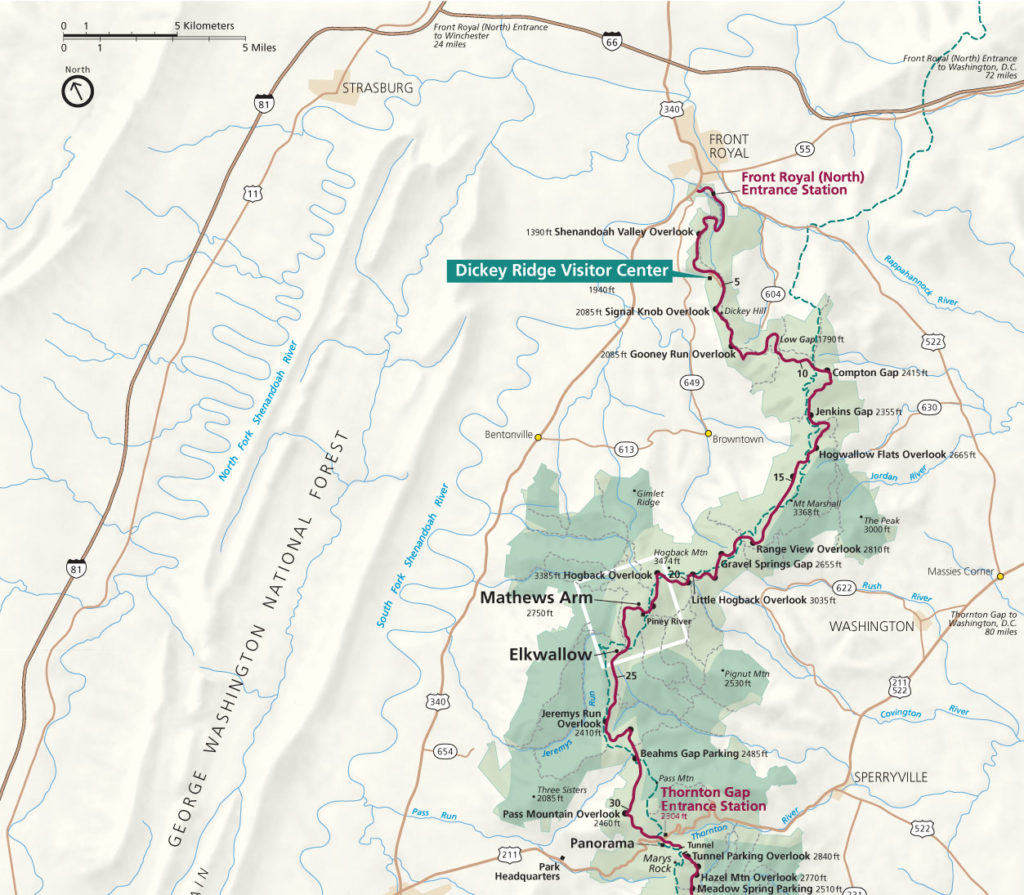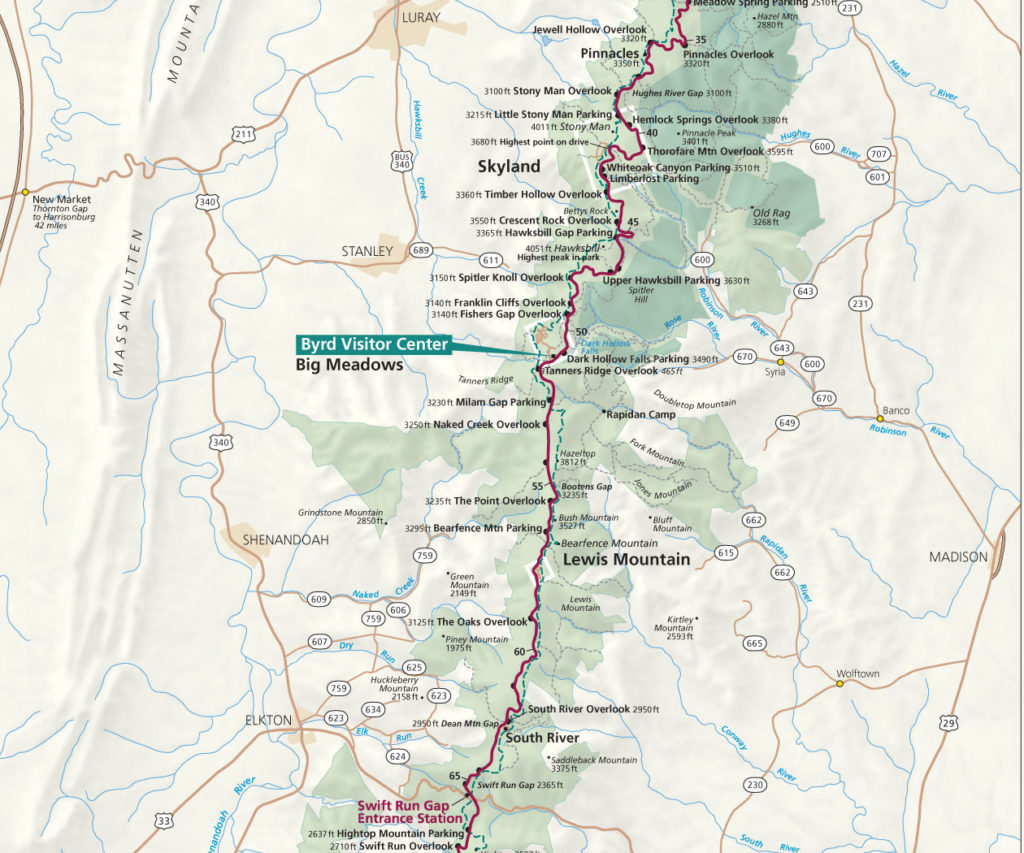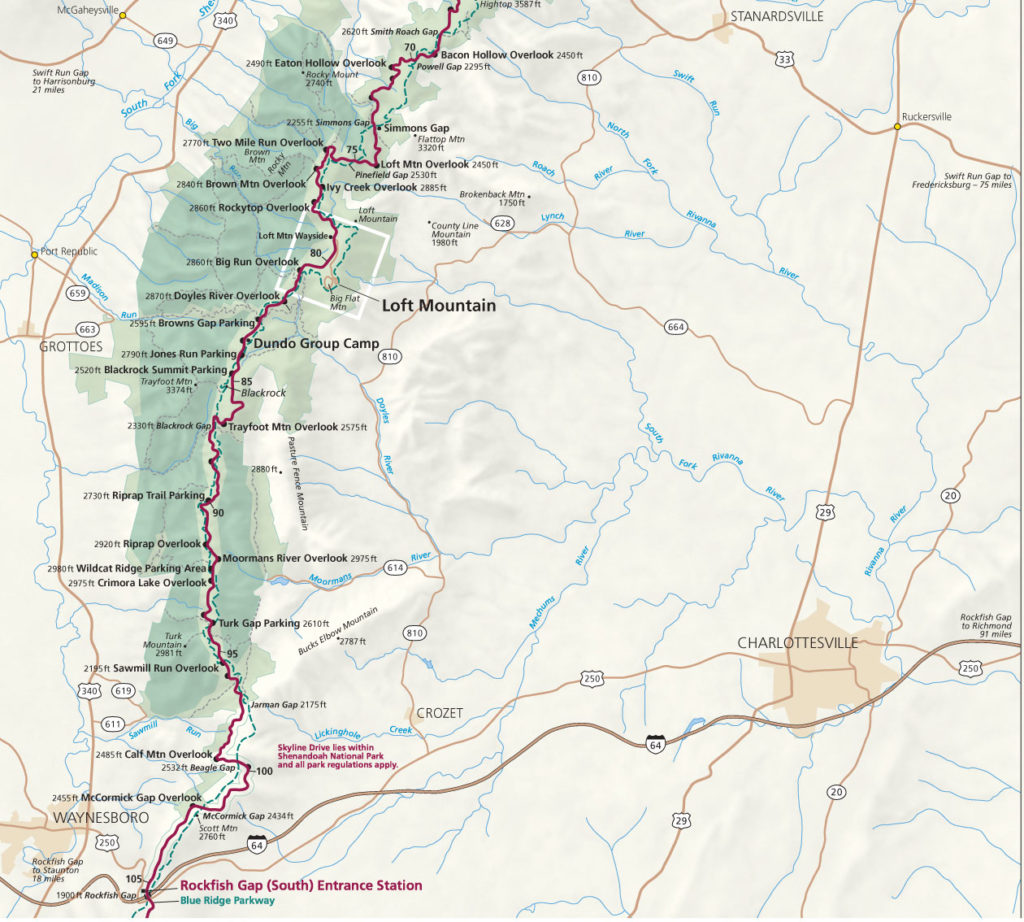 Skyline Drive Bike Day
Ride the Drive is an annual event closing the road to motor vehicles the 31.5 mile northern portion of Skyline Drive from Front Royal to Thornton Gap. The event promotes opportunities for alternative modes of transportation and recreation.
Skyline Drive Elevation
The road begins in Front Royal at an elevation of approximately 632 feet and climbs to a maximum elevation of nearly 3,700 feet. In the first six miles out of Front Royal, the road climbs more than 1,500 feet on its way to the ridgeline.
From the south heading north, Skyline drive starts at a higher elevation so there is less initial climbing.
Skyline Drive Camping
There are four seasonal frontcountry campgrounds in Shenandoah National Park. They are Big Meadows, Lewis Mountain, Mathews Arm and Dudno. Reservations for reserve-able sites may be made up to six months in advance. Lewis Mountain is always first-come, first-serve. The cost is $15 per campsite per night except for Big Meadows which is $20 per night. Mathews Arm, Big Meadows and Loft Mountain have pull through and deep back-in sites for Recreational Vehicles.
Skyline Drive Lodging
There are three areas for lodging inside the park. Skyland is located at mile 42, Big Meadows Lodge is located at mile 51, and Lewis Mountain Cabins is at mile 57.5.
Skyline Drive Waterfalls
There are a number of waterfalls that are accessible by hike. The highest one in the park is Overall Run Falls, which is a 93 foot drop reached by a 6.4 mile roundtrip hike with 1850 foot elevation change from mile 21.1 of Skyline Drive. Dark Hollow Falls near Big Meadows is one of the most popular due to its proximity to the road (although not visible from Skyline Drive and the hike back has quite an elevation change).
Skyline Drive Fall Foliage
Shenandoah National Park is a popular place to observe the fall foliage. Peak fall foliage usually happens during October or early November. The NPS website maintains a fall color report with weekly updates about the state of the leaves on the trees.