The Doyles River Area in Shenandoah National Park is located just south of Loft Mountain between mile 81 and mile 82. The Doyles River Overlook is located at Mile Marker 81.6 and the Doyles River Parking Area is located at Mile Marker 81.1. The Big Run Overlook is on the west side of Skyline Drive between the parking area and the Doyles River Overlook.
The Doyles River Overlook looks over the Doyles River valley. The Doyles River is a 10 mile long tributary of the Moormans River. The AT passes by the overlook.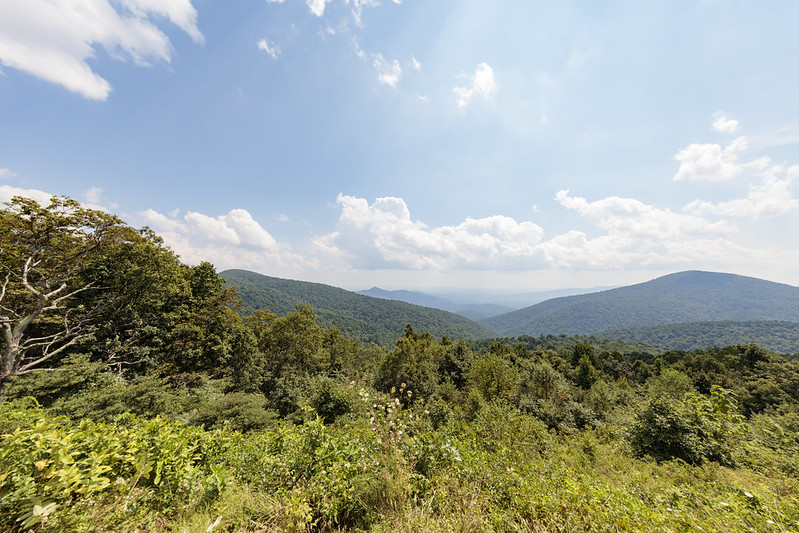 The parking area provides access to the Doyles River Trail, which is a 3.2 mile out and back with two waterfalls. The Upper Doyles River Falls is a 28 foot waterfall and the Lower Doyles River Falls is 63 feet.
Doyles River Cabin is located a half mile from the Doyles River parking area. It is a single-room public cabin run by the Potomac Appalachian Trail Club. It has two sets of double-width bunks, a wood stove, and a dining space. The price is $30 per night on weeknights and $45 per night on weekends.
The Doyles River Trail connects to the Jones Run trail which has a 42 foot waterfall. Along with Browns Gap Road and the Appalachian Trail, it can be hiked as a loop from Jones River, the Dundo Picnic Grounds or the Browns Gap Parking.