Moormans River Overlook is an eastern facing overlook at Mile Marker 92.0 in the southern section of Shenandoah National Park on Skyline Drive between Rockfish Gap and the Loft Mountain area. It is located between Riprap Overlook and the Wildcat Ridge Parking Area and sits at an elevation of 2795 feet.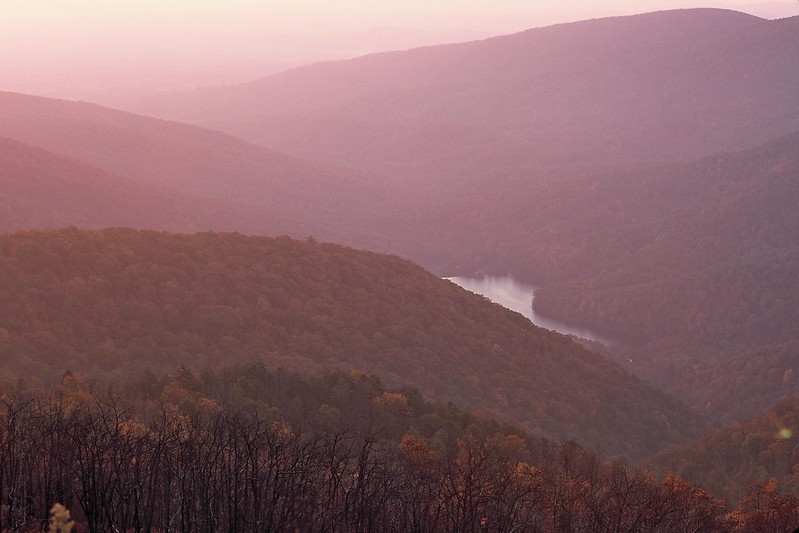 The overlook includes views of Charlottesville Reservoir. The reservoir is a 71 acre lake made by the Sugar Hollow Dam in the Blue Ridge Mountains just outside of Shenandoah National Park and the city of Charlottesville. The Sugar Hollow Trail through the park along the North Mork of Moormans River starts at Charlottesville Reservoir (outside the park – not from the Overlook).
This was a popular area for trout fishing prior to a flood in 1995, but there are reportedly still brook trout and rainbow trout. Big Branch Falls is also found on the hike up the Sugar Hollow Trail.
The South Fork of the Moormans River also begins in Shenandoah National Park and joins the North Fork just before the reservoir, also known as Sugar Hollow Reservoir. It is best known for the Blue Hole, which is a swimming hole about a mile from the reservoir up the South Fork.
The entire length of the Moormans River is in Albemarle County and forms the South Fork of the Rivanna River below the reservoir about 7 miles northwest of Charlottesville when it joins the Mechums River.
Moormans River Overlook is a scenic area for photographing a Shenandoah sunrise with the reservoir in the picture. The North and South Fork are not accessible from the overlook. The headwaters of the South Fork can be reached from the Turk Branch Trail south of the Turk Gap Parking Area.
When we arrived here on our November 2017 trip the sun had set and all we saw was the moon. We turned around shortly after and headed back to our campsite and the Big Meadows Campground. This was the photo we took: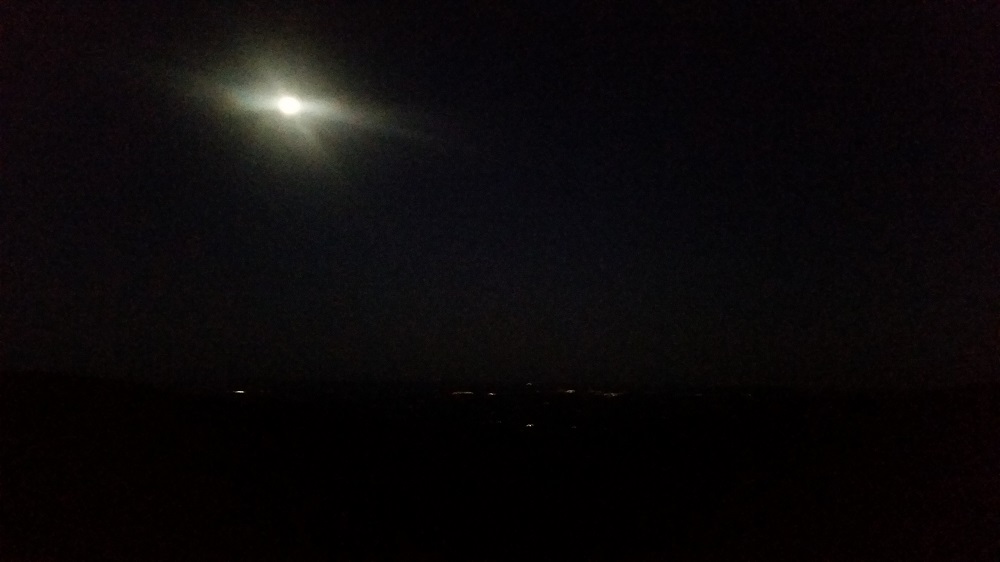 The trailhead for the Wildcat Ridge Trail, a three mile one way trail, runs from the Wildcat Ridge parking area just to the south at Mile Marker 92.1. Together with the Riprap Trail and the Appalachian Trail, it forms a strenuous 9.8 mile loop to the west of Skyline Drive. The NPS indicates there are several stream crossings, a small waterfall and a swimming hole.