The Compton Gap parking area and trailhead is on Skyline Drive at Mile 10.4 in Shenandoah National Park. The Appalachian Trail connects with the parking area and there are two suggested hikes from Compton Gap. This is not a scenic overlook – trees block the view here.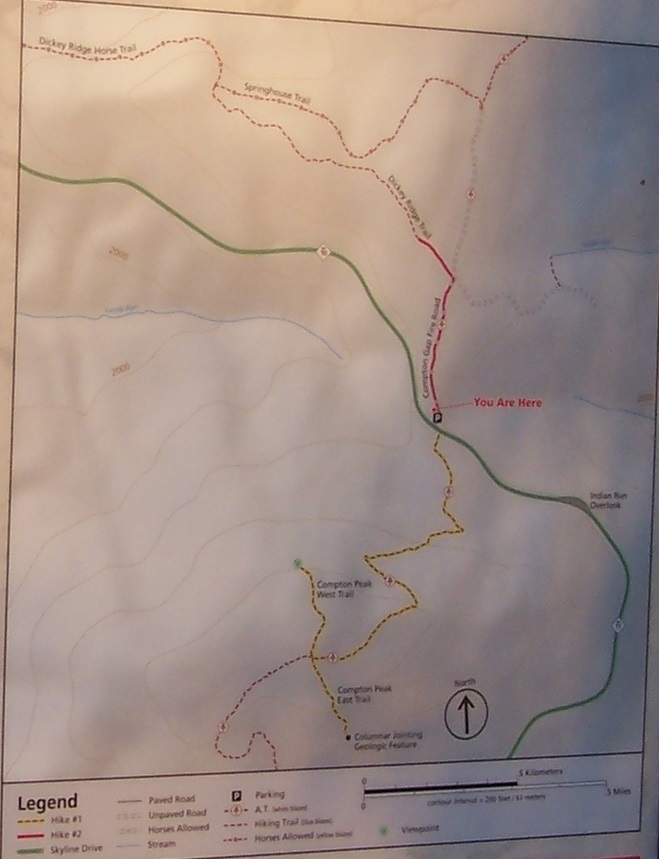 There is a 2.4 mile T-hike south on the AT that takes hikers to an east and west viewpoint at Compton Peak. The east viewpoint provides one of the finest examples in the park of columnar jointing, which formed when lava millions of years ago cooled into six sided shapes.
The other suggested hike is an easy .8 mile roundtrip north to Fort Windham Rocks. The trail intersects with the Dickey Ridge Trail, which you take to the left briefly to see them on the right. The Fort Windham Rocks are part of the Catoctin Formation – a series of lava flows that happened in Virginia, Maryland and southern Pennsylvania.
The Lands Run Parking area is north of Compton Gap and the Indian Run Overlook is to the south.