[acoda_typewriter tag="h1″ font_size="xlarge" duration="4000″ animated_text="Lassen Volcanic
Redding, CA"]
Home to all four types of volcanoes.
Lassen Volcanic National Park
Lassen Volcanic National Park is rare in that all four types of volcanos can be found here.  Lassen Peak, inside the park, is the southern-most volcano in the Cascade Range and the largest plug dome volcano in the world.  The area around Lassen Peak has mud pots, fumaroles and hot springs.
Open / Close / Reopening Status of Lassen Volcanic National Park due to Coronavirus (COVID-19)
More information on Lassen Volcanic
Last Updated: May 2, 2020
History
President Theodore Roosevelt originally declared Lassen Creek and Cinder Cone as national monuments in 1907. These National Monuments and the surrounding areas were declared a National Park in 1916 in part due to volcanic activity in the area from 1914 until 1921.
Lassen Peak
One of the world's largest plug dome volcanoes sits on the remains of Mount Tehama, a stratovolcano that either collapsed into a caldera or eroded and was carried away by glaciers. Until Mount St. Helen's exploded, Lasen's eruption was the most recent volcanic explosion in the lower 48 states.
There are 14 permanent snowfields on Lassen Peak. Lake Helen, south of Lassen Peak, is one of the snowiest places in California. Brokeoff Mountain, the second highest peak in the park, is also on the remnant of Mount Tehama – on the other side of the caldera from Lassen Peak. There are several geothermal areas in the caldera and three other mountain peaks around the caldera.
View from Lassen Peak: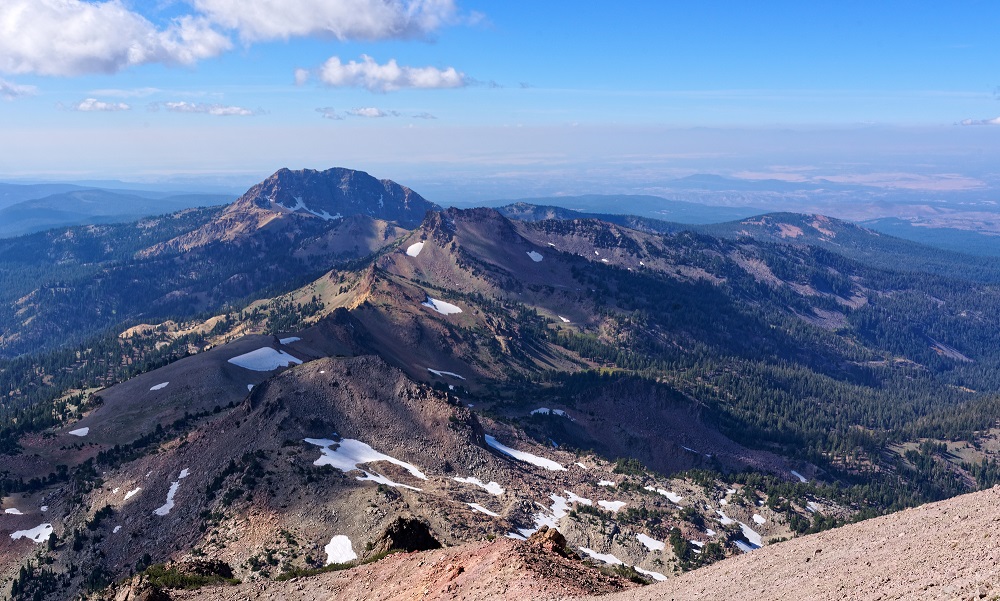 Lassen Park Road
The Main Park Road is the highest road in the Cascade Mountains. Up to 40 feet of snow can accumulate on the road and patches of snow can remain into July. The road is generally closed from late October to early June.
Bumpass Hell
Bumpass Hell is the largest hydrothermal area in Lassen Volcanic National Park. The area was named for Kendall Vanhook Bumpass, a cowboy who worked in the area in the 1860s and fell through the thin crust into a mudpot. It is located south of Bumpass Mountain and is reached by trail from Lake Helen.
Lake Helen
This glacial lake at an elevation of 8200 feet is south of Lassen Peak and is known for its sparkling blue waters. Lassen Peak Highway through the park passes just south of the lake. The lake is frozen and covered in snow for most of the year.
Emerald Lake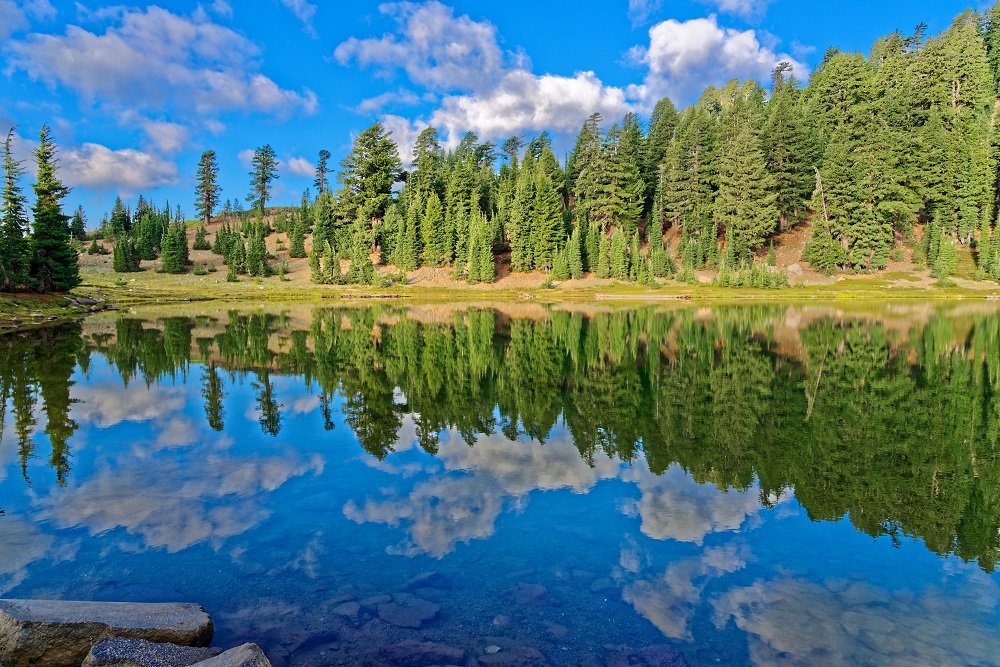 This small lake in Lassen Volcanic National Park is lies 1/3 mile west of Lake Helen and sits in the glacial bowl beneath Ski Heil Peak. It is about 15 minutes and 5.5 miles from the Kohm Yah-mah-nee Visitor Center at the southwest entrance. The lake is covered by ice most of the year. The park road travels along its eastern shore of the lake.
Manzanita Lake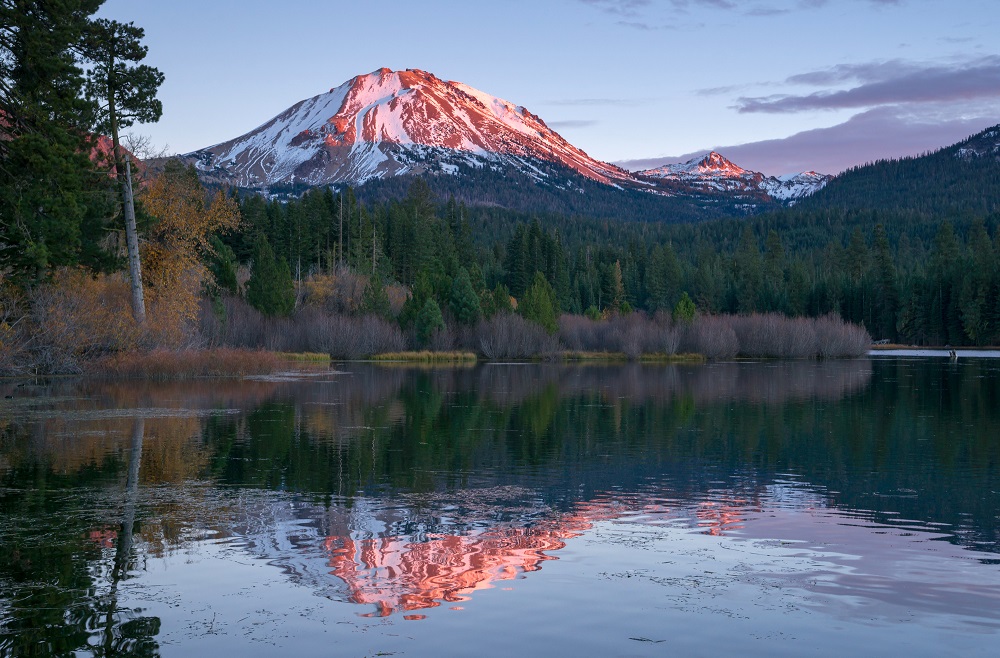 A 26 acre lake at an elevation of 5899 feet above sea level, one mile east of the Manzanita Lake Entrance. Manzanita Lake is a popular place for camping, fishing and photography. There is a 1.6 mile hiking trail around the lake and the Loomis Museum (aka Loomis Visitor Center) is nearby.
Bumpass Mountain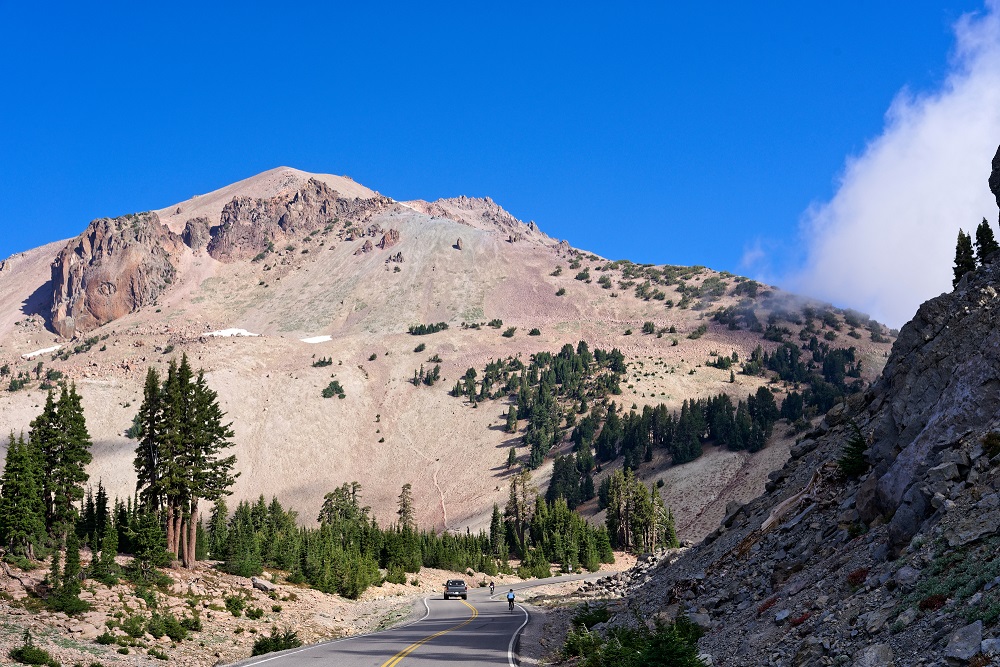 This mountain in Lassen Volcanic National Park rises to an elevation of 8,753 feet. It is located two miles south of Lassen Peak. The three mile long roundtrip Bumpass Hell Trail and boardwalk to the south provides access to the nearby hydrothermal area and is a popular destination in the park.
Diamond Peak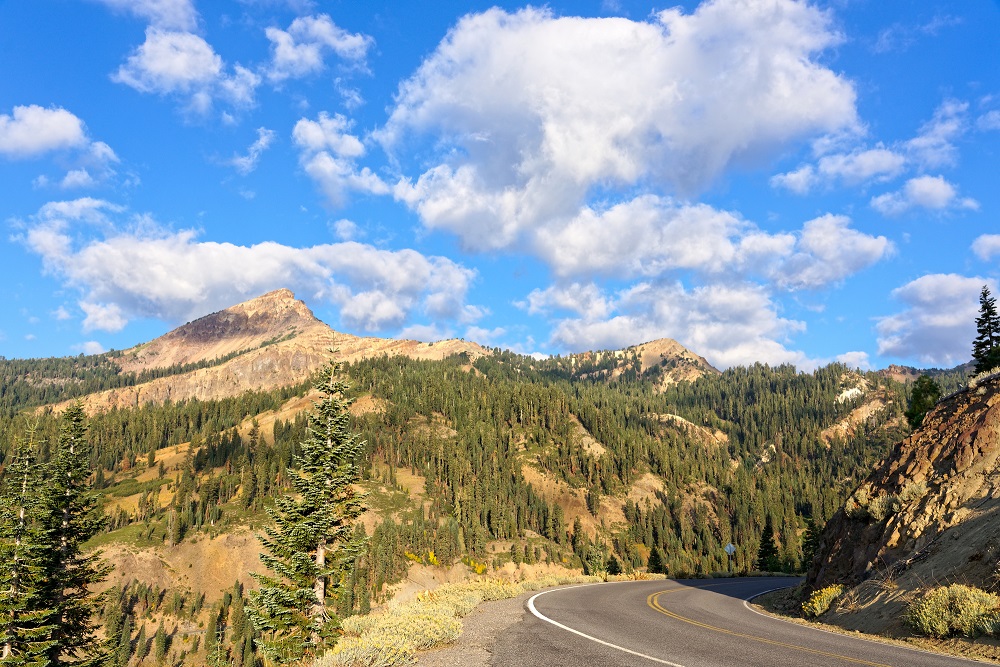 Paradise Meadow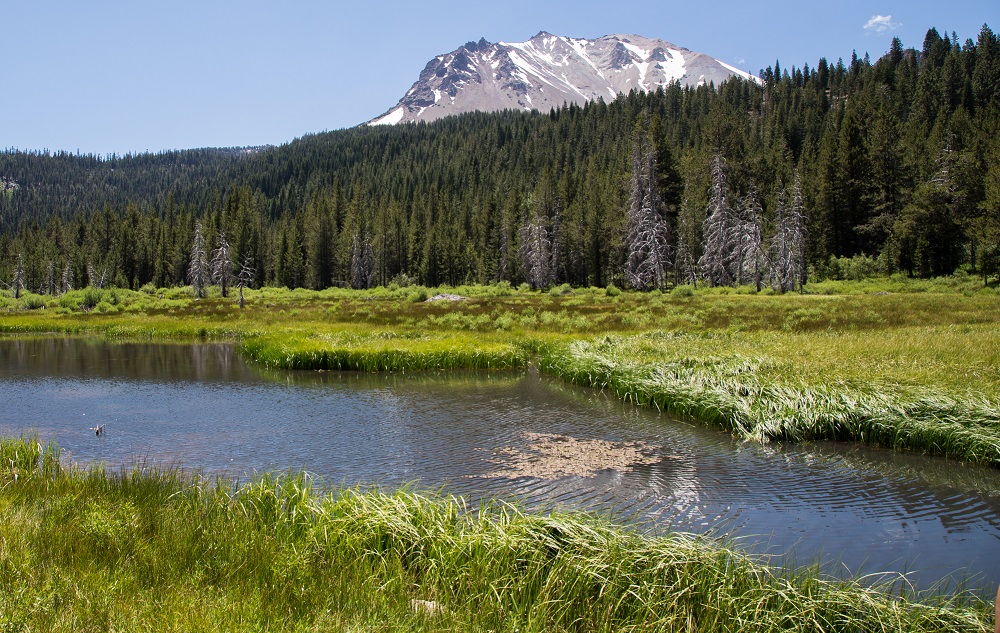 Hat Creek Rim Scenic Viewpoint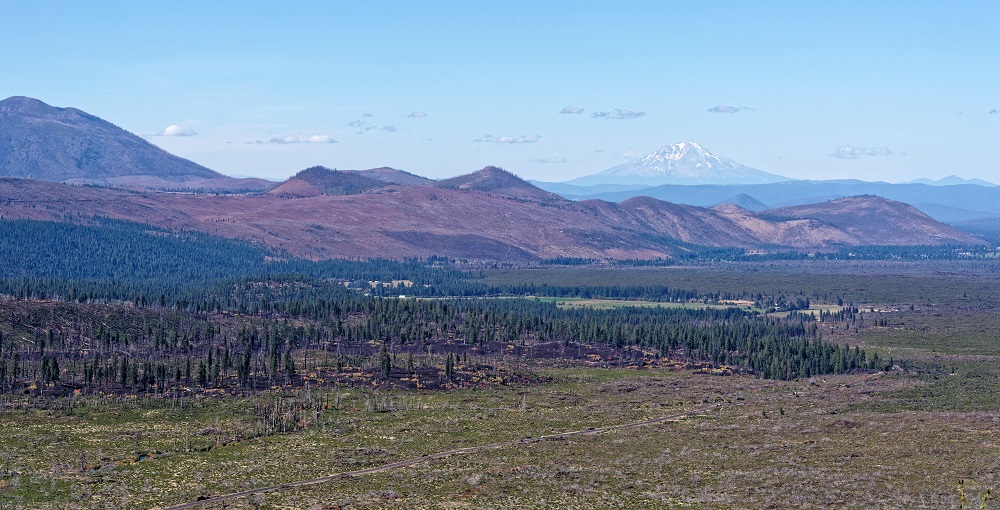 This overlook allows visitors to see Lassen Peak, Mount Shasta, Crater Peak, Burney Mountain and Magee Peak. It is located on Highway 44, three miles east of the intersection of Highway 89/44 near Old Station. The Pacific Coast Trail (PCT) passes through here.
Lassen Park Visitor Centers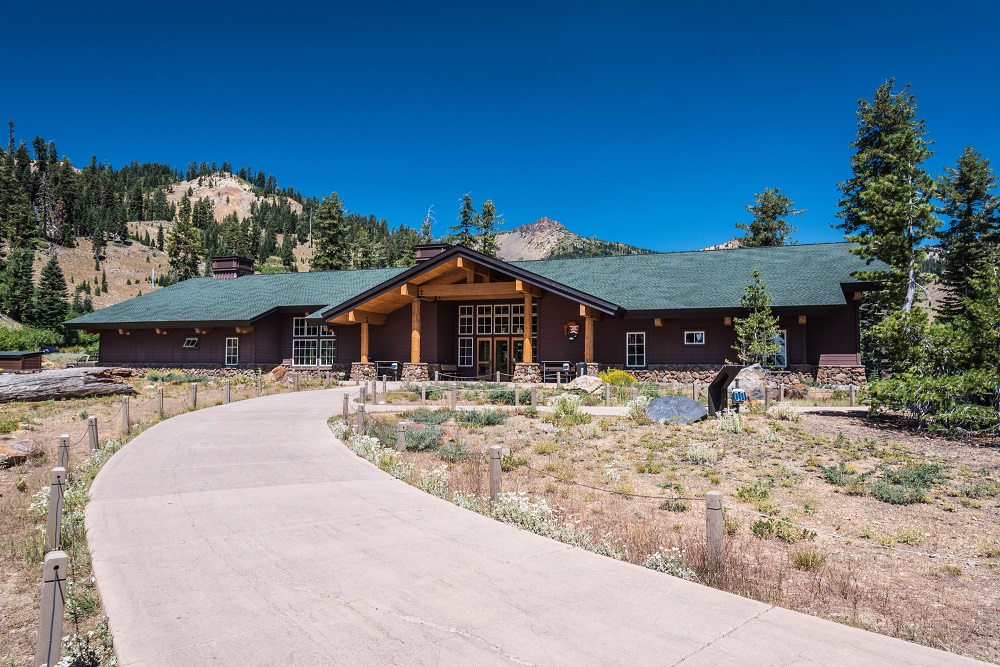 Pictured above is the Kohm Yah-mah-nee Visitor Center at the southwest entrance. It is approximately 15 minutes south of Bumpass Hell and Lake Helen. it is open year round.
The Loomis Museum at the Manzanita Lake Entrance in the northwest corner of the park is often referred to as the Loomis Visitor Center.
There are more than 150 miles of trails in the national park.
The Bumpass Hell trail explores Lassen's largest hydrothermal area. This is a 2.6 mile roundtrip hike of moderate difficulty that takes 2 hours. The trailhead is six miles from the southwest entrance and is often full on weekends and holidays.
Average Temperature (Monthly)
[wunderground location="Viola, CA" numdays="4″ layout="simple" showdata="search,alert,daynames,highlow,pop,icon,text,conditions,date"]
Camping, Cabins and Lodging
There are eight campgrounds in the park. Manzanita Lake Camground and Butte Lake Campground both have more than 100 sites. Four campgrounds offer first come first served sites. Both Manzanita Lake and Butte Lake take reservations.
There are 20 rustic cabins on the north side of Manzanita Lake Campgroumd near Manzanita Lake. Reservations can be made online for these units up to six months in advance.
Drakesbad Guest Ranch offers 19 lodge and bungalow units on the southeast end of the national park. Nestled in glacier carved Warner Valley, it offers a rustic retreat to overnight guests and day visitors. It is open for guests from early June to early October.
[tp_in_our_city_fly_shortcodes destination=SMF title="" limit=15 paginate=false stops=0 one_way=false off_title=true subid="" currency="USD"]
Frequently Asked Questions
What is Lassen Volcanic National Park known for?
The park is known for Lassen Peak, the southernmost active volcano in the Cascade Range. Also known as Mount Lassen, it erupted in 1915 and rained volcanic ash as far as 200 miles east. The area south of Lassen Peak known as Bumpass Hell is a popular destination in the park to witness its hydrothermal activity.
When should I visit Lassen Volcanic National Park?
July and August are the most popular months to visit the park. Nearly 50 percent of all visitation occurs during these two months. June and September are also popular. The park highway is typically closed from November through May.
How do you get to Lassen Volcanic National Park?
Lassen is located 50 miles from Redding, 150 miles from Reno, Nevada and 200 miles from Sacramento, California. The Manzanita Lake Entrance is west of I-5 off California State Route 44.