Florida's Wetlands: Preserved From Development
Everglades National Park is the third largest national park in the lower 48 states, covering over 1.5 million acres in Florida.  It protects the largest wilderness east of the Mississippi River and the lower portion of the tropical wetlands known as the Everglades.  The Everglades is a network of wetlands and forests fed by a river flowing south out of Lake Okeechobee toward Florida Bay.  It is the largest mangrove forest in the western hemisphere, the most significant breeding ground in North America for wading birds and home to dozens of threatened or protected species including the Florida panther.  The park was necessitated by the development of South Florida, which drained portions of the wetlands and diverted water.  Now, the Everglades is one of only three locations to appear as a Wetland of International Importance, a World Heritage Site, and an International Biosphere Reserve.
Open / Close / Reopening Status of Everglades National Park due to Coronavirus (COVID-19)
Everglades announced on Friday, May 1, 2020 that they will begin reopening in a phased approach. Beginning May 4, Everglades National Park will reopen access to:
– Main Park Road from the Homestead entrance to Flamingo (note exceptions below)
– External restrooms at the Ernest F. Coe Visitor Center
– Flamingo Marina and boat launch ramps
– Flamingo Marina Store, restrooms, and gas pumps
– Flamingo Fish Cleaning Station and restroom
– Chekika Day Use Area (roads and surrounding areas only)
In addition, entry fees are waived, and the following spaces continue to be available:
– Marine waters of Everglades National Park
– Beach campsites in wilderness
The following facilities remain closed at this time: Royal Palm area including the Anhinga Trail, Long Pine Key area and campground, West Lake area, Flamingo campground, all visitor centers and public buildings, concession tours and boat rentals, all other park restrooms, and other park locations such as Shark Valley and Gulf Coast.
Wilderness (backcountry) ground campsites and chickees are closed until further notice. North Nest Key and the area 100 yards from shore are also closed. Portable toilets parkwide are closed. Beach campsites are open and permits are not required.
More information about Everglades
Last Updated: May 2, 2020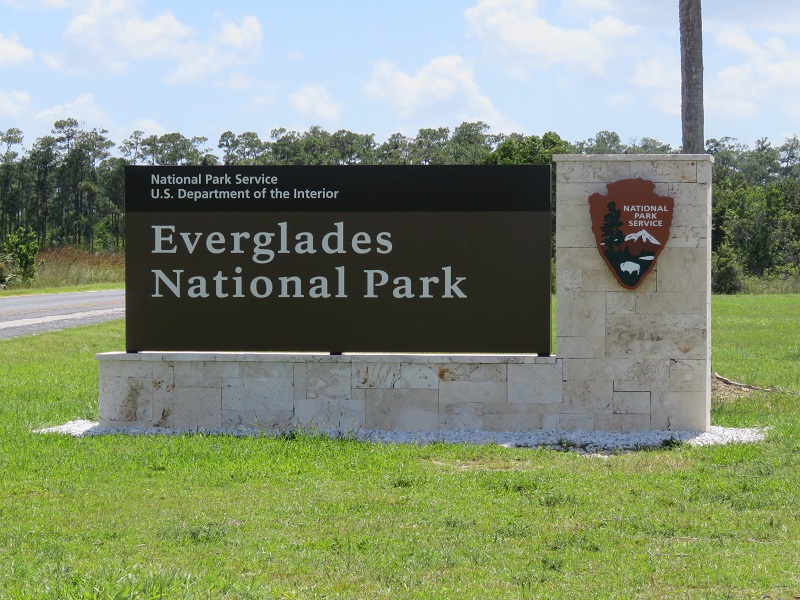 Scroll down to read more about the Everglades.  Don't miss our additional sections about specific areas inside Everglades National Park:
An entrance fee of $20 for motorcycles and $25 for private, noncommercial vehicles is charged at entry. The passes are good for seven days. The park offers an annual pass for $40 that is good for 12 months from the purchase date. The national park pass ($80), senior pass ($10) and other national park passes are accepted at Everglades National Park.
Bird Watching
Photography
Kayaking
Canoeing
Camping
Boat tours
Bird Watching
There are as many as three hundred bird species in the Florida Everglades, and it is a birding paradise from December to March during the winter dry season. Several hiking trails are good for bird watching, including Anhinga Trail, Shark Valley Tram Road and Snake Bight Trail. Birds also congregate around the bodies of water. Try Nine Mile Pond, Eco Pond, Mrazek Pond, or Paurotis Pond.
Wilderness Waterway
For boating and camping enthusiasts, the 99 mile Wilderness Waterway offers an adventure through the Everglades. The water trail connects Flamingo to Everglades City. It is best for experienced paddlers and boaters. Some areas are only passable at high tide and powerboats may have to detour around some portions. Inexperienced boaters may have trouble navigating due to the many bays, creeks and mangrove lined shores. The authorized national park boat tour concessioner rents canoes and kayaks. They also offer drop off or pick up service for canoes/kayaks and passengers.
Boat Tours
An authorized national park concessioner offers boat tours with trained naturalists to see the sights and wildlife of Ten Thousand Islands and the Mangrove Wilderness. Tickets are between $15 and $48 depending on age (kids/adults) and the tour. Tours are 1.5 hours to 1.75 hours.
Flamingo
Flamingo is located at the end of the road through the main section of the park starting at Florida City. There is currently a temporary visitor center, a marina and a campground. There are plans to create a new visitor center, as it was damaged in Hurricane Irma.
The Everglades boat tours depart from Flamingo marina. During our trip, the marina area was also a good place to observe the manatee, crocodiles and osprey.
Don't forget to stop in to the visitor center. One of the things that we learned when we were here was that we were unlikely to see a flamingo. Although common in South Florida in the 1800s, the flamingos almost vanished as they were hunted for food, skins, eggs and feathers. The well known pink bird has been seen again in the area, but it is rare to see one at Flamingo in the park currently.
Anhinga Trail
The Anhinga Trail is a paved walkway and boardwalk in Everglades National Park that runs over a freshwater sawgrass marsh (Taylor Slough). It is known as one of the best places with easy access to photograph wading birds and alligators because of their numbers and their tolerance of people on the boardwalk. It is just under a half mile to a series of viewing platforms that allow you to see out over the anhinga nesting area.
Nine Mile Pond
Nine Mile Pond offers canoeing and kayaking on a 5.5 mile loop trail across the pond and through the mangrove forest. It is also one of a handful of places in the park popular for shore fishing (in addition to fishing from a canoe/kayak).
Pahayokee Overlook
The Pa-Hay-Okee Trail and Overlook Platform provides an impressive and easily accessible view of the river of grass at Everglades National Park. It is a short boardwalk of less than a 1/4 mile roundtrip (.16 miles according to the national park website). It is located to the north of the Main Park Road about 12 miles from the southern park entrance reached by a 1.3 mile turnoff.
Shark Valley
The Shark Valley region of Everglades National Park contains the Shark Valley visitor center, an observation platform, the Shark Valley tram tour and a 15 mile bike trail (also used by the tram). Shark Valley is located 30 miles west of Miami off the Tamiami Trail (US Highway 41), on the northern border of the park at the head of the Shark River Slough. The Shark Valley tram tour is the highlight of this section of the park for many people. It takes visitors on a guided tour to the observation platform and back, with the guide pointing out wildlife and wilderness features along the way.
Anhinga Trail is a short .4 mile trail (.8 mile round trip) that starts at the Royal Palm Visitor Center, about four miles from the park entrance.  It is a self-guided trail through a sawgrass marsh.  It is one of the most popular trails in the park because of the abundant wildlife along the trail in the winter.  The broad, easy trail offers a handicapped accessible boardwalk over Taylor Slough, where wading birds and alligators are frequently seen.
Everglades National Parks Hotels & Lodging
There are a number of hotels near Everglades National Park in Homestead and Florida City. They include a Holiday Inn Express, Best Western, Home2 Suites, Days Inn, Super 8, Baymont and more.
If you are planning to be at Shark Valley in the morning, there are hotels along the Ronald Reagan Turnpike in Sweetwater and University Park such as the Hilton Garden Inn, Homewood Suites, Courtyard and Comfort Suites. It is about a thirty minute drive from there to Shark Valley.
On the northwest side of the park, there are a few local options near Everglades City. The closest major national hotel chains are approximately 45 minutes away near Naples, Florida.
Roundtrip Flights to Miami: