[acoda_typewriter tag="h1″ font_size="xlarge" duration="4000″ animated_text="Katmai National Park
Alaska"]
One of the premiere brown bear viewing areas in the world.
Katmai National Park and Preserve
Katmai National Park and Preserve is a wilderness park with only one road and less than five miles of maintained trails.  It is known for brown bear viewing as well as world class trout and salmon fishing.  The most popular area is Brooks Lodge, which is typically accessed by air from Anchorage or King Salmon.  However, there are more than 4 million acres to explore and enjoy.
Open / Close / Reopening Status of Katmai National Park due to Coronavirus (COVID-19)
Last Updated: May 2, 2020
Brooks Camp
Brooks Camp is the most visited area of Katmai National Park. Two viewing areas for brown bears catching and feeding on salmon are a short walk from here. From June 1 to September 18, there is a visitor center, campground, ranger station and meals/lodging available at Brooks Lodge. To reach Brooks Camp, most people take a small float plane operated by the park concessioner.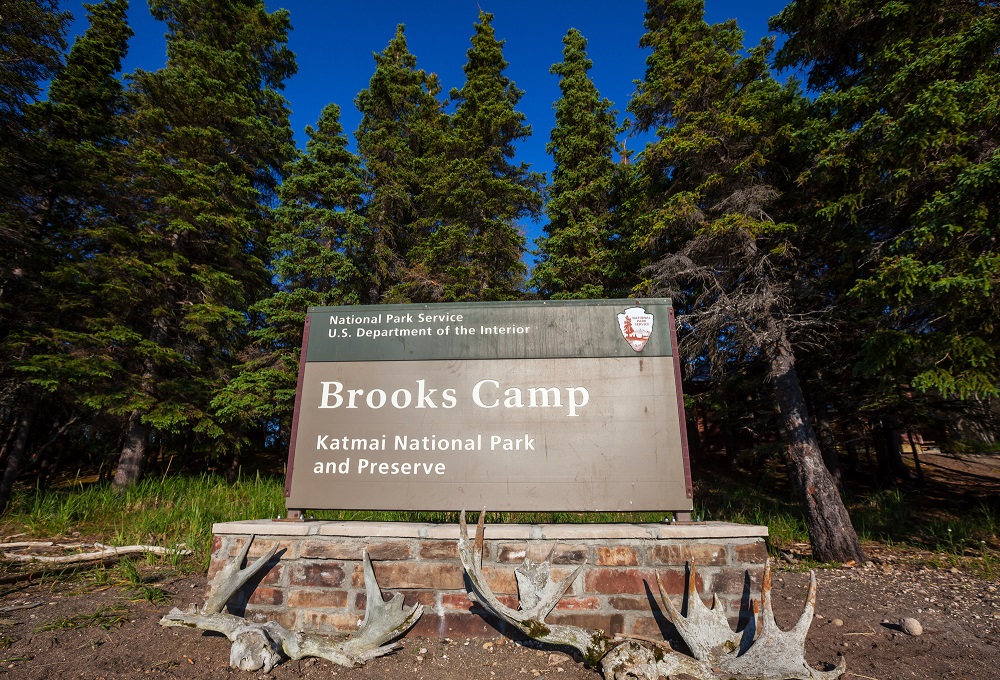 Brooks Falls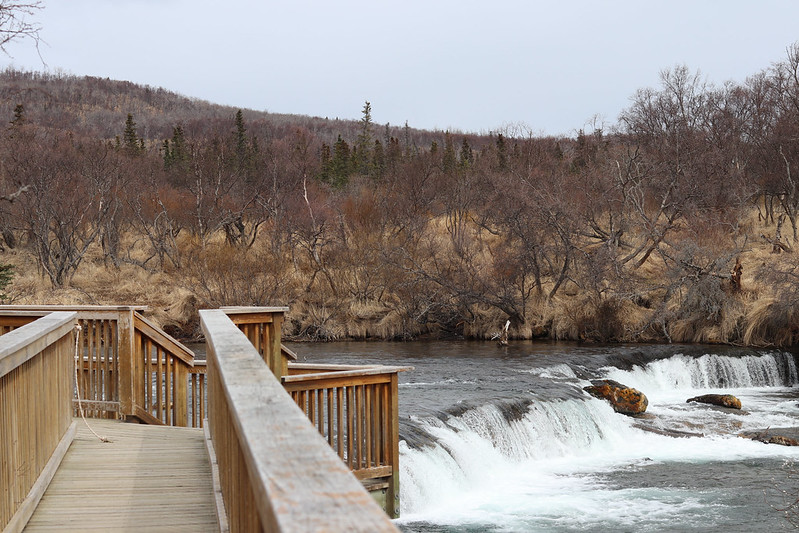 This is one of the most famous places to watch bears in Alaska. It is a waterfall located on the Brooks River a mile and a half from Brooks Lake. There is a webcam feed online "bearcam" to watch the brown bears catch and feed on salmon there. From mid-June to mid-August, no one may go within 50 yeards of the river within 100 yards of the falls. The Falls Platform provides viewing during this time with a maximum capacity of 40 people. After one hour, when the platform is full, visitors must yield their space to others. There are also platforms at the Riffles and three on the Lower River where there is no time limit.
Valley of Ten Thousand Smokes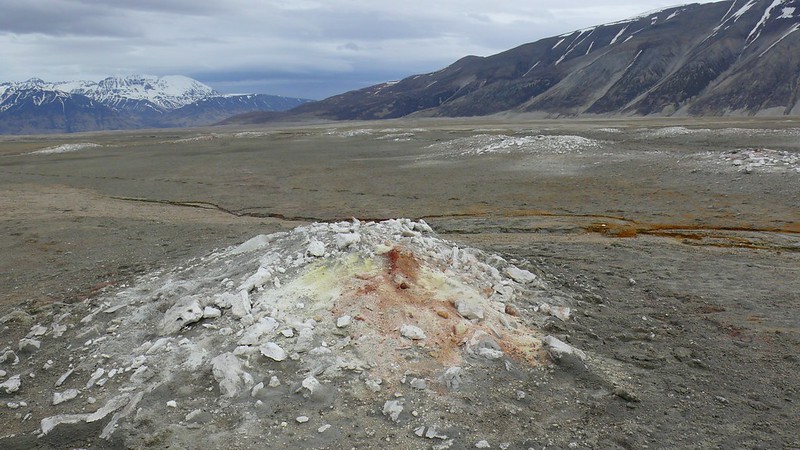 The Novarupta eruption and collapse of nearby Mount Katmai was one of the largest volcanic eruptions in recorded history and transformed the valley in 1912 by covering it with ash. The valley is named for the fumaroles that emerged in the area after. Visitors to the Valley generally arrive by bus after traveling more than 20 miles on the only road in Katmai.
The Valley of Ten Thousand Smokes was once a lush green valley of the Ukak River located between Katmai Bay and the Brooks River. The three day eruption of Novarupta starting on June 6, 1912 released 30 cubic kilometers of ash and debris into the air and was heard as far away as Juneau. It is considered one of the most powerful explosions that has happened in the world.
The volcano left an ash covered valley and a two mile wide caldera at Mount Katmai. The caldera led Robert Griggs of the US Geological Society during an expedition of the area in 1916 to mistakenly identify the caldera as the source of the explosion rather than Novarupta, a mistake which held for forty years. Griggs was responsible for the new name of the valley.
Most Katmai National Park visitors explore the Valley of Ten Thousand Smokes on a day trip from Brooks Camp. The 23 mile bus ride which takes about an hour on the dirt road drops visitors off at the Windy Creek trailhead. A hike from there (including fording a creek and river) brings the day trip to the Griggs Visitor Center, a small facility from which a ranger leads a hike into the valley.
Multi-day trips through the valley require planning as there are no official trails in the area. Potential destinations in the valley include the USGS Baked Mountain Huts, which is 11 miles from the Windy Creek Trailhead.
Hallo Bay
The meadows and shores of Hallo Bay are another popular place for wildlife tours and wild brown bears in Katmai National Park. Hallo Bay is located on the Pacific Ocean coast near Afognak Island and is usually reached from either Homer or Kodiak. There is also an eco-friendly wilderness camp located in the area. The grizzlies can be seen there from June through September. Hip waders are a popular accessory for visitors to the area since there are many bogs, mud flats and streams. Access is by bush plane or boat.

Fishing Katmai National Park
Alaska is known for world class fishing and Katmai National Park is a destination for rainbow trout and salmon fishing trips for fisherman around the United States traveling to the park. Five types of Pacific salmon (sockeye salmon, king salmon, silver salmon, chum salmon and pink salmon) are found in the park as they migrate upstream to their spawning grounds, in addition to year round species like the rainbow trout, arctic grayling, arctic char and dolly varden. Rivers worthy of a destination trip in the park include the American Creek, Alagnak River, Battle River, Brooks River, Funnel Creek, Kukaklek River, Kulik River, Moraine Creek, Naknek River and Nonvianuk River. Sportfishing is a popular draw of visitors to the park and there are a number of sport fishing lodges both in the park and the surrounding area that offer fly-in fishing.
Katmai Rafting / Packrafting / Kayaking
There are several popular trips for kayaking and rafting in Katmai. These include the Savonoski Loop which is a popular route for canoeing and kayaking while American Creek, Moraine Creek, and Funnel Creek are popular for rafting and packrafting. The Alagnak River also starts in Katmai National Park before proceeding into the nation's wild river system.
Savonoski Loop is an 80+ mile trip through Katmai for canoes and kayaks. The loop starts and ends at Brooks Camp, and takes a minimum of 4 to 10 days for the trip depending on the route, experience and weather. The loop utilizes the North Arm of Naknek Lake, Lake Grosvener, the Savonoski River and the south shore of Iliuk Arm. Canoes and kayaks can be rented from Brooks Lodge.
American Creek is another popular place for rafting and packrafting, typically starting at Hammersly Lake arriving by float plane and taking 7 to 10 days to complete the 40 mile long river to Lake Coville.
Another option is floating Moraine Creek and/or Funnel Creek, which are popular rivers for fishing. Mirror Lake at the head of Funnel Creek or Spectacle Lake at the start of Moraine Creek are the usual starting points for the trip to Kukaklek Lake. This can also be combined with a trip down the Alagnak.
Alagnak River is another popular trip which starts at either Kukaklek Lake or Nonvianuk Lake and flows west-southwest to its confluence with the Kvichak River. The Alagnak is a nationally protected Wild and Scenic River. The 70+ mile trip takes around six days. There is a gravel strip at the village of Kvichak where pickup can occur by a wheeled plane.
Katmai Hiking and Backpacking
There are only five miles of maintained hiking trails in Katmai. There are several day trips in the Brooks Camp area, including the popular Brooks Falls Trail, the Lake Brooks Road and Dumpling Mt. Trail.
Many Katmai backpacking trips in the park begin in the Valley of Ten Thousand Smokes. Destinations include the Baked Mountain Huts (~ 14 miles) below Katmai Pass and Katmai Bay (~ 50 miles)
Naknek Lake
Naknek Lake is the third largest lake in Alaska at more than 150,000 acres and it is also the largest lake inside an American national park. The lake is used by a water taxi from the King Salmon / Lake Camp area to bring park visitors to Brooks Camp.
There are several ways to enjoy Naknek Lake in the national park. From Brooks Camp, there is a hike to the summit of Dumpling Mountain which provides scenic views of the lake. There is a canoe / kayak trail called the Savonoski Loop which utilizes the North Arm of the lake. There is also a public use cabin built in 1926 and restored in the late 1980s on Bay of the Islands built by local Roy Fure, who was not eligible for a homestead claim because he was not a US citizen.
Access from King Salmon is via the Naknek River and Lake Camp which has a boat ramp, parking area, picnic area, and vault toilets. Leaving a vehicle or boat at Lake Camp for more than 72 hours at the facilities is not permitted without authorization.
Katmai Birds
The brown bears are the main attraction at Katmai, but while you are there and in the surrounding area you should keep an eye out for some of the breeding birds found on the Alaska Peninsula. The northern Alaska Peninsula where Katmai is found is known for its shorebirds, waterfowl and coastal seabirds. The National Park Service monitors the bald eagles, black oystercatchers and marine birds in the park.
Katmai Wolves
The park has an unknown population of gray wolves that have been seen on the coastline as well as at Brooks Falls. They have been known to scavenge salmon carcasses as well as occasionally learn to fish for salmon alongside the bears. I have seen the Katmai gray wolf described as "common" but rarely seen except when they show up at Brooks Falls or are occasionally run into by backpackers.
The grey wolf once lived throughout most of the continental United States, but they have been driven from 90% of its original range by humans. They are a popular attraction for national park enthusiasts visiting Yellowstone and Denali. Most people do not go to Katmai to search for a wolf, but they are there.
Late June is usually the start of the sockeye salmon and bear viewing at Brooks Falls. This brings an increase in visitors to the park. June also sees visitors to Hallo Bay for bear viewing.
July is the busiest month for visiting Katmai because it is the month when the sockeye salmon run reaches Brooks Falls and the bears go fishing on the Brooks River. The salmon run is usually over by early to mid-August and the bears have spread out from Brooks Falls. There can still be individual bears found in the area but it is not the same as the many brown bears there in July.
Early August can be hit or miss at Brooks Falls depending on the year. There have been years when the salmon run is late and bears continue to be at the falls until around August 10th. However, when the salmon have moved on upstream to spawn, the bears disperse from the river. There may be the occasional bear fishing in the river, but there are definitely lower numbers than in July.
September is another good time to see brown bears around Brooks River. The bears are found in the lower half of the Brooks River as they are feeding on the dead and dying salmon.
[wunderground location="King Salmon, AK" numdays="4″ layout="simple" showdata="search,alert,daynames,highlow,pop,icon,text,conditions,date"]
Average Temperature (Monthly)
Katmai National Park is located on the northern Alaska Peninsula between the Bering Sea and the Gulf of Alaska, so it experiences a variety of weather. However, Katmai weather is no different than most of Alaska in this regard.
Katmai National Park weather can vary tremendously during the summer. Summer temperatures can range anywhere from 30˚ to 80˚ Fahrenheit. There need not be consistency either – high temperatures in the 80s can be followed by torrential rains, gale force winds and temperatures in the forties.
The average high temperature at King Salmon from June to August is usually in the low 60s. Average low temperatures get down into the high 40s or low 50s.
The majority of days in the park are either mostly cloudy or overcast. In July, the most popular time to visit the national park, Only 10-15% of days in July are clear and 20-25% of the time the cloud cover is characterized as either clear or mostly clear.
June and July have the least rainfall during the summer. The average number of days with rainfall is usually around 14 in June and July and 16 in August and September. The average amount of precipitation in the month is usually around 2 inches in June and July, increasing to almost 3 inches in August and September.
The above rainfall totals are for the interior of the park. The interior of the park is generally warmer and drier than the Pacific coast of Katmai, which typically experiences cooler and wetter weather with more storms and strong winds. If you will be making a trip to Hallo Bay (instead of Brooks Falls), use Kodiak Alaska for your weather forecast.
For any trip to the park, be sure to pack waterproof clothing with a base layer that is lighweight, quick drying and utilizes wicking technology. A waterproof outer layer and an insulating layer like a fleece jacket or sweater can make your time in the park more comfortable.
Katmai National Park Camping
Brooks Camp Campground is located on the shores of Naknek Lake. There are no designated sites but capacity is limited to 60 people. The campground is surrounded by a bear resistant electric fence to minimize bear-human conflict.
There are no fees or permits for backcountry camping. However, certain areas are closed to camping during peak times for bears in order to minimize conflict. Camping in one location for more than 14 days is also prohibited.
Katmai Hotels and Lodging Options:
Brooks Lodge, Kulik Lodge and Grosvenor Lodge are all operated by the park's concessioner, Katmailand.
Brooks Lodge is popular for bear viewing and fishing, with sixteen modern rooms. One to three night packages are available for bear viewing with longer packages available for fishing. Brooks Lodge is reached by Katmai Air from either King Salmon or Anchorage.
Kulik Lodge offers 3, 4 and 7 night packages to accommodate up to 28 anglers. On the banks of the Kulik River between Kulik Lake and Nonvianuk Lake, the standard day is seven nights. It is in the heart of some of the best rainbow trout and salmon fishing in the world.
Grosvenor Lodge is an intimate sportfishing lodge on Grosvenor Lake that accommodates only 4 to 6 at a time. Accessible from Grosvenor are two of the largest sockeye salmon spawning streams in the area.
Enchanted Lake Lodge is located on 54 acres of privately owned land within Katmai off Nonvianuk Lake. It hosts only twelve guests per week while providing six experienced guides to ensure personal attention. The 7 night, 6-day package price for 2017 is $9800 per person.
Katmai Wilderness Lodge offers up close wildlife opportunities and bear viewing from the coast of Katmai. A seven day package is roughly $5225 with 3 and 4 day packages also available. The lodge is accessible by float plane from Kodiak.
Katmai Lodge is a sportfishing lodge on the Alagnak River which offers packages ranging from 3-14 night stays. It is located outside the Alagnak Wild River National Park.
Katmai Vacation Packages:
Gateways to Katmai National Park
Katmai National Park is a remote Alaska park which is reached by air or boat. So it is not the place to leave your travel arrangements to the last minute, since getting to Katmai can be a challenge. Most people travel through King Salmon on there way to Brooks Camp but Homer, Kodiak and Anchorage all make sense for some park visitors depending on the length of your vacation and your ultimate destination in the park.
King Salmon, AK – King Salmon has a population of around 400 people and is located 30 air miles from Brooks Camp. It is the home of the park headquarters and an interagency visitor center. Most people travel through this town on their way to Brooks Camp.
Anchor Point / Homer, Alaska – These two towns on the Kenai Peninsula which are accessible by road from Anchorage are frequently used as launching points for bear viewing at Lake Clark and the Katmai coast. Hallo Bay is 120 air miles southwest of Homer, a flight of 60 to 90 minutes each way. There are also boat tours that will cross the Cook Inlet
Kodiak, Alaska – This town with a population of around 6000 people is located on Kodiak Island. There is a ferry to the island as well as flights on Alaska Airlines. The national park is northwest of the island, located across Shelikof Straight. Kodiak Island is one of the closest launching points for the Katmai Coast, and you can find day trips from here to Geographic Harbor, Kinak Bay or Kukak Bay to see the coastal brown bears that are attracted by low tide. You can also find multi-day boat trips to Geographic Harbor or air taxi flights to Brooks Camp.
Anchorage, Alaska – Anchorage is the largest city in Alaska by population and is only around 290 air miles northeast of King Salmon. It is possible to fly directly to Brooks Camp from Anchorage rather than go through King Salmon. However, the cost is more than flying to King Salmon on Alaska Airlines from Anchorage and then taking a float plane or water taxi the last thirty miles from there. The advantage is that it saves time to fly direct – making it possible to do a long day trip from Anchorage or spend more time on an overnight in the park.
Frequently Asked Questions
Can you drive to Katmai National Park? How do I get to Katmai National Park and Preserve?
It is not possible to drive to Katmai National Park. Most people fly from Anchorage to King Salmon on Alaska Airlines or PenAir and then fly or boat from there to Brooks Camp. The coast of the park on the Pacific Ocean is usually reached by air but can also be reached in some places by a private or chartered boat.
How many bears are in Katmai National Park?
The National Park Service estimates there are about 2200 brown bears living in the park and more on the Alaska Peninsula. The bears are present in Brooks River and around Brooks Falls from the end of June through July. The waterfall creates a termporary barrier which concentrates the salmon and
The bears are usually in the lower Brooks River from early September through mid-October, searching for dead and dying salmon that have already spawned. A few bears may still fish during this time at Brooks Falls.
Parks in the Surrounding Area
Alagnak Wild River – The Alagnak River is a 60+ mile tributary of the Kvichak River which starts in Katmai National Park and traverses the Alaska Peninsula as it flows towards Bristol Bay and the Bering Sea. It is a part of the national wild and scenic rivers program and is a popular destination for fishing.
Aniakchak National Monument & Preserve – This ~ 600,000 acre NPS unit is considered one of the most wild and least visited places in the National Park System. It is home to a six mile wide caldera formed during a volcano eruption a few thousands of years ago.
Alaska Peninsula Wildlife Refuge – This NWR unit is located between Becharof National Wildlife Refuge to the north and Izembek NWR to the south. It contains 3.7 million acres which were established as part of the Alaska National Interest Land Conservation Act in 1980 to conserve fish and wildlife population and their habitats.
Becharof National Wildlife Refuge – This NWR unit south of Katmai on the Alaska Peninsula contains 1.1 million acres including the second largest lake in Alaska, the world's second largest run of sockeye salmon and a large population of brown bears.
Lake Clark National Park – This national park and preserve is located north of the national park at the junction of three mountain ranges. It protects the Bristol Bay salmon fishery and the Kvichak River, the most productive watershed for sockeye salmon. The park also has a large population of brown bears and an active volcano (Mount Redoubt).
McNeil River State Game Sanctuary – The McNeil River area was designated as a wildlife sanctuary in 1967 by the Alaska State Legislature and enlarged in 1993. It protects the congregation of brown bears at McNeil River Falls as the salmon migrate upstream.