Katmai National Park and Preserve
Katmai National Park and Preserve is a wilderness park with only one road and less than five miles of maintained trails.  It is known for brown bear viewing as well as world class trout and salmon fishing.  The most popular area is Brooks Lodge, which is typically acccessed by air from Anchorage or King Salmon.  However, there are more than 4 million acres to explore and enjoy.
Brooks Camp
Brooks Camp is the most visited area of Katmai National Park. Two viewing areas for brown bears catching and feeding on salmon are a short walk from here. From June 1 to September 18, there is a visitor center, campground, ranger station and meals/lodging available at Brooks Lodge. To reach Brooks Camp, most people take a small float plane operated by the park concessioner.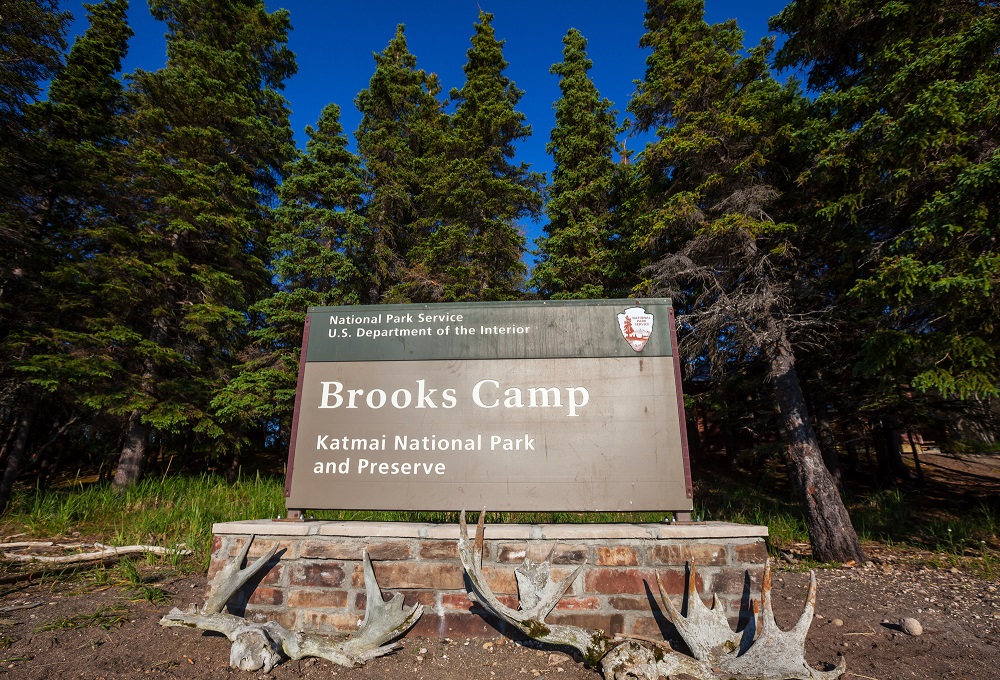 Brooks Falls
This is one of the most famous places to watch bears in Alaska. It is a waterfall located on the Brooks River a mile and a half from Brooks Lake. There is a webcam feed online "bearcam" to watch the brown bears catch and feed on salmon there. From mid-June to mid-August, no one may go within 50 yeards of the river within 100 yards of the falls. The Falls Platform provides viewing during this time with a maximum capacity of 40 people. After one hour, when the platform is full, visitors must yield their space to others. There are also platforms at the Riffles and three on the Lower River where there is no time limit.
Valley of Ten Thousand Smokes
The collapse of Mount Katmai during one of the largest volcanic eruptions in recorded history created the valley in 1912. It is named for the fumaroles that emerged after water was buried by ash and turned into steam. Visitors to the Valley generally arrive by bus after traveling 20 miles on the only road in Katmai.
Hallo Bay
The meadows and shores of Hallo Bay are another popular place for wildlife tours and wild brown bears in Katmai National Park. Hallo Bay is located on the Pacific Ocean coast near Afognak Island and is usually reached from either Homer or Kodiak. There is also an eco-friendly wilderness camp located in the area. The grizzlies can be seen there from June through September. Hip waders are a popular accessory for visitors to the area since there are many bogs, mud flats and streams. Access is by bush plane or boat.

Average Temperature (Monthly)

Average High Temperature (°F)
Average Low Temperature (°F)
Camping
Brooks Camp Campground is located on the shores of Naknek Lake. There are no designated sites but capacity is limited to 60 people. The campground is surrounded by a bear resistant electric fence to minimize bear-human conflict.
There are no fees or permits for backcountry camping. However, certain areas are closed to camping during peak times for bears in order to minimize conflict. Camping in one location for more than 14 days is also prohibited.
Some Hotels and Other Lodging Options:
Brooks Lodge, Kulik Lodge and Grosvenor Lodge are all operated by the park's concessioner, Katmailand.
Brooks Lodge is popular for bear viewing and fishing, with sixteen modern rooms. One to three night packages are available for bear viewing with longer packages available for fishing. Brooks Lodge is reached by Katmai Air from either King Salmon or Anchorage.
Kulik Lodge offers 3, 4 and 7 night packages to accommodate up to 28 anglers. On the banks of the Kulik River between Kulik Lake and Nonvianuk Lake, the standard day is seven nights. It is in the heart of some of the best rainbow trout and salmon fishing in the world.
Grosvenor Lodge is an intimate sportfishing lodge on Grosvenor Lake that accommodates only 4 to 6 at a time. Accessible from Grosvenor are two of the largest sockeye salmon spawning streams in the area.
Enchanted Lake Lodge is located on 54 acres of privately owned land within Katmai off Nonvianuk Lake. It hosts only twelve guests per week while providing six experienced guides to ensure personal attention. The 7 night, 6-day package price for 2017 is $9800 per person.
Katmai Wilderness Lodge offers up close wildlife opportunities and bear viewing from the coast of Katmai. A seven day package is roughly $5225 with 3 and 4 day packages also available. The lodge is accessible by float plane from Kodiak.
Katmai Lodge is a sportfishing lodge on the Alagnak River which offers packages ranging from 3-14 night stays. It is located outside the Alagnak Wild River National Park.
Frequently Asked Questions
Can you drive to Katmai National Park? How do I get to Katmai National Park and Preserve?
It is not possible to drive to Katmai National Park. Most people fly from Anchorage to King Salmon on Alaska Airlines or PenAir and then fly or boat from there to Brooks Camp. The coast of the park on the Pacific Ocean is usually reached by air but can also be reached in some places by a private or chartered boat.
How many bears are in Katmai National Park?
The National Park Service estimates there are about 2200 brown bears living in the park and more on the Alaska Peninsula. The bears are present in Brooks River and around Brooks Falls from the end of June through July. The waterfall creates a termporary barrier which concentrates the salmon and
The bears are usually in the lower Brooks River from early September through mid-October, searching for dead and dying salmon that have already spawned. A few bears may still fish during this time at Brooks Falls.