[acoda_typewriter tag="h1″ font_size="xlarge" duration="4000″ animated_text="Mount Rainier
Seattle, WA"]
Mountain views, wildflower meadows and hiking.
Mount Rainier National Park
Mount Rainier is the highest point in the State of Washington, with the peak reaching 14,410 feet above sea level. It is one of the world's most prominent mountain peaks, standing prominently above the Seattle-Tacoma metropolitan area. The National Park Service calls Paradise, on the south slope of Mount Ranier, the snowiest place on Earth where snow is regularly recorded. Mount Rainier has 36 square miles of permanent snowfields and glaciers – the most heavily glaciated peak in the lower 48 states. It is also an active volcano with its last eruption in 1894-95.
Mount Rainier National Park was established in 1899 by President William McKinley as the fifth national park. It was the first national park created from a national forest. The entire park is now part of a National Historic Landmark District and 42 locations within the park have a National Register of Historic Places designation. It is located only an hour from Seattle.
Open / Close / Reopening Status of Mount Rainier National Park due to Coronavirus (COVID-19)
More information on Mount Ranier
Last Updated: May 2, 2020
Paradise
Paradise is known for its panoramic views and wildflower meadows (in season between mid-July through mid-August). It is situated in the southwest corner of the national park at an elevation of 5,400 feet, east of Longmire (12 miles) and the Nisqually Entrance (19 miles). Paradise is the park's main visitor center and the main hub for winter activities in the park.
The Paradise Jackson Visitor Center is open daily from May to early October and on weekends/holidays from mid-October to April. The historic guest lodge Paradise Inn offers 121 rooms, a gift shop, cafe and dining room in the shadow of Mount Rainier. It is generally open from mid-May to early October.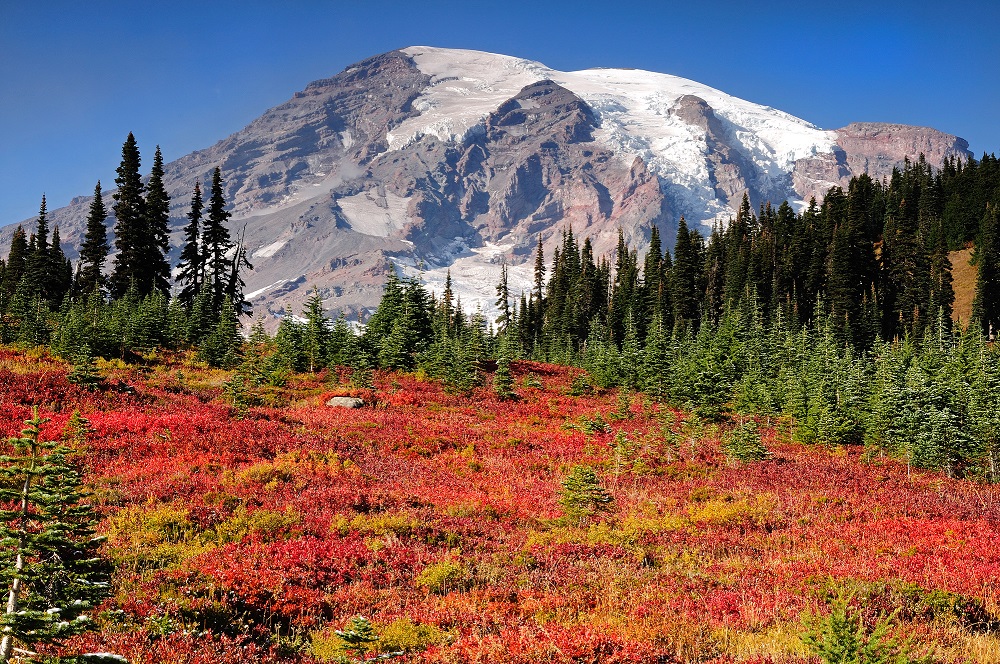 Emmons Vista Overlook
White River Valley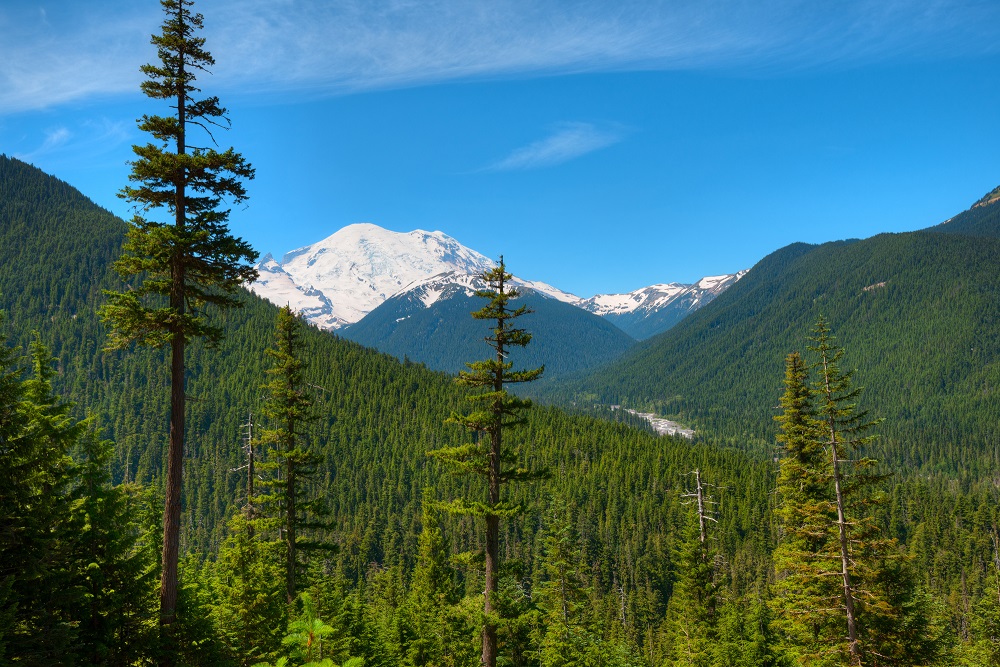 Mount Rainier National Park Waterfalls
The best viewing for Mount Rainier's waterfalls is generally in early summer due to the melting snowfall.
Comet Falls: It is a 3.8 mile round trip hike with an elevation gain of 900 feet to reach Comet Falls, one of the highest waterfalls in the national park.
Christine Falls: The lower falls drops 69 feet over two tiers and is frequently photographed because it is framed by the Christine Falls Bridge. It is located near the comet falls trailhead.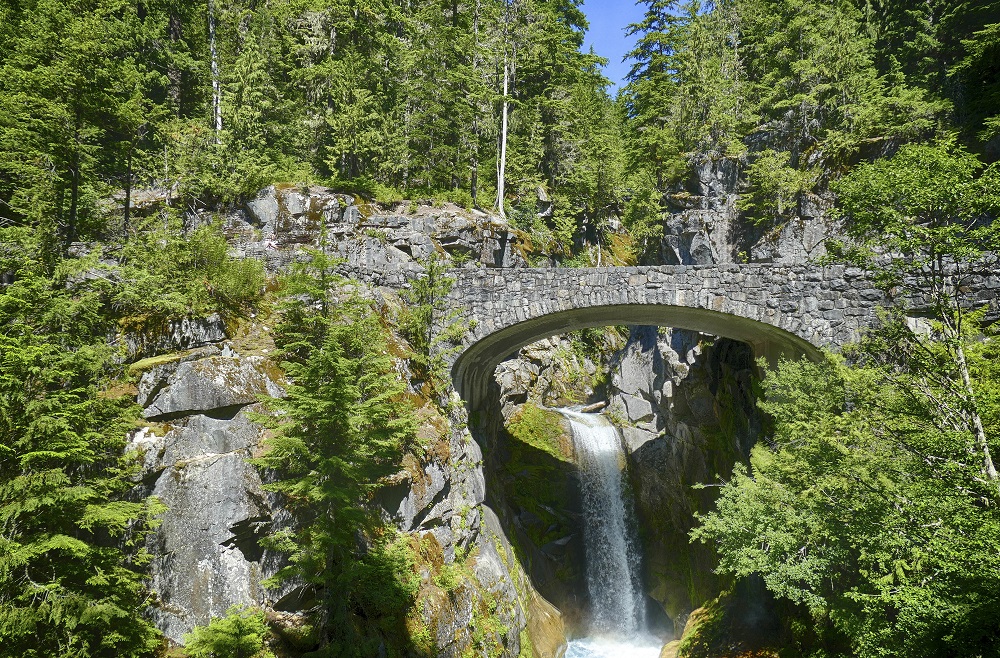 Naranda Falls: A popular 176 foot waterfall located on the road between Longmire and Paradise. There is convenient parking and a short path to the best viewing of the falls.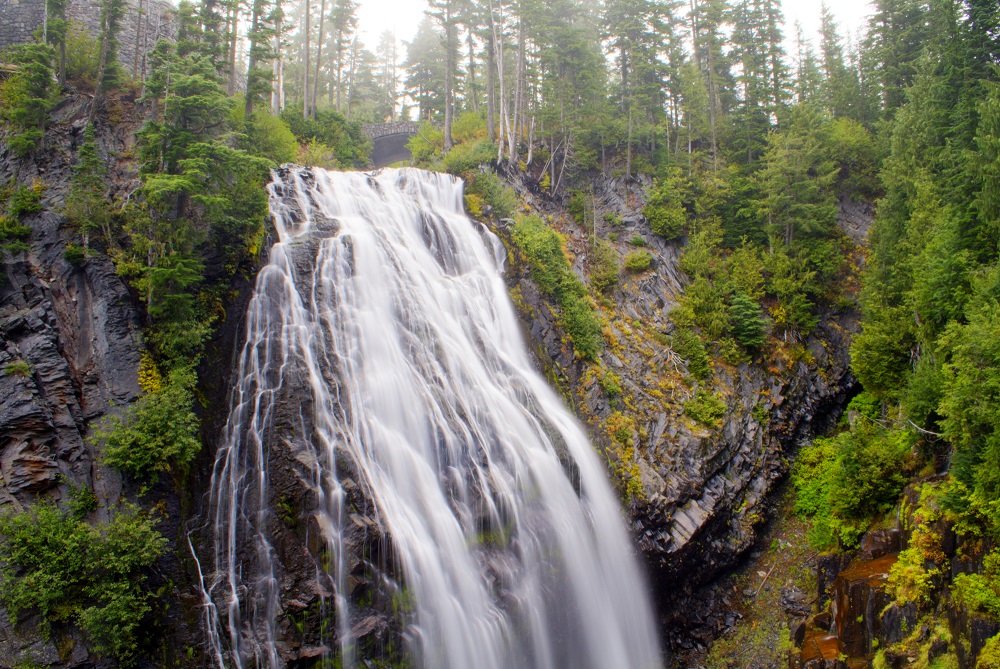 Silver Falls: Watch the water plunge 40 feet into a deep blue pool after a series of ledges. It is accessible from a short trail via SR 123 or by hiking the loop from the Ohanapecosh Visitor Center.
Myrtle Falls: A small waterfall with an amazing backdrop accessible via a 10 or 15 minute walk from Paradise Inn or the Paradise Jackson Visitor Center.
Carbon River Valley Rainforest
This rainforest in Mount Rainier's Carbon River Valley is rare because most temperate rainforests occur along the occean. Explore the rainforest on the carbon River Rainforest Trail, which is a .3 mile loop through this unique inland rain forest.
Climbing
About 10,000 people attempt to climb Mount Rainier annually with about half reaching the summit. Climbing generally occurs between Memorial Day and Labor Day.
Hiking
Mount Rainier has over 260 miles of maintained trails through the river valley forests, subalpine meadows and amidst the mountains. There are many popular day hikes in the park, including:
Tolmie Peak Trail: A moderately trafficked 5.2 mile out and back trail that goest past alpine lakes to reach a fire tower with an amazing view of Mount Rainier.
Dege Peak Trail: A popular 4 mile round trip hike with amazing views of the mountains.
The Grove of Patriarchs: A popular, family friendly 1.5 mile round trip hike that passes ancient trees with huge trunks.
Spray Park: A 6 mile round trip hike from Mowich Lake campground to Spray Falls and the meadows known as Spray Park, with views of Mowich Glacier.
Backpacking:
Permits are required for overnight hiking trips in the park.
Northern Loop Trail: A 33-40 mile loop that takes 3-4 days to hike through the northern section of the park.
Wonderland Trail: A 93 mile hike circumnavigating the mountain with elevation gains and losses in total of around 23,000 feet. Most people take ten days to hike the trail and the hiking season is from late July to the middle of September. Food caches are available at locations along the way.
Average Temperature (Monthly)
[wunderground location="Paradise, WA" numdays="4″ layout="simple" showdata="search,alert,daynames,highlow,pop,icon,text,conditions,date"]
Some Hotels and Other Lodging Options:
Roundtrip Flights to Seattle:
[tp_in_our_city_fly_shortcodes destination=SEA title="" limit=15 paginate=false stops=1 one_way=false off_title=true subid="" currency="USD"]