[acoda_typewriter tag="h2″ font_size="xlarge" duration="4000″ animated_text="Badlands National Park
Interior, SD"]
Explore badlands formations and the largest undisturbed mixed-grass prairie in the US.
Badlands National Park is a nearly 1/4 million acre park in the Black Hills 50 miles east of Rapid City. It protects the largest undisturbed mixed grass prairie in the United States. It is a popular place for photography, astronomy, bicycling and observing paleontology.
Badlands is composed of two units, the North Unit and the South Unit. The South Unit is 133,000 acres and is composed of the Stronghold and Palmer Creek Units.
Open / Close / Reopening Status of Badlands National Park due to Coronavirus (COVID-19)
More information on Badlands here
Last Updated: May 2, 2020
History
The human history of the area goes back around 10,000 years, when Native Americans used the area for hunting. In addition to plentiful game, like bison and rabbits, the valleys of fresh water and protection from the elements and the Badlands Wall for a lookout point made the area a great spot.
Trappers and traders traveled between Fort Pierre (SD) and Fort Laramie (WY), crossing an edge of what is now Badlands National Park. In the 19th century, homesteaders moved into South Dakota, forcing the Native Americans in the area onto reservations. There was resistance to this takeover of their historical lands, which included the performance of Ghost Dances and ultimately led to the Wounded Knee Massacre in 1890, when over three hundred natives and thirty soldiers were killed. Wounded Knee is about 45 miles south of the park on Pine Ridge Reservation, where the interpretation of the tragic events are available.
Pine Ridge was also used by the Army Air Force as a gunnery range during World War II, using purchased or leased land (but also land owned by those forcible relocated), and the land was turned over to the National Park Service after it was declared excess property. Today, this land makes up the Stronghold District in the southern section of the park and is co-managed by the National Park Service and the Oglala Lakota Tribe. It holds spectacular views including high stone tables, including Red Shirt Table, and rolling prairies.
The park was authorized as Badlands National Monument in 1929, but was not established until 1939. It was redesignated as a national park in 1978. The Ben Reifel Visitor Center was built as part of the Mission 66 plan (the 50th anniversary of the National Park Service). The park also administers Minuteman Missile National Historical Site, which is nearby.
An entrance fee of $10 for motorcycles and $20 for private, noncommercial vehicles is charged at entry year-round. The passes are good for seven days. The park offers an annual pass for $40 that is good for 12 months from the purchase date. The national park pass ($80), senior pass ($10) and other national park passes are accepted at Badlands National Park.
Location
Airport Options:
Rapid City, SD:
Sioux Falls, SD:
Denver, CO:
Rapid City Regional Airport (RAP) is located about 60 miles west of Badlands National Park. Flights are available to RAP from Denver, Houston, and Chicago aboard United Airlines. Flights arrive from Minneapolis/St Paul, Salt Lake City, and Atlanta with Delta, and from Chicago and Dallas/Fort Worth aboard American. Allegiant Airways operates flights from Las Vegas and Phoenix.
Greyhound (operated by Jefferson) and Coach USA (operating as Powder Lines Coach) both offer bus service to Rapid from various cities. Once you arrive in Rapid City, there are a few options to choose between in order to get to the Badlands National Park. Several of the major car rental services in Rapid City are Hertz, Enterprise, and Avis. Taxi services are available between the airport, buses, and these rental car agencies.
Sioux Falls Regional Airport (FSD) is located about 4 hours away from the eastern end of Badlands National Park. It is served by five different airlines. Delta, Frontier, American, US Airways and Allegiant Air all fly to and from Sioux Falls. For those flying into Sioux Falls, car rental is available through Avis, Enterprise and Hertz. There are also Greyhound buses that travel from Sioux Falls to Wall, SD and Rapid City, SD, if you prefer to rent a car or take a tour from there.
Denver International Airport (DIA) is about a six hour drive from the southern end of Badlands National Park. All major airlines and car rental companies service the airport (Pro-tip: we rent from downtown rental agencies and just take the train from the airport – we've saved significantly with this option!)
Busiest Months (Percentage of Annual Visits)
[list style="check" size="medium"]
Hiking
Camping
Astronomy
Paleontology
[/list]
[list style="check" size="medium"]
Auto-tour
Bicycling
Bird watching
[/list]
The Wall
Of the 244,000 acres in the park, about half are badlands features such as pinnacles, buttes, and spires, which were created in a series of sediment deposits and erosion. One of the most popular badlands formations is the Wall. The Wall is a 60+ mile long stretch of cliffs where the tens of millions of years old rock layers were exposed by erosion.  The Wall can be enjoyed from a number of roads and trails in the park as well as the scenic overlooks from the main road in the North Unit.
The Loop Road
The Badlands Loop Road is a popular 32 mile scenic drive in the park.  It is the only paved route through the park and is considered one of the nation's most scenic drives.
Fossils
The Badlands has the largest number of mammal fossils from the Eocene and Oligocene periods. This covers a period from 23 million years ago to 56 million years ago. The FOssil Exhibit Trail is a handicapped-accessible path that displays replicas of some of the mammals that once roamed the Badlands. There is also a working paleontology lab at the Ben Reifel Visitor Center so visitors can watch paleontologists prepare fossils.
If you find a fossil in the park, report it to the rangers. A seven year old girl found a fossil in 2010 and it turned out to be a rare and well preserved saber cat fossil.
Astronomy
The National Parks Conservation Association listed the Badlands National Park among the top 10 parks for stargazing. On a clear night, up to 7500 stars and the Milky Way galaxy are visible. The park provides telescopes during astronomy programs at the Cedar Pass Campground Amphitheater on Friday through Monday nights. The Badlands Astronomy Festival is held annually in the park for a three day weekend in July.
Prairie Dogs
Five miles into the Sage Creek Rim Road lies the Roberts Prairie Dog Town. This former homestead has been converted into one of the country's largest homes for black-tailed prairie dogs. USA Today named it one of five things to see at Badlands National Park.
The park also has black-footed ferrets, which were reintroduced into the park in 1994 after they were believed to be extinct in the 1970s and a colony was thereafter discovered in Wyoming. The black-footed ferret is believed to be the most endangered land mammal in North America.
Eight trails allow access to the Badlands Wall and other park amenities. The longest trail in the park is the Castle Trail, which is five mile one-way moderate hike (10 miles round trip). Be sure to check the difficulty rating before going, however, since some Badlands trails (including Saddle Pass) involve climbing. You should also make sure you have enough water to complete your hike, especially in summer when temperatures can exceed 100*. Below is a photo of Notch Trail: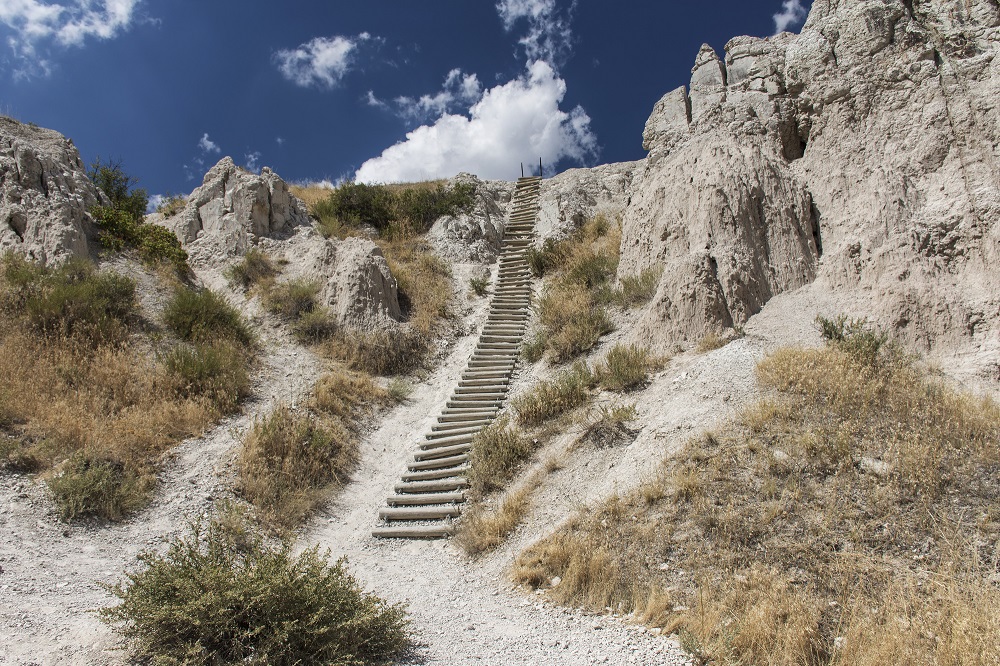 Bicycling
Those taking advantage of exploring the Badlands on two wheels are often surprised at what an amazing view they have of all the impressive geological features. Bicycles are only allowed in designated paved, gravel, and dirt roads within the Badlands National Park, and the National Park Service has two publications which lay out some interesting trails and routes that take advantage of the Park's gravel paths, since biking on the Loop Road can be hazardous, given the curvy nature of the often busy road. We recommend checking these bulletins out, since bicycles are not allowed on hiking trails, closed roads, off-road, off-trail, or in backcountry areas. Also confirm that you are prepared for the difficulties of any given route, as some involve steep passes that can be challenging for the unprepared biker. Make sure to pack sufficient water when setting out on your bicycling adventures, since it may not be available along your route and you don't want to become dehydrated in the 100+* summer temperatures. We also recommend you wear bright clothing and safety gear that will ensure your ride is fun and safe!
https://www.nps.gov/badl/planyourvisit/upload/Bicycling%20Site%20Bulletin.pdf
https://www.nps.gov/badl/planyourvisit/upload/Bicycling%20Off%20the%20Beaten%20Path.pdf
Prairie
About half of the parks 244,000 acres is comprised of mixed-grass prairie, making it one of the largest stretches of undisturbed prairie in the country. This prairie supports a number of different animals, such as ground-nesting birds, bison, and prairie dogs. A number of hiking trails go through the prairie, and both campgrounds (Cedar Pass and Sage Creek) are located in or near the prairie, leading to amazing views of the surrounding rock formations. The prairie is part of a transitional zone, and includes grasses both from the east (moist, tall-grass prairie) and from the west (arid short-grass prairie), leading to both ankle-high and waist-high grasses. Over 400 different plant species have been identified within the park, and each one had adapted to survive in the extremes present in the ecosystem in the Park: hot, dry summers, cold, stormy winters, and everything in between. Trees and shrubs dot the landscape, but grasses dominate the prairie areas of the park.
Nearby attractions
Minuteman Missile National Historical Site
Wounded Knee Memorial
Bird-Watching
Badlands National Park is at the cross-roads between western and eastern birds, and over 200 species of birds have been observed in the park, with a third of them nesting in the park. The best place to observe birds are the badlands formations, where the nooks and crannies of the rocks allow for perfect nesting places for a variety of birds, and the slumps of the Wall, where shrubs and trees allow for concealed nests to be built. The prairie also supports a number of ground-nesting birds.
The birds listed as common by the National Park Service include: American Crow, American Goldfinch, American Kestrel, American Robin, American Tree Sparrow, Bald Eagle, Baltimore Oriole, Barn Swallow, Black-billed Magpie, Blue Grosbeak, Blue Jay, Blue-winged Teal, Brewer's Blackbird, Brown Thrasher, Brown-headed Cowbird, Bullock's Oriole, Burrowing Owl, Cedar Waxwing, Chipping Sparrow, cliff swallow, Common Flicker, Common Grackle, Common Nighthawk, Common Yellowthroat, Dark-eyed Junco, Downy Woodpecker, Eastern Kingbird, Field Sparrow, Gadwall, Golden Eagle, Grasshopper Sparrow, Great Horned Owl, Horned Lark, House Wren, Killdeer, Lark Bunting, Lark Sparrow, Lesser Scaup, Mallard, Mountain Bluebird, Mourning Dove, Northern Rough-winged Swallow, Orchard Oriole, Prairie Falcon, Red-headed Woodpecker, Red-tailed Hawk, Red-winged Blackbird, Ring-necked Pheasant, Rock Pigeon, Rock Wren, Rough-legged Hawk, Sandhill Crane, Say's Phoebe, Sharp-tailed Grouse, Spotted Sandpiper, Swainson's Thrush, Townsend's Solitaire, Turkey Vulture, Vesper Sparrow, Western Kingbird, Western Meadowlark, White-crowned Sparrow, White-throated Swift, Wilson's Phalarope, Wilson's Warbler, Yellow Warbler, Yellow-breasted Chat, and Yellow-rumped Warbler.
Courtesy of the AstroViewer night sky map.
Panorama Point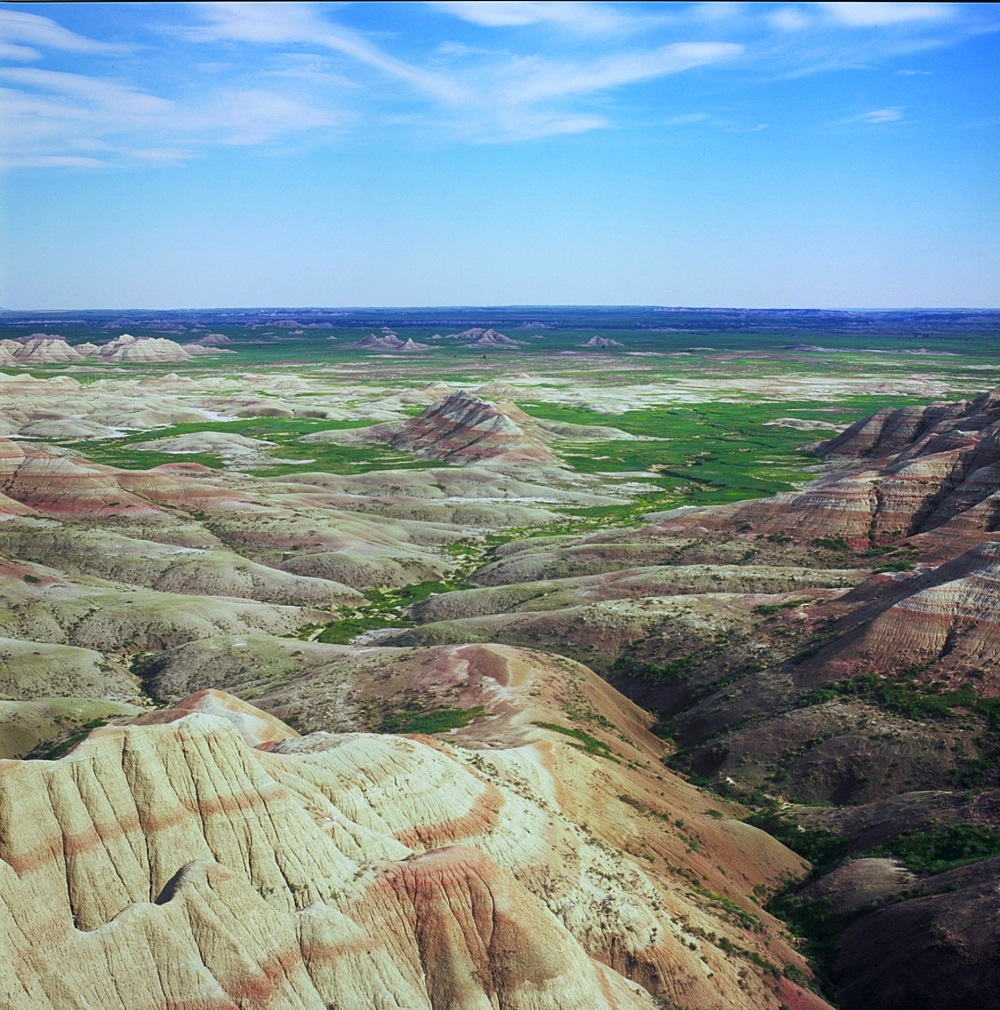 Yellow Mounds Overlook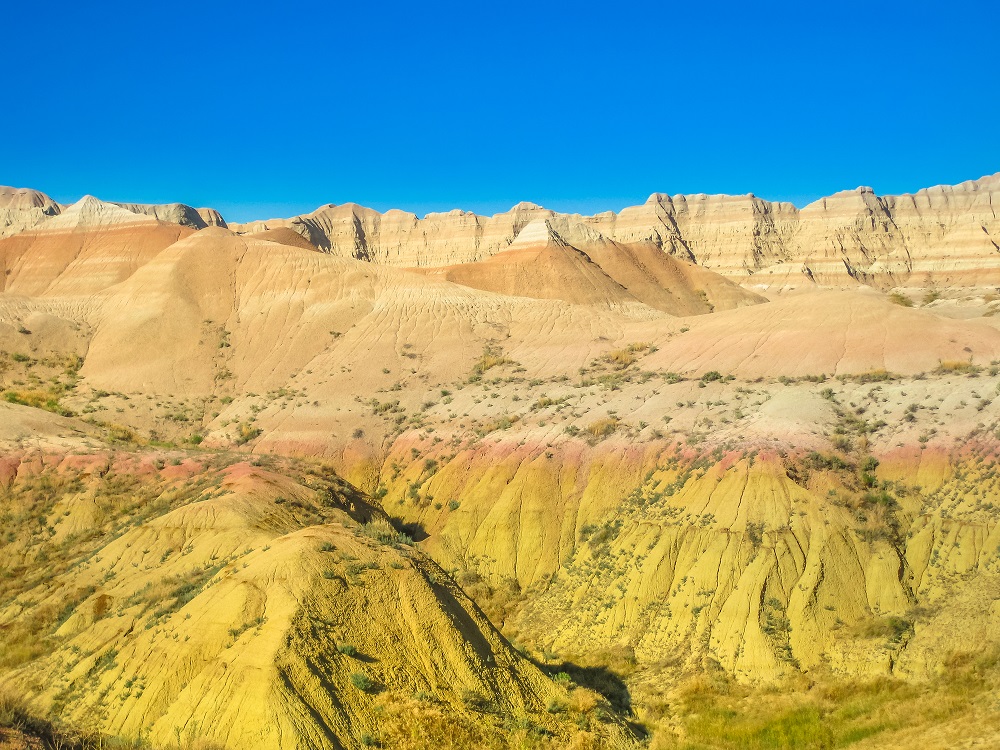 The area isn't known as the Badlands for no good reason. This national park experiences extreme weather and the weather can change suddenly. In order to safely observe the natural wonders of this park, be prepared for what you may face when you are there!
The peak season at Badlands is June through August, when temperatures range from the 70s through 90s. However, extreme temperatures have been observed as high as 116. Summers are hot and dry, with occasional, violent thunderstorms. Hailstorms and tornadoes are also observed during the summer months. June is the wettest month of the year.. We recommend dressing in layers, and ensuring you have a hat, sunscreen, and adequate water for each person in your group.
The fall swaps summer crowds for cooler temperatures in the 60s and 70s. The winter and spring is the off-season. Winter temperatures are generally below freezing, and an extreme low of -40 has been observed. The area frequently receives 12 to 24 inches of snow each winter, with heavy winds. Spring temperatures hover in the 40s, with some residual snow observed.
Average Temperature (Monthly)
[wunderground location="Rapid City, SD" numdays="4″ layout="simple" showdata="search,alert,daynames,highlow,pop,icon,text,conditions,date"]
Some Hotels and Other Lodging Options:
Frequently Asked Questions
How long does it take to drive the Badlands Loop?
The Badlands Loop, otherwise known as South Dakota Highway 240, is a 40 mile detour from I-90 into Badlands Nataional Park. It can be driven in about an hour from Cactus Flat to Wall without stopping. Most visitors spend three to five hours in the North Unit of the park.
How far is Badlands National Park from Mount Rushmore?
Mount Rushmore is located about 1 hour and 15 minutes from either Wall or Scenic, via Rapid City.