[acoda_typewriter tag="h1″ font_size="xlarge" duration="4000″ animated_text="Lake Clark
Alaska"]
Stunning beauty southwest of Anchorage.
Lake Clark National Park and Preserve
Lake Clark National Park is located at the junction of three mountain ranges. It protects the Bristol Bay salmon fishery and the Kvichak River, the most productive watershed for sockeye salmon. The park also has a large population of brown bears and an active volcano (Mount Redoubt).
Open / Close / Reopening Status of Lake Clark National Park due to Coronavirus (COVID-19)
More information on Lake Clark
Last Updated: May 2, 2020
How to Get to Lake Clark National Park
Since there are no roads into the park, the most popular way to reach Lake Clark is via an air taxi. Flightseeing and bear viewing tours can be booked from a number of surrounding communities including Anchorage, Soldotna, Homer and King Salmon (gateway to Katmai National Park). Here is a bit more about some of the communities that we frequently see mentioned offering flights to Lake Clark National Park:
Anchorage – it is only around 160 air miles from the Anchorage airport to Port Alsworth. Flights are available from a number of operations including Lake and Peninsula Air and Lake Clark Air.
Soldotna – This city of around 4000 people is the home to a few different flightseeing, fly-in fishing and bear viewing tours. It is located 15 minutes from Kenai along the highway from Seward to Homer. Planes fly thirty minutes over Cook Inlet to reach Lake Clark National Park. It is a popular launching point
Anchor Point – This small town of 2000 is located on the Kenai Peninsula 23 miles northwest of Homer. Anchor Point is directly across the inlet from Chinitna Bay, making it a 40 mile or so trip to world class Alaska bear viewing.
Homer – Lake Clark is 65 air miles northwest of Homer, located across Cook Inlet. There are two air taxis that fly into the park on wheels and six that fly into the park operating on floats.
Port Alsworth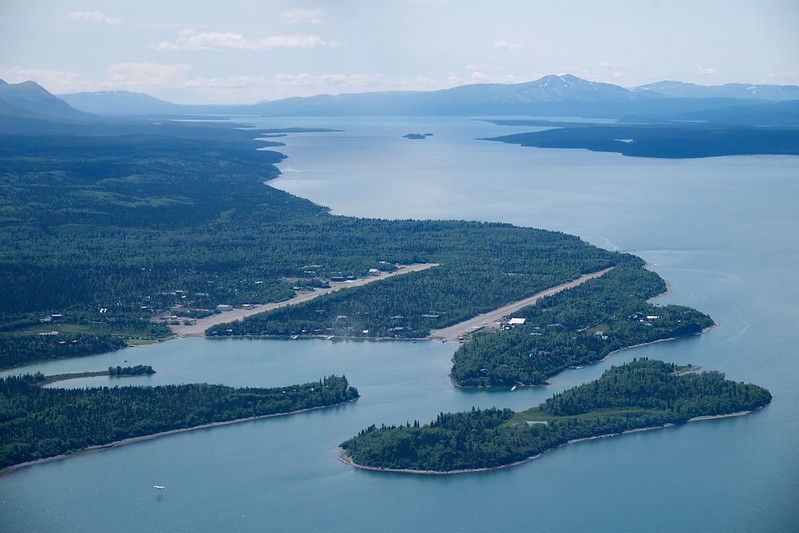 The gateway community to Lake Clark is located on the eastern shore about 100 miles southwest of Anchorage. There are approximately 125 residents. Port Alsworth is only accessible by air, with several air taxi services available to fly in from Anchorage. The only maintained trail system in the park is accessed from Port Alsworth. Try the hike to Tanalian Falls for one destination.
The town was founded around 1950 (although habitation of the area dates back longer) and is located on private land within the park. There are two gravel airstrips (the Port Alsworth Airport and the Wilder/Natwick LLC Airport) as well as the option to make a water landing on Lake Clark. Port Alsworth contains the park's field headquarters and visitor center. There are lodges, inns, B&Bs and hotels. There are no grocery stores or restaurants in Port Alsworth – most lodges serve meals for their guests. Expect to walk through Port Alsworth.
Dick Proenneke's Cabin and Upper Twin Lake
Upper Twin Lake is a popular place for backpacking and camping in Lake Clark National Park. It is a 30 minute flight from Port Alsworth or an hour from Anchorage. The Proenneke Cabin is open to the public daily in the summer months. It was created by hand by Richard Proenneke, who lived alone in the area for thirty years and became famous when books and films were made about his life in Alaska. Proenneke died in 2003 and left his cabin to the National Park Service. It is now on the National Register of Historic Places.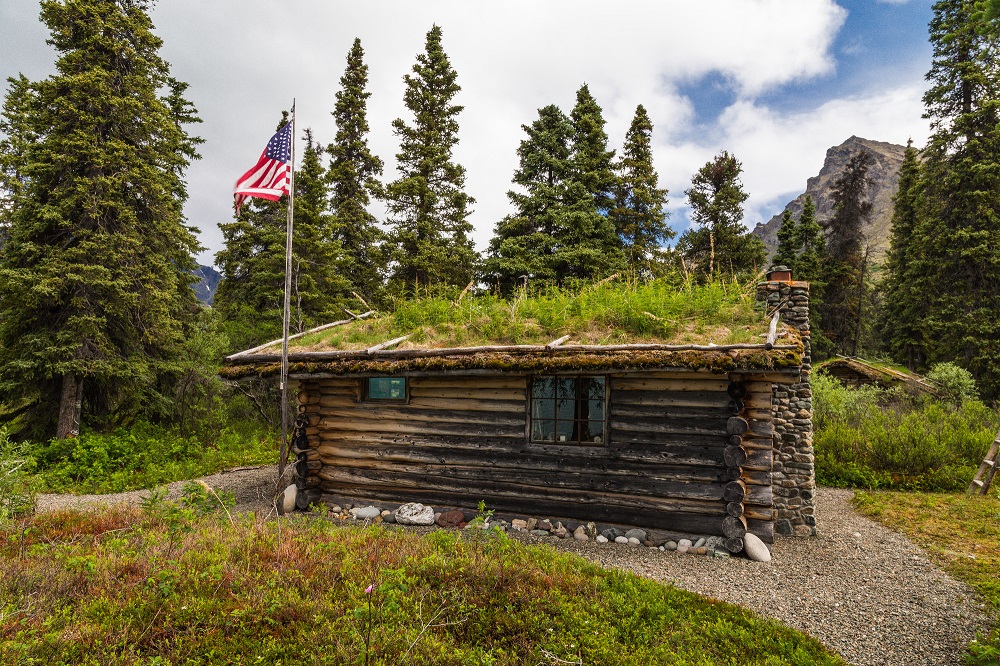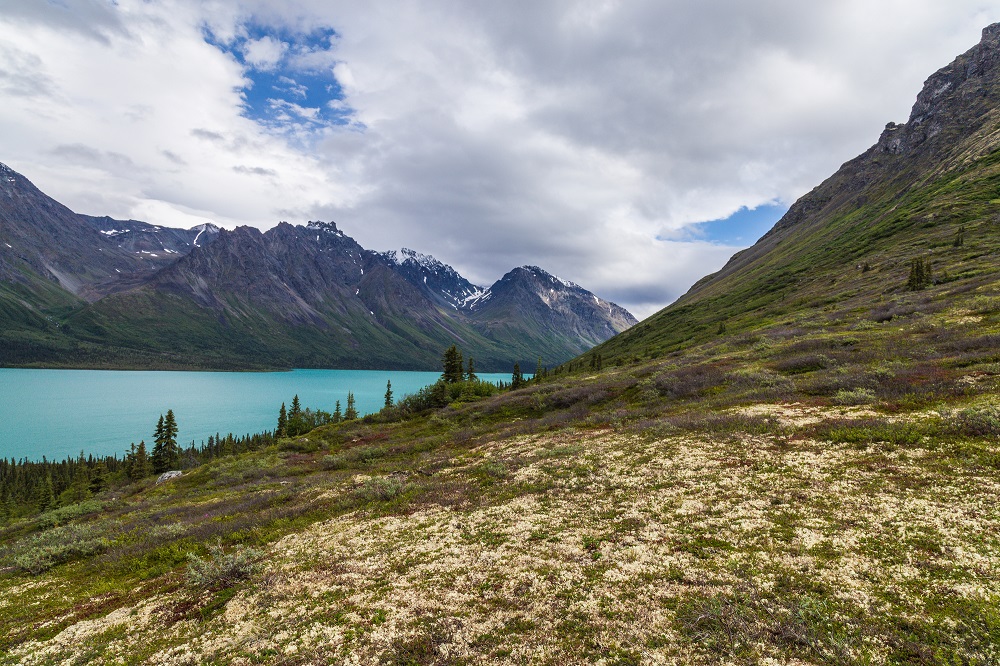 Chinitna Bay Bear viewing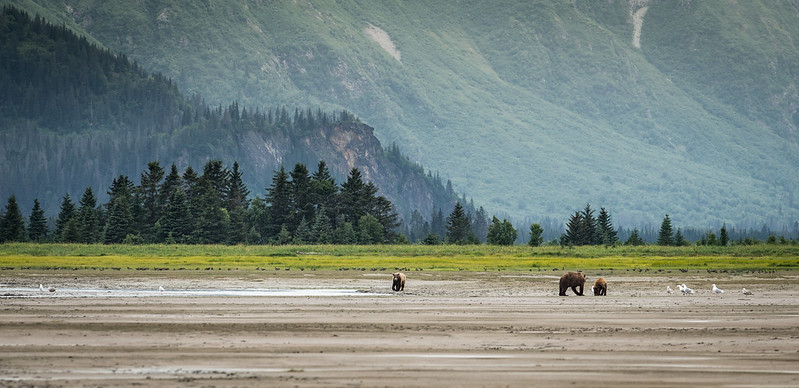 Photo credit:Sanjoy Ghosh
Chinitna Bay is located on the southern end of Lake Clark National Park and offers world class brown bear viewing. The bears congregate in the estuaries from early spring until fall, and can be seen eating sedges or clamming there. The sedges grow in the salt marshes and the clams are found year round in the tidal flats.
There are three bear viewing sites in the Chinitna Bay Area, designed to make human use of the area more predictable to bears and minimize disturbance as well as negative interactions. There is a pit toilet at the easternmost bear viewing site, and a Ranger Station one mile east (of the easternmost viewing site) along the beach.
Bears are in the area the entire summer but bear viewing is most reliable at Chinitna Bay from mid-May until early July as well as in mid to late-August. In July and August when the salmon are running, there may be fewer brown bears there as they are at the rivers feeding on salmon.
It is possible to access the area both by air and by boat, although the trip by boat from Anchor Point and Homer across Cook Inlet can be rough when the weather is not ideal.
Telaquana Lake to Twin Lakes
The Telaquana Route from Telaquana Lake to Turquoise Lake to Twin Lakes is a popular backpacking route that can be done from north to south or south to north. Most people that I saw who had done it and posted online took a bush flight to Telaquana Lake near Second Creek and hiked south. The hiking distance is approximately 40 miles, and involves bushwacking through trail-less terrain.
The hike is a part of the Telaquana Trail which is a historic Dena'ina Athabascan route to Kijik Village on Lake Clark. It was also used during the height of the fur trade.
There are three major rivers on the route, although two can be avoided based on a well chosen dropoff and pickup location on the lakes. There are ranger stations in the summer at the north side of Telaquana Lake and
The High Route goes to the east of Turquoise Lake and involves taking a glacier pass called the Turquoise Glacier High Route.
Tommy Island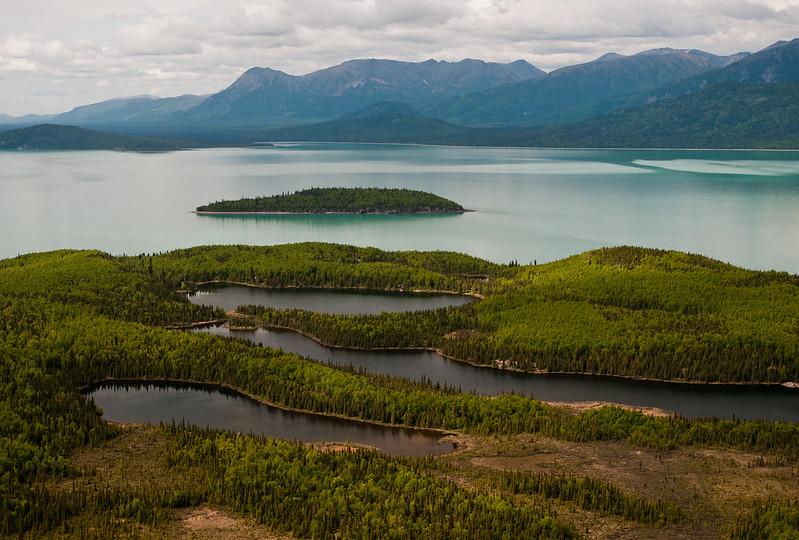 This island is a day trip destination for kayakers in Lake Clark. Kayaks can be rented in Port Alsworth.
Kayakers should be aware that Lake Clark is a cold water lake and that it should only be attempted with a good weather forecast. Rain and wind can create ocean-like waves and dangerous paddling conditions.
Crescent Lake
Crescent Lake is a glacier fed lake about 20 miles upstream from Cook Inlet known for its turquoise blue color and location in the heart of the Chigmit Mountains. It offers fishing for sockeye and silver salmon run up the Crescent River as well as brown bear viewing along the shoreline. It is north of Chinitna Bay and Silver Salmon Creek. It lies at the base of the Redboubt Volcano with its 10,197 foot peak eight miles away. The Redoubt Mountain Lodge is along the shore of the lake.
Silver Salmon Creek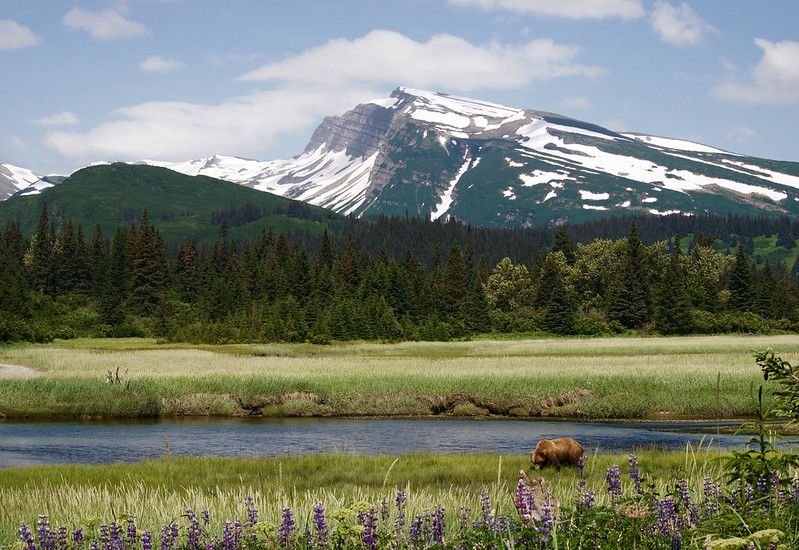 This is one of the few areas in Lake Clark National Park with big migrations of salmon up the streams. There are two lodges that operate in this popular area for sportfishing, brown bear viewing and bird watching. A Ranger Station is located on the south side of the creek off the trail from the south beach. Most visitors arrive by small plane operating on wheels that land on the beach.
Aerial view of the area: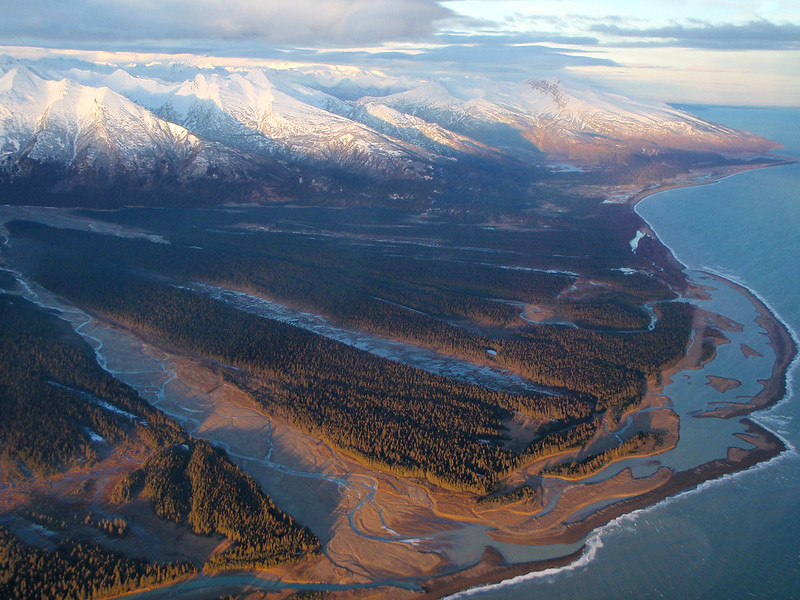 Tanalian Trail System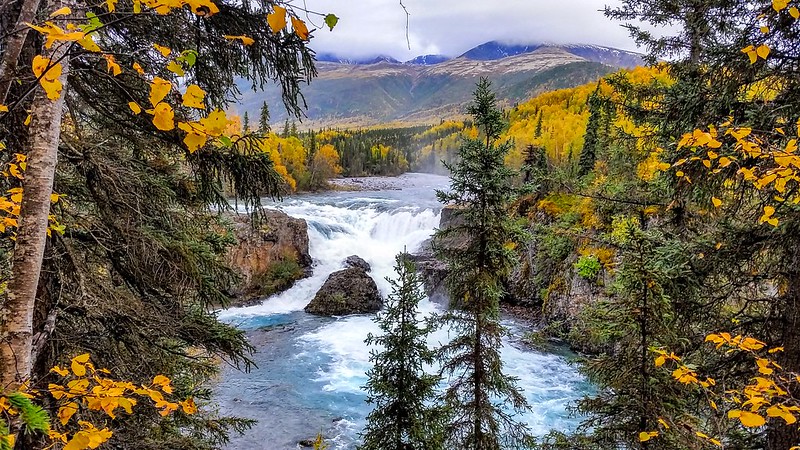 These are the only maintained trails in Lake Clark National Park and Preserve. They start near the visitor center and Hardenberg Bay. Destinations in the trail system include Beaver Pond Loop, Tanalian Falls, Tanalian Mountain, and Kontrashibuna Lake. Beaver Pond Loop is a forested trail around an old beaver pond. Tanalian Falls is a beautiful approximately 50 foot waterfall in the wilderness as well as a destination for fly fishing. Kotrashibuna Lake is the end of the trail about a half mile from Tanalian Falls. Tanlanian Mountain is a steep climb up the side of the mountain for views of Lake Clark and the surrounding area
Lake Clark Rafting
There are three wild rivers in the National Park Wild and Scenic River system located in Lake Clark National Park. The swift waters with occasional whitewater make it a popular way to explore the park without bushwacking, or through a combination packrafting and thru hiking for the more adventurous.
Tlikakila River – The boatable section of this glacier-fed river originates two miles from Summit Lake in the Chigmit Mountains and flows southwest 50 miles into Lake Clark. It is a fast-flowing Class I river that can be traveled in canoes, kayaks, rafts, and pack rafts. Most travelers take two to four days to float the river.
Mulchatna River – This river starts at Turquoise Lake in the Chigmit Mountains and flows west to the border of Lake Clark National Park and Preserve. The river continues an additional 49 miles through state land before joining the Chilikadrotna. Common trip lengths are 100 to 230 miles with the river entering Bristol Bay near Dillingham as the Nushagak River. This river is more demanding for boating / floating than the Chilikadrotna or Tlikakila. The first 24 miles are designated as wild.
Chilikadrotna River – This river originates at Twin Lakes from Chigmit Mountains and flows west for around 50 miles before joining the Mulchatna River. The majority of the river flows through state land rather than the national park and preserve – only the first 12 miles inside the park are designated wild. Most float for five to seven days as there is no pick up near the confluence with the Mulchatna River – the first pick up is 20 miles downstream at Dummy Creek.
[wunderground location="Port Alsworth, AK" numdays="4″ layout="simple" showdata="search,alert,daynames,highlow,pop,icon,text,conditions,date"]
Average Temperature (Monthly)
Lake Clark National Park Lodging
Lake Clark has around 20 lodging establishments in the park.
Port Alsworth Lodging
There are seven lodging establishments in the Port Alsworth area.
Lake Clark Lodging (not Port Alsworth)
There are two public use cabins and three lodges on Lake Clark (outside of Port Alsworth). The lodges include Chulitna Lodge, Island Lodge and Koksetna Wilderness Lodge.
Crescent Lake Lodging
Redoubt Mountain Lodge is known for its salmon and trout fishing, bear viewing, hiking and wildlife/photography. They have six guest cabins spread across five acres. The property holds 12-14 overnight guests and each group gets its own guide. It is the only lodge on Crescent Lake
Silver Salmon Creek Lodging
The Silver Salmon Creek area has two lodges – Alaska Homestead Lodge and Silver Salmon Creek Lodge.
The Alaska Homestead Lodge is a rustic lodge with modern conveniences. They offer bear viewing packages from a 2 night minimum visit to a week long adventure. Group sizes for tours via an ATV and trailer have a guide and 2-9 people. Bears are often seen on the property or within a three mile area. The best bear viewing is from mid-June to mid-September. There is a cabin and 7 rooms/suites.
Silver Salmon Creek Lodge is known for its world-class sport fishing, Alaska bear viewing and wildlife photography amidst the tidal marshes, streams and salt-water bays that make up the coast of Lake Clark National Park. They are a full service modern facility specializing in 1-7 day excursions on 40 acres of private land. It is located a one hour small plane flight from Anchorage. They also have an outpost Tent Camp 10 miles south of the lodge which operates late July through early Sept and is designed for parties up to six.
Chinitna Bay Lodging
Bear Mountain Lodge is located on private land adjacent to the boundaries of Lake Clark National Park. It is an all-inclusive lodge facility with buffet style breakfast, lunch and dinner as well as snacks and beverages. They have four cabins that we can house up to 25 people in twin beds. Each cabin has a full bathroom with a shower and running water. Armed, knowledgeable guides accompany guests anywhere outside of the property due to the bears.
Alaska BearCamp is a bear viewing location on a homestead property between Mt. Illamna and Chinitna Bay. They have a private bear viewing platform. It is southwest of Bear Mountain Lodge
Upper Twin Lake Lodging
Wildsong Wilderness Retreat is the only privately owned cabin on Twin Lakes. It can accommodate four and includes use of a 16 foot fishing boat with outdoor motor. Hike, fish, watch wildlife and visit Richard (Dick) Proenneke's cabin. The owner of Wildsong lives in a nearby cabin.
Tuxedni Bay Lodging
Porter's Alaskan Adventures (aka Porters Wild Alaska) is located on Hesketh Island in Kachemak Bay, just 7 miles from Homer Spit. The island is serviced by water taxis. The cabins are on the privately owned eastern end of the island.
Roundtrip Flights to Anchorage:
[tp_in_our_city_fly_shortcodes destination=ANC title="" limit=15 paginate=false stops=0 one_way=false off_title=true subid="" currency="USD"]