[acoda_typewriter tag="h1″ font_size="xlarge" duration="4000″ animated_text="Virgin Islands National Park
U.S. Virgin Islands"]
Virgin Islands National Park
Play on the island of St. John.
Virgin Islands National Park is located in the United States Virgin Islands by the Caribbean Sea. The park is famous for its beaches, scuba diving, snorkeling and tropical rainforest. It makes up 60% of the island of Saint John as well as 5,500 acres of surrounding ocean. It also contains the ruins of many historic sugar cane plantations. The National Park Service website for VIIS deservedly says, "Welcome to Paradise!"
Open / Close / Reopening Status of Virgin Islands National Park due to Coronavirus (COVID-19)
More information on Virgin Islands
Last Updated: May 2, 2020
Busiest Months (Percentage of Annual Visits)
The most popular time to visit the park is from January through April, when the rainfall is the lowest and vacationers are looking to escape the cold northern states. The offseason is September and October, which corresponds with the rainy season and is in the middle of the Atlantic hurricane season.
The US Congress established Virgin Islands National Park as the 29th national park in 1956 after Laurence Rockefeller donated 5000 acres of land to the National Park Service. In 1962, the park was expanded by including water and submerged land to protect the coral reefs and marine life. The National Park Service also administers Virgin Islands Coral Reef National Monument, which was established in 2001 off the island of St. John.
After the United States acquired St. John from Denmark in 1917, the National Park Service considered making St. John a national park in both 1936 and 1939. The 1939 assessment declared that the entire island should be a national park, but the proposal did not gain momentum during World War II. When Rockefeller discovered St. John, he purchased a large portion of it and donated it to the federal government. For his conservation efforts (which included establishing and enlarging other parks including Grand Teton National Park), he received the Congressional Gold Medal in September 1991.
Virgin Islands National Park has historically been a well-visited park. It exceeded 800,000 annual visitors in 1988, 1993, 2003 and 2005. It saw annual visitors of more than 400,000 people from 2008 to 2016. Tourism to Virgin Islands NP saw a decline in 2018, likely tied to the recovery period following the 2017 Hurricanes. As recovery efforts continue, the visitation statistics are likely to improve again.
Honeymoon Beach
This secluded beach known for its white sand and clear waters is accessed by the Lind Point Trail or the trail from the Caneel Bay parking lot. The beach is not visible from Route 20 and was once considered a well-kept local secret before its got its romantically oriented title rather than the original Jumbie Bay.
Leinster Bay

Leinster Bay is a bay and home to the Anneburg Sugar Mill Ruins, a former sugar cane plantation in Virgin Islands National Park. This partially restored sugar mill also made molasses and rum.
Trunk Bay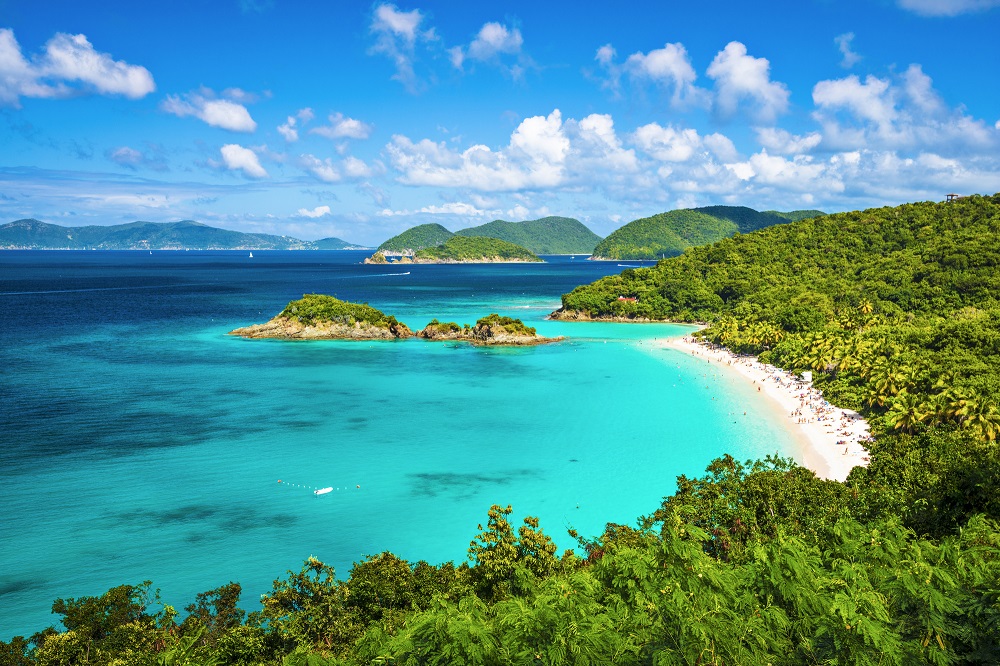 The white sand beach of Trunk Bay is one of the most photographed beaches in the United States Virgin Island and Virgin Islands National Park. It is named for the local nickname of the Leatherback turtle, which is one of the sea turtles in the area.
Annaberg Walking Trail
Caneel Bay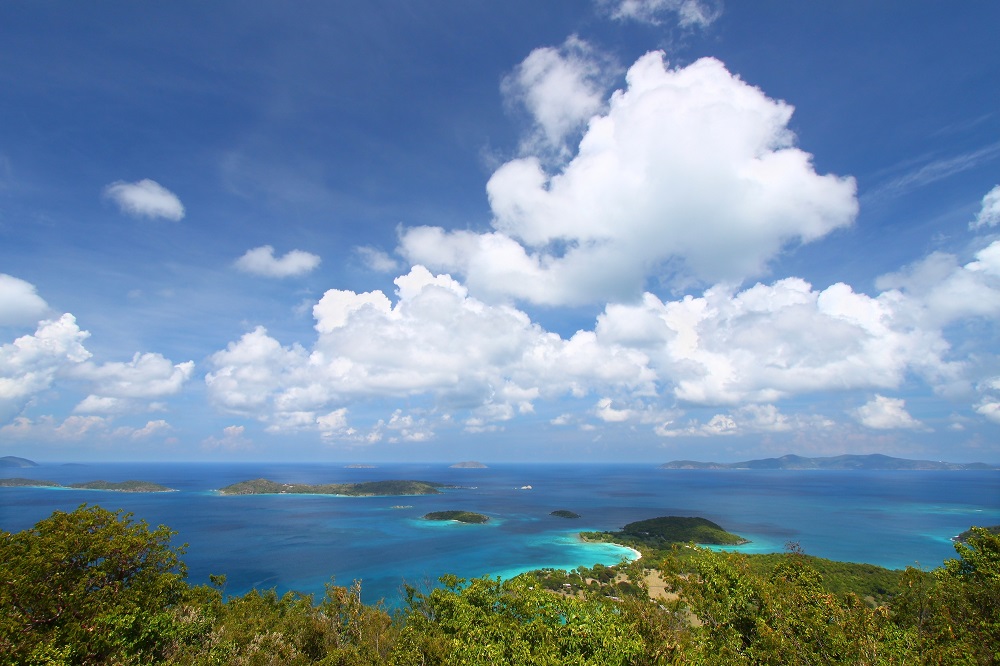 Francis Bay & Maho Bay

Francis Bay is one of St. John's longest beaches with clear water and a sandy shore for swimming and snorkeling. Maho Bay is known as a good sandy beach for kids and young children due to its relatively shallow water and gradual deepening. It is also considered as one of the places to go for sea turtles. The America Hill site provides an overlook of the bays.
Henley Cay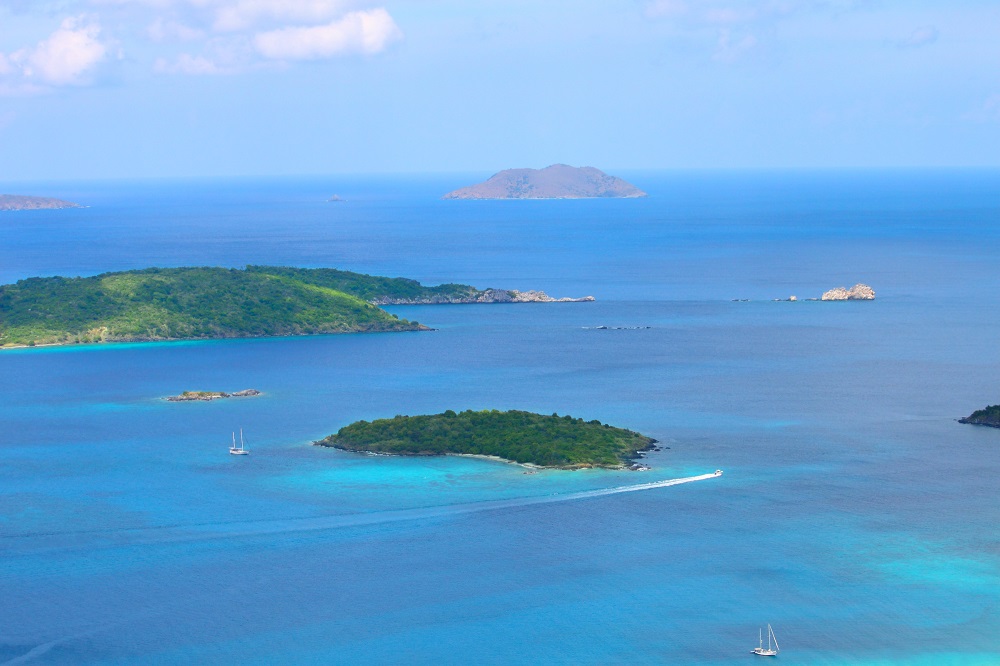 This is an uninhabated 11 acre islet which is considered one of the best snorkeling spots on the island. There are also guided kayak tours across Caneel Bay to Henley Cay.
Salt Pond Bay
This is a secluded area on the southeast corner of St. John, reached by a hike on the Salt Pond Bay Trail and known for its popular beach and snorkeling.
Virgin Islands National Park Weather:
The average temperatures in St. John is relatively consistent year round. It has an average high temperature of between 84 and 89 degrees F. The average low temperature is 73 to 80 degrees F. The average weater temperature in the winter is about 79 degrees and in the summer is about 83 degrees. The most rainfall is in September, October and November. The least rainfall is in February and March. It rains roughly 10 days a month in February and March while it rains 16 days a month in September and October.
[wunderground location="St. John, VI" numdays="4″ layout="simple" showdata="search,alert,daynames,highlow,pop,icon,text,conditions,date"]
Some Hotels and Other Lodging Options:
The two lodging options within the national park were Cinnamon Bay Resort & Campground and Caneel Bay Resort. Both have been closed since Hurricanes Irma and Maria in September 2017. The Caneel Bay Resort website indicates that no reservations will be accepted through the end of 2020.
The Westin St. John Resort Villas reopened in January 2019. The Cruz Bay Boutique Hotel is also open. There are also a number of small inns, bed and breakfasts, and guest houses on the island.
Virgin Islands National Park Camping at Cinnamon Bay Campground
Cinnamon Bay Resort & Campground was destroyed in Hurricane Irma and Hurricane Maria. It was transferred to a new operator in May 2019 with hopes to have the Cinnamon Bay Campground reopen for the 2020-2021 season.
Roundtrip Flights to/from St. Thomas:
St. John does not have an airport, so visitors can not fly directly to Virgin Islands National Park. The closest airport is the St. Thomas Airport (STT) in the US Virgin Islands. It is known as Cyril E. King Airport and is the busiest airport in the United States Virgin Islands. American Airlines, Delta, United, Spirit and JetBlue (Boston) all fly to Saint Thomas from the United States. The airport served more than 1.4 million passengers (before the hurricanes) from July 2015 to June 2016. There are two ferries which depart from St. Thomas and run to Cruz Bay on St. John.
[tp_in_our_city_fly_shortcodes destination=STT title="" limit=15 paginate=false stops=0 one_way=false off_title=true subid="" currency="USD"]
Frequently Asked Questions:
What state is Virgin Islands National Park in?
USVI is about 40 miles east of Puerto Rico and is not located in a US state. It is an organized, unincorporated territory. Island residents are US citizens but are not eligible to vote for the President of the United States.
Do you need a passport to go to the Virgin Islands?
Since USVI is a US territory, US citizens do not need a passport but need to pass through customs and may be required to show proof of citizenship.
How do you get to Virgin Islands National Park?
Most people fly to the airport on St. Thomas and take the ferry to St. John.
Is Virgin Islands National Park open?
The National Park Service declared all roads, trails and beaches open in the park in December 2017, 105 days after the 2017 Hurricanes. The park is open every day with the visitor center open daily except for three days (July 4th, Thanksgiving, Christmas). Both Cinnamon Bay Resort and Caneel Bay Resort remain closed to lodging due to hurricane damage.