[acoda_typewriter tag="h1″ font_size="xlarge" duration="4000″ animated_text="Kenai Fjords
Alaska"]
Abundant wildlife and massive glaciers in Alaska.
Kenai Fjords National Park
The National Park Service website calls it "Where Mountains, Ice, and Ocean Meet".  At Kenai Fjords, you can enjoy the intersection of a massive icefield, towering glaciers, the icy sea and a temperate rainforest. It is the smallest national park in Alaska, protecting just over 600,000 acres. It includes Exit Glacier (a road accessible river of ice), Harding Icefield (the largest ice field entirely within US borders), and the coast and glacial waters inhabited by whales, sea otters, harbor seals and other wildlife.
Kenai Fjords National Monument was created by President Jimmy carter in December 1978 among 16 other national monuments in Alaska. In December 1980, the President signed the Alaska National Interest Lands Conservation Act into law and Kenai Fjords became the seventh Alaska National Park.
Open / Close / Reopening Status of Kenai Fjords National Park due to Coronavirus (COVID-19)
More information on Kenai Fjords
Seward
The city is the gateway to Kenai Fjords and the start of the historic Iditarod Trail.  Seward has a population of approximately 2,500 with major industries of fishing and tourism.   It is the southern terminal of the Alaska Railroad and a popular destination for cruise ships.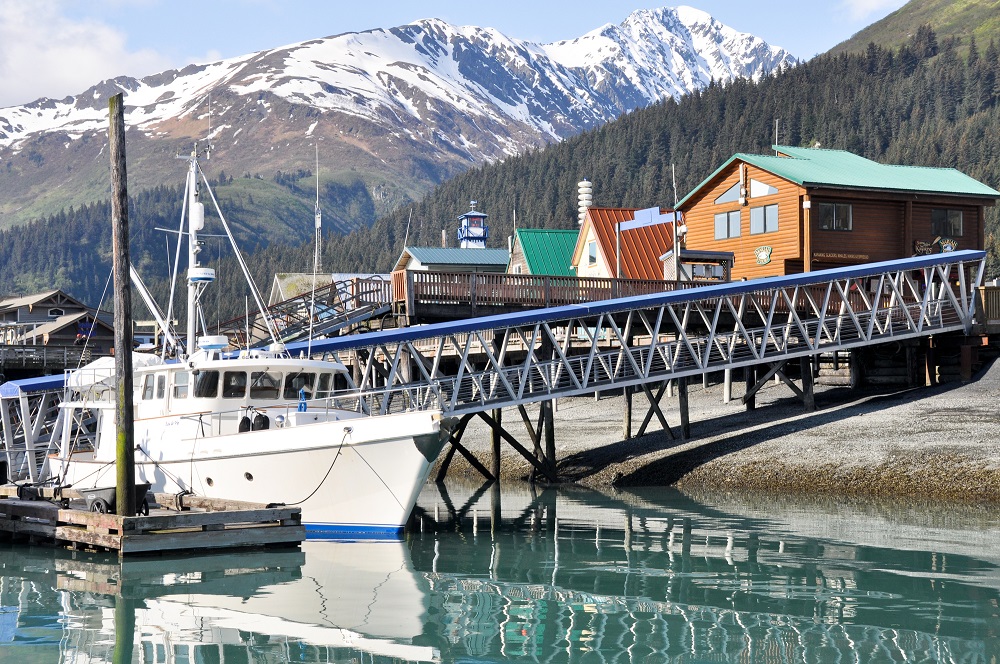 Wildlife Watching
Opportunities include seeing mountain goats, black bears, bald eagles and whales.
Resurrection Bay and Boating
This is a fjord on the Kenai Peninsula and is the gateway to the Kenai Fjords since most of the park is accessed by boat. Seward is located at the head of the bay and is the place to pickup a half day or full day cruise of Resurrection Bay. The half day cruises are for wildlife and whale watching, while the full day cruises are approximately 9 hours and include views of glaciers within Kenai Fjords. Boats depart daily during the summer from Seward's small boat harbor to provide a tour of the area and the opportunity to see wildlife.  Kayaking Resurrection Bay or other areas is also possible, but an experienced guide is recommended.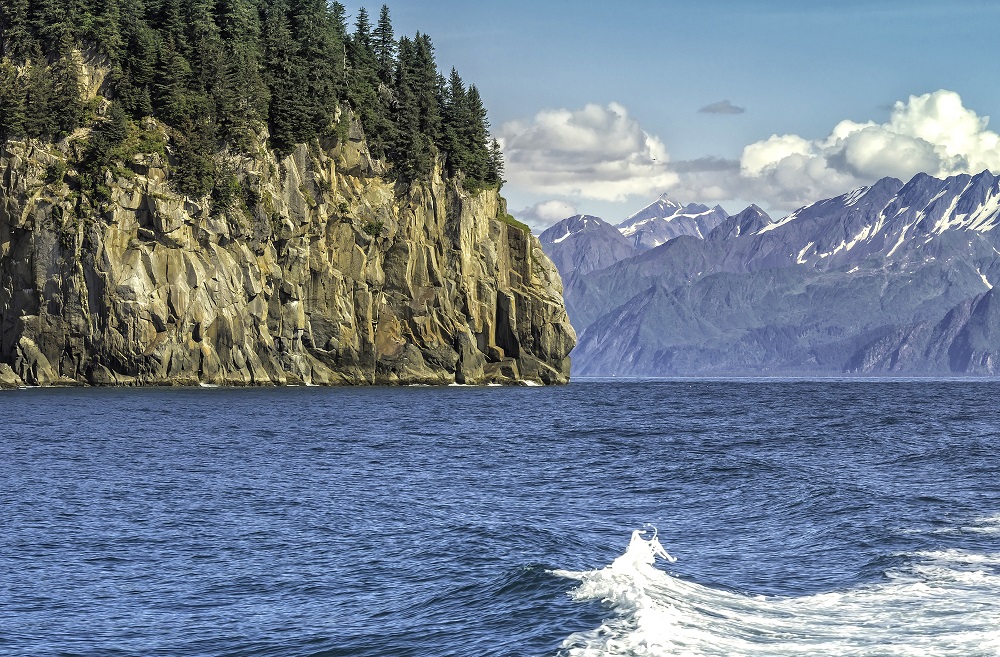 Harding Icefield Trail
A 300 square mile icefield with 40 glaciers descending from it to cover an additional 800 square miles.  A spectacular 8.2 mile round trip day hike takes you there if you are in good shape.  Leave plenty of time for hiking the trail, as it climbs roughly 1,000 feet every mile to the top.  The walk offers spectacular views of the valley floor and Exit Glacier.
Exit Glacier
The only part of the park accessible by road (from May until snowfall).  The turnoff for Herman Leirer Road (aka Exit Glacier Road) is at mile 3 of Seward Highway.  The parking lot for the nature center is at mile 8.4.  From this point, short trails of 1-2 hours round trip provide close up views of Exit Glacier.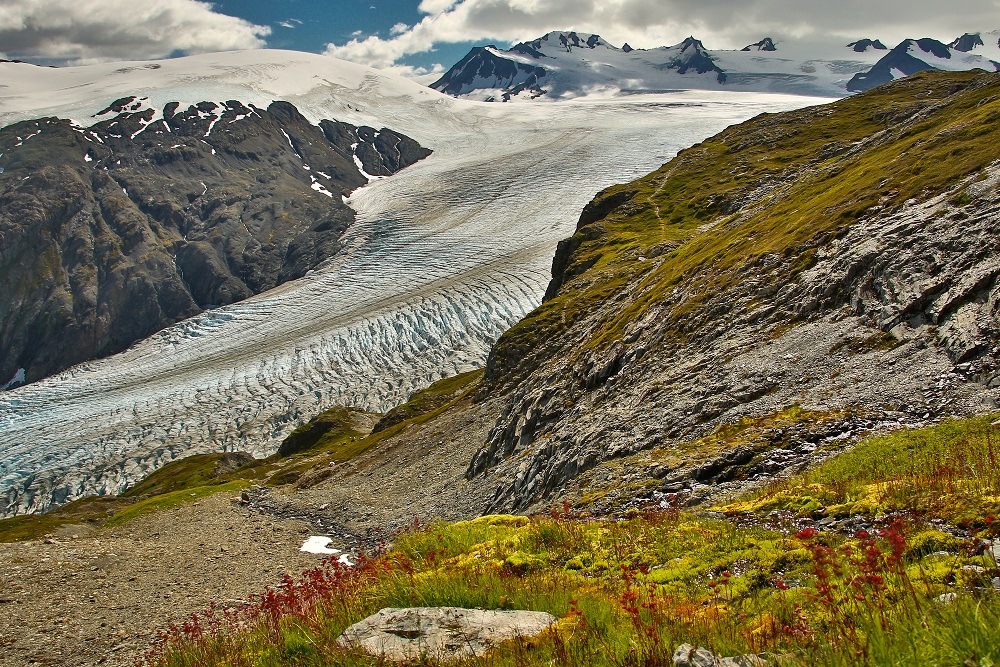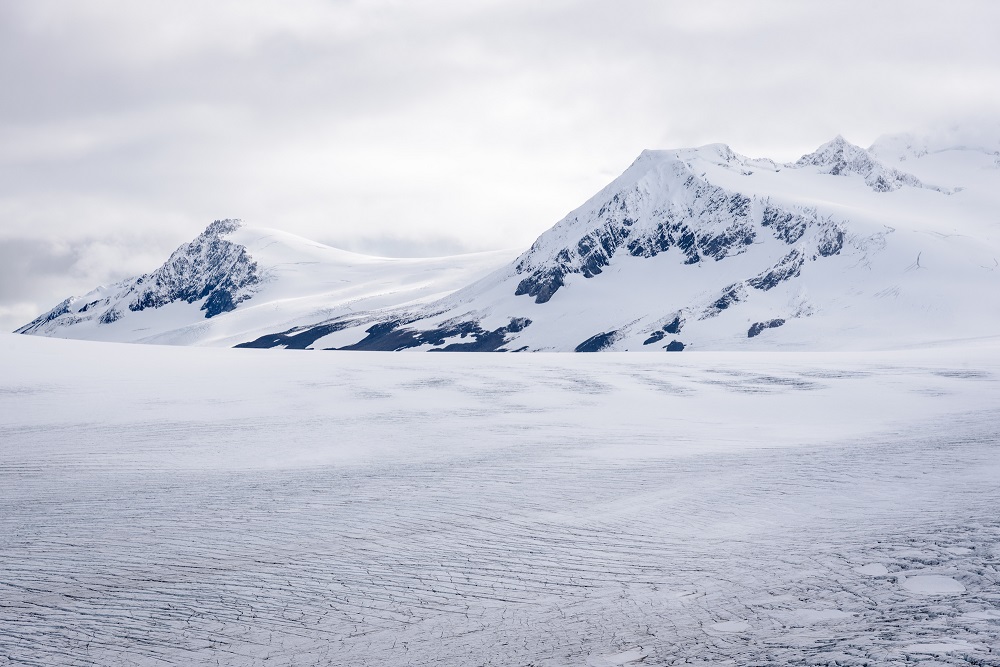 Aialik Glacier and Bay
Aialik Glacier is located in Kenai Fjords and drains from the Harding Icefield on Kenai Peninsula into Aialik Bay. It is the largest glacier in Aialik Bay, about 15 miles from Seward. Aialik Glacier is a popular destination for day trips, reached by a two hour boat ride through Resurrection Bay from Seward. Holgate Glacier also flows into the bay.
Bear Glacier and Lagoon
Bear Glacier is the longest glacier in Kenai Fjords at thirteen (13) miles long running from the Harding Icefield to Bear Glacier Lagoon. The lagoon is a a freshwater glacial lagoon and popular location for sea kayaking and stand-up paddleboarding due in part to the large icebergs trapped in the lagoon.
Kenai Fjords and Seward / Resurrection Bay Fishing
Fishing is permitted in the park's backcountry for salmon and Dolly Varden in accordance with state regulations. If you have your heart set on fishing in the park, consider fly-in sportfishing along the park's coast or a fjords fishing charter. There are also lakes and streams in nearby Chugach National Forest.
For Seward fishing options, Resurrection Bay supports one of the largest silver salmon (aka coho salmon) fisheries in the Pacific Northwest for sport fishing. Most fishing takes place by private or charter boats in the bay. Other fish sought in the bay include king salmon and silver salmon. There are also a few different popular places for surf casting from some of the breakwater walls and beaches just before and during high tide.
The Resurrection River flows 20-30 miles from its headwaters at Upper Russian Lake to the southeast at Resurrection Bay, picking up water from Exit Glacier. It flows into Resurrection Bay northeast of Seward. It has runs of red (sockeye) salmon in early summer and silver (coho) salmon in late summer. It is the only freshwater stream in the area that is open for fishing salmon, downstream of the Seward Highway and Nash Road. Snagging is legal in Resurrection Bay salt water.
Seward is also located about an hour from Cooper Landing and the Upper Kenai River. The Kenai is the most heavily fished Alaska river. The Upper Kenai is the 17.3 river miles from Kenai Lke to Skilak Lake.
Iditarod Monument and National Historic Trail
While you are visiting Kenai Fjords National Park, you should also visit the nearby Iditarod National Historic Trail in Seward. It is among the top of our list of things to do in Seward outside the park.
The Iditarod Trail is a 2,300-mile system of trails that begin in Seward and end in Nome on the Bering Sea in Western Alaska. You can access two parts of the trail near Seward. Mile 0 of the trail is marked by the Seward Iditarod Monument and there is a paved coastal walk north that parallels Resurrection Bay for nearly a mile to the harbor. The other point is Nash Road which intersects with the trail at mile 2.1 and visitors can hike four miles north to Bear Lake. It is the only national historic trail in Alaska.
The Iditarod trail originated from the Dena'ina Indians as well as the Inupiat and Yupik before development was boosted by the gold rush. The trail was made obsolete in the 1920s by airmail, but it received international fame due to severe weather in 1925 which made flights impossible and a diphtheria outbreak required delivery of life-saving medicine by a relay of dog sled teams 674 miles to Nome along the Iditarod Trail.
The Seward Iditarod Monument is a statue of a gold prospector with his pack dog. There is a sign marking the start as well as a plaque on the statute which reads: "Trail Blazers". The statue was unveiled in 2012.
The trail regained international fame due to the 1,049-mile Iditarod sled dog race which is an annual long-distance sled dog race that run in early March from Anchorage to Nome. It usually takes between 8-15 days to cover the distance. The first race happened in 1973, after several short races in the 1960s.
Seward Weather:
The Kenai Fjords weather in the summer is usually mild with Seward temperatures reaching into the 50s and 60s. Most tourism in Alaska occurs from mid-May or early June through late August to take advantages of those temperatures, with the month of July the busiest (or most popular) for an Alaska vacation. The highest average low and high temperatures in Seward are in July and August. The high temperatures approach the low 60s and the low temperatures are in the 50s. High temperatures in May and June average in the 50s.
The months with the least number of precipitation days are June and July. August and September have the most precipitation during the travel season. September averages almost 17 days of precipitation in the month. August has 14 days of rainfall. Seward only has 133 sunny days per year, compared to an average of 205 sunny days in the United States.
Seward is typically snow free from June through September. It averages 0 days of more than 1 inch of snow on the ground during those months. April frequently has snow, with an average of 14 days, and May averages just 3.2 days with over 1 inch of snow on the ground.
[wunderground location="Seward, AK" numdays="4″ layout="simple" showdata="search,alert,daynames,highlow,pop,icon,text,conditions,date"]
Average Temperature (Monthly)
Some Hotels and Other Lodging Options:
Kenai Fjords National Park Lodging
The Kenai Fjords Glacier Lodge is the only lodge in Kenai Fjords National Park. It has a rustic main lodge and 16 cabins. The lodge is located on Pedersen Lagoon and Pedersen Glacier is visible from the lodge. Activities in the ara include guided hikes and sea kayaking. The boat trip to and from Glacier Lodge from Seward doubles as a marine wildlife and glacier cruise. The Lodge is operated by Alaska Wildland Adventures (AWA).
Other Nearby Seward Hotels and Lodging:
Exit Glacier Lodge Seward – This 15 room lodge is minutes from downtown Seward in the Resurrection River valley below Exit Glacier. It is a 1/4 mile from the Seward Highey off the Exit Glacier Road exit (Herman Leirer Road). This Seward Lodge is 2 miles north of town.
Kenai Fjords Wilderness Lodge – This lodge is located on Fox Island and is reached by a 12 mile boat ride from Seward. There is a main lodge as well as eight waterfront cabins.
Hotel Seward – This is a circa 1905 hotel with elegant rooms and a historic section with shared bathrooms. It is family owned and operated and located at the shores of Resurrection Bay in the heart of historic downtown Seward.
Harbor 360 Hotel – This is a waterfront hotel on the Seward harbor that offers 360 degree views of Resurrection Bay and the Kenai Mountains. It is within walking distance of restaurants, shops and the Alaska Railroad Depot. You can pair your hotel stay with a glacier and wildlife cruise with Major Marine Tours.
Resurrection Lodge on the Bay – This lodge offers bay front lodging three miles outside Seward on Lowell Point. It offers a variety of options including a three bedroom suite, several rooms, a beach barn adjacent to the lodge, and a beachfront base camp yurt.
Getting to Seward
The drive from Anchorage to Seward is a common one during an Alaska vacation because the Anchorage airport is the busiest in Alaska. The 127 miles of the Seward Highway connecting Anchorage and Seward have been designated a National Forest Scenic Byway. It has been called the drive of a lifetime, but it is also one of the most dangerous roads in Alaska due to the distracting scenery, wildlife, weather and the number of out-of-state travelers on it. The alternative to driving is the Alaska Railroad which provides transport along the coastal classic route. If you decide to drive, here are some of the things to do while you are driving on the Seward Highway:
Potter Marsh – This is a viewing area 15 minutes south of Anchorage at the southern end of the Anchorage Coastal Wildlife Refuge. There is a half mile boardwalk through the marsh that makes it one of the most heavily birded spots in the Anchorage area.
Turnagain Arm and Beluga Point – The highway follows the scenic shores of Turnagain Arm as it proceeds southeast out of Anchorage. Turnagain Arm is one of two narrow waterways at the north end of Cook Inlet. The Beluga Point Lookout is a popular spot to try to see beluga whales with its almost 180 degree view of Turnagain Arm. It is about 16 miles south of Anchorage. You can also look for the bore tide here – a rush of seawater into an inlet formed by the intersection of a low tide and high tide. Turnagain Arm is Alaska's most famous bore tide, happening twice a day and creating a wave of up to 6-10 feet tall.
Portage Glacier – This is one of Alaska's most popular roadside attractions with a one hour boat cruise from the visitor center to allow you to see the glacier up close. It was once visible from telescopes at the Begich-Boggs Visitor Center but it reportedly is no longer visible from there. The access road is about 50 miles south of Anchorage with a 5 mile drive from the Seward Highway to the Visitor Center. It is usually open daily Memorial Day Weekend through early September.
Tern Lake – This is a popular photography and wildlife viewing spot at Milepost 37 of the Seward Highway where it intersects with the Sterling Highway. There is a Day Use Area here in Chugach National Forest which contains a picnic area and fish viewing platform.
Moose Pass – This town is 30 miles outside of Seward and has a population of around 200. It is surrounded by the Chugach National Forest and is located on the short of Upper Trail Lake. The town is on the original Iditarod trail and was reportedly named for an incident in the early 1900s where a moose got in the way of a mail carrier's dog team. It has been called the "Tiny Town In Alaska You've Never Heard Of But Will Fall In Love With".
Frequently Asked Questions
How can I get to Kenai Fjords?
The visitor center is located in the boat harbor of Seward. Exit Glacier is accessible by road in the summer, with a nature center located at the trailhead for the area. The park is also seen by air and boat sightseeing tours. Seward can be reached by the Seward Highway, Alaska Railroad, cruise ship, or a local flight from Anchorage.
Can you drive through Kenai Fjords?
The practical answer is no – it is not possible to drive "through" the park. Exit Glacier Road allows visitors to drive into a small section of it during the summer – the Herman Leirer Road to Exit Glacier is closed during the winter.
Where is the Kenai Fjords located?
Kenai Fjords National Park is located on the southeastern side of Kenai Peninsula near Seward, about 130 miles south of Anchorage.
How was Kenai Fjords formed?
The fjords of the Kenai Peninsula were formed by the advance and retreat of the glaciers.
How many days do you need in Seward?
Seward and Kenai Fjords are best experienced over at least two days, and possibly three days if you would like to do a full day glacier tour or another guided experience such as fishing. A one day itinerary would include a trip to Exit Glacier, a half day wildlife cruise, and a walk around the city to explore.
How big is Seward Alaska?
Seward is one of the biggest areas in Alaska for tourism and commercial/recreational fishing. It is also a key port for cruise lines in Alaska, creating a number of half and full day guided excursions in the area. There are a number of other things to do, including hiking in the park and the Coastal Trail, the Seward House Museum, the Seward Community Library and Museum, drink and dine at the Seward Brewing Company, view the start of the Iditarod National Historic Trail, and more.
Other Parks Near Kenai Fjords
Alaska Maritime National Wildlife Refuge
This 3.4 million acre national wildlife refuge managed by the US Fish and Wildlife Service protects the habitat of 40 million seabirds across 30 species, as well as the volcanic islands of the Aleutians, the lands of the Chukchi Sea, and the seabird cliffs of Pribilofs.
Caines Head State Recreation Area
This almost 6,000 acre park is 5.5 miles south of Seward on the west side of Resurrection Bay. It can be reached by boat or foot and contains the site of an abandoned World War II fort. A 4.5 mile coastal trail called Caines Heat Trail from Lowell Point leads to the recreation area – hikers must time their trip around low tide.
Driftwood Bay State Marine Park
This 1480 acre park near the southeastern end of Cape Resurrection is 22 miles from Seward and is popular for bottom fishing and wildlife viewing. The majority of people visiting remain offshore and involve day use only.
Lowell Point State Recreation Site
This is a 19 acre park providing access to the beach and a coastal trail. It is located at Mile 2 of Lowell Point Road and contains a parking area.
Kenai National Wildlife Refuge
Kenai NWR on the Kenai Peninsula protects nearly 2 million acres. Some of the area was originally protected as the Chugach National Forest in 1907, with additions in 1909. The wildlife preserve was established in 1941 just nine days after Pearl Harbor by Congress and President Franklin D. Roosevelt, as Kenai National Moose Range. In December 1980, it was renamed to Kenai National Wildlife Refuge.
Kachemak Bay State Park and State Wilderness Park
This is Alaska's first state park and contains approximately 400,000 acres southwest of Kenai Fjords and south/southeast of Homer. Kachemak Bay is a State Critical Habitat Area with estuaries, coves and fjords that support marine wildlife, as well as many land animals and bird species. Camping is allowed in most parts of the park with amenities for campers at several sites in the state park, as well as six public use cabins and six yurts available for rent. Kachemak Bay State Wilderness Park lies off the southern boundary of the state park of the same name. It extends south into the Gulf of Alaska and contains almost 200,000 acres including more than 75 miles of coastline. There is no road access to either – they can be accessed by boat or plane from Homer.
Sandspit Point State Marine Park
Sandspit Point is a 560 acre park located at the northeast tip of Fox Island in Resurrection Bay. It is twelve miles southeast of Seward. The north beach is a popular destination used for kayaking and beach camping. There is no freshwater available in the park.
Sunny Cove State Marine Park
This 960 acre park on the south portion of Renard Island (aka Fox Island) is a popular sport for beach camping and boating. It is fourteen miles south of Seward in Resurrection Bay. It is undeveloped and there are no established campsites or freshwater sources. The park provides views of Bear Glacier, Aialik Cape and Callisto Head in Kenai Fjords National Park.
Thumb Cove State Marine Park
This is a 720 acre park on the east side of Resurrection Bay, nine miles south of Seward. It is a popular destination for recreational boating, camping and salmon fishing (during runs). Porcupine Glacier sits above the park and provides a stream of fresh water.