We took a trip up to Acadia National Park over Columbus Day Weekend. Neither one of us had ever been to Maine and we were hopeful that the early October trip would be late enough in the year to give us some brilliant fall foliage as well. It certainly did!
Fall is typically a great time to go to the national parks because there are fewer people going to them and the weather is usually still pretty nice. The four busiest months in Acadia are over the summer: June through September. We knew that the three day weekend would probably bring more people than the average October weekend, but we also wanted a chance to explore Bar Harbor before too many places started shutting down for the end of the season.
We drove up Friday after work. It's quite a hike from Philadelphia to Bar Harbor. If I remember correctly, it is supposed to be just under a ten hour drive. We took our time and it ended up being more like 12 hours. Our GPS system also ran us right into a nearly one hour construction backup in the middle of Connecticut.
We unfortunately couldn't see much for most of the way up since it was dark. When we woke up early Saturday morning at daylight near Portland though, we were excited to see some of the trees had changed colors! The fall foliage reports earlier in the week had put color at less than 10% on the coastal region, with some more color inland (but not peak). We still had a few more hours to get from Portland to Bar Harbor that morning, but the drive seemed to go much quicker while we were checking out all of the fall foliage. There was still enough green that it definitely wasn't peak foliage, but we didn't care. The Philadelphia leaves were still almost entirely green when we left.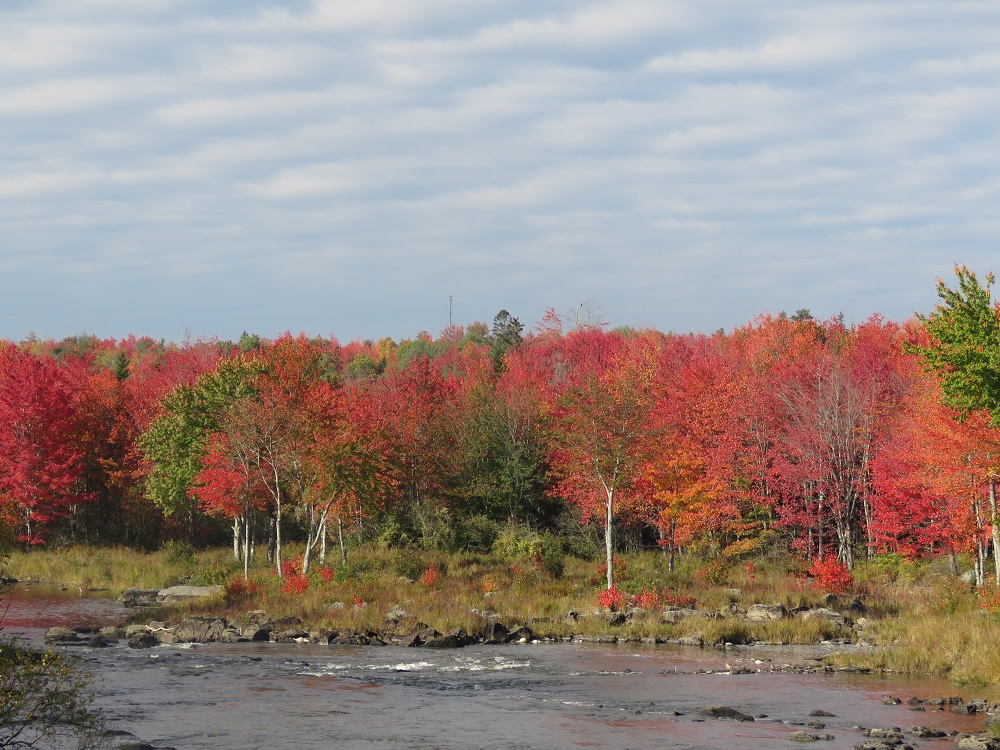 After we turned onto US-1A to get to Bar Harbor from Bangor, we picked up a little traffic and we started getting excited as we knew that Acadia was close. The worst spot of traffic was at a bridge over a small river. More than a dozen cars had stopped at the side of the road. We though there might be a moose in the river but we quickly realized that everyone was just looking at the brilliant fall foliage in the background. People talk about the brilliance of New England fall foliage, but seeing it in person was something else. By the end of the trip, the police had posted temporary no stopping signs all over the bridge. We definitely weren't the only people to stop and admire the view. As you can see from the photo above, it was absolutely gorgeous!
It wasn't too much longer until we were crossing over to Mount Desert Island. MDI is the largest island off the coast of Maine and the sixth largest island in the contiguous United States at 108 square miles.
After a brief stop at the Thompson Island Information Center, we made our way into Bar Harbor to stick our feet in the ocean. Earlier this year, we also dipped our toes in the Atlantic down in Florida. So it has become a bit of a tradition for us. We were eager to check-in at our campsite though so we didn't linger too long in Bar Harbor. Just a short stroll along the shore – enough to admire the ocean views and the beautiful architecture.
After a short stop at the Hulls Cove Visitor Center, our next stop was Blackwoods Campground. We had grabbed a reservation in early September for one of the last available spots in this 281 site campground with group, tent and RV sites. The campground is off Maine's Route 3 not far from Otter Creek. It is a short drive from Bar Harbor, but still pretty convenient to most of the park. If you want to camp in the park near loop road, then this is the campground that you want.
After setting up our tent, we went to take advantage of the great weather and start exploring loop road. We had originally discussed going to Southwest Harbor on Saturday, but we were worried that we weren't going to get another day with such nice weather to explore the loop road.
We thought that the Jordan Pond House might be a nice place to grab lunch, but we couldn't find a parking spot in either of it's two lots around mid-day Saturday. Instead, we made our way up to take in the surroundings from Cadillac Mountain, the highest point on MDI. We were planning to return Sunday morning before the sunrise, so we wanted to have a general idea of what we would find when we were stumbling around in the dark. While you can drive all the way up to the top, it took us a little while to make it to the top as there was a traffic jam due to people waiting for parking spots.
From October 7th to March 6th each year, Cadillac Mountain is the first place in the United States to see the sunrise. It is a pretty popular activity in the summer, too. Because the number of people going before sunrise can fill up, the campground ranger recommended that we leave our campsite an hour before the sunrise to make sure we got a parking spot (with the drive to the mountaintop, arriving around 30 minutes before sunrise was the goal). There is also a parking lot just before the summit which faces to the southeast for sunsets, but we never got a chance to take it in during the evening due to the weather. It was very pretty during the day.
These are the views to the south from the lower parking spot: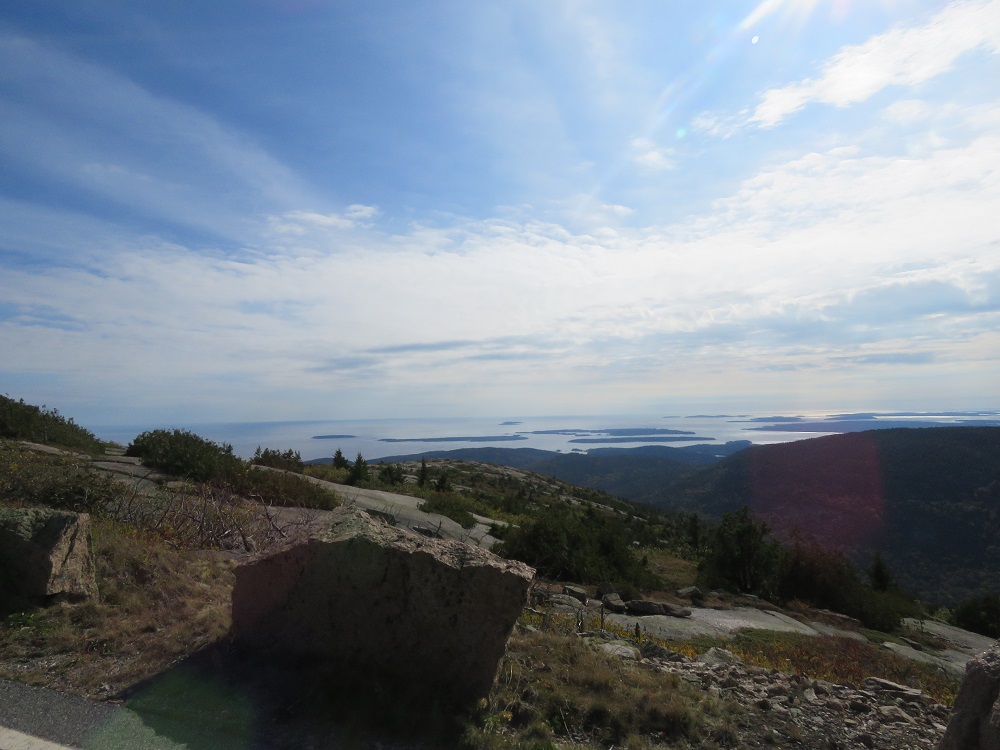 This is the view of Bar Harbor from the top: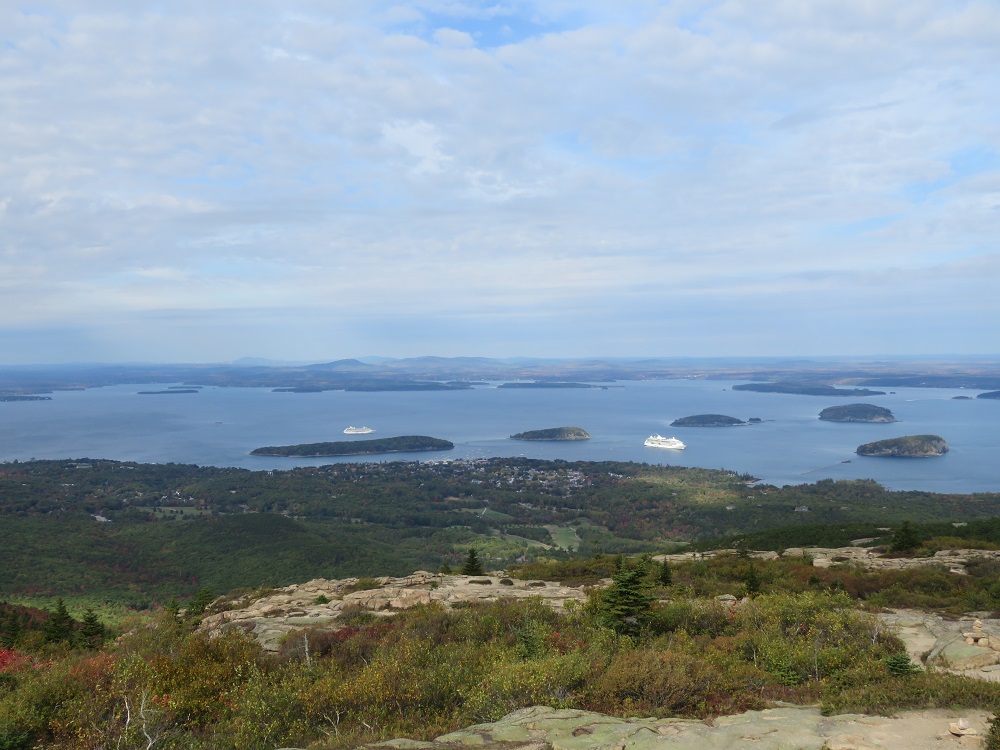 After we made our way down the mountain, we started our journey through the eastern portion of Park Loop Road. This turns into a one way road taking park visitors to Schooner Head Overlook, Sand Beach, Thunder Hole, Otter Cliff and Otter Cove. If you are here to see the coast of Maine or climb the Beehive, then this path will take you there.
We spent a while taking photos here and there, walking around on Sand Beach and exploring Thunder Hole. The weather was great and we weren't in a big hurry. We managed to finish up and make it back to the campsite before dark.
This is Sand Beach, one of the few cold-water, shell-based sand beaches in the world: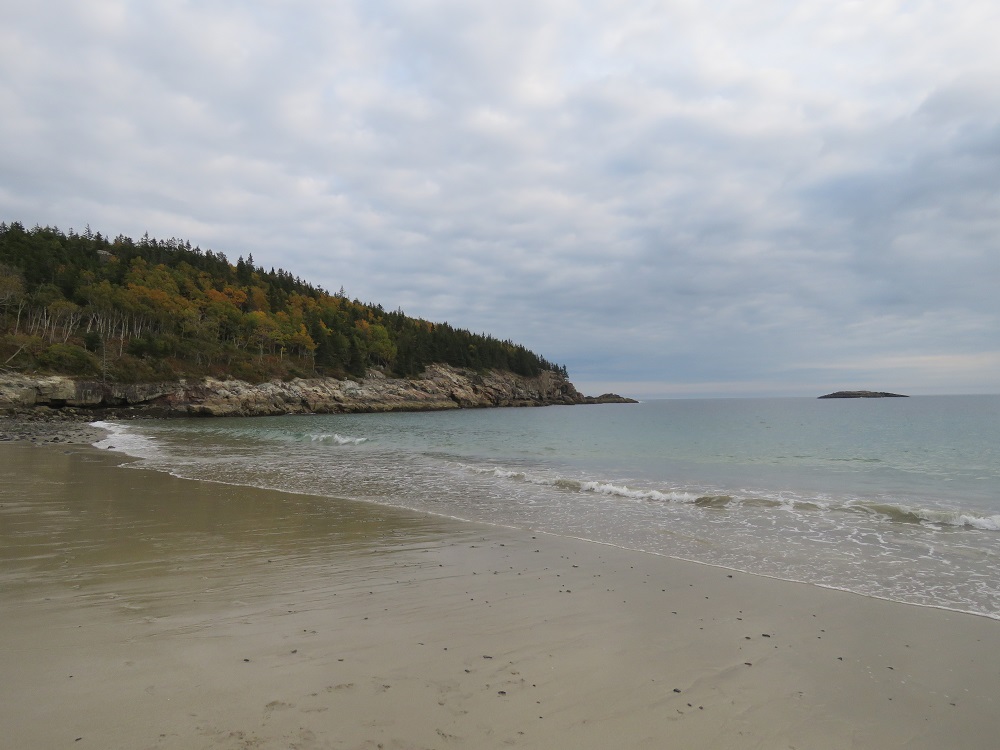 Overlooking Sand Beach is the Beehive, where a popular trail leads to the top of the 520 foot mountain.
While we were eating dinner at our campsite, we saw an ad for the Dog & Pony Tavern on an MDI map that said they had a bunch of TVs, so we assumed they would likely have the Michigan football game on. So after dark, we drove into Bar Harbor to catch the game. We found some other Michigan fans and watched the first half before making our way back to the campground. These fans had visited a few other bars looking for a way to watch, and could confirm that the Do & Pony was a great option for finding a variety of games on at once while visiting, as some of the other places in town only had a TV or two.
The alarm went off Sunday morning just after 5 AM. Not long after jumping in the car, we encountered fog. We were hoping that we still might be able to see the sunrise from Cadillac Mountain, but it was covered in fog too. We sat on a rock with everyone else for a little while hoping that the fog might clear, but to no avail. We only saw the rays of the sun peaking out from around the clouds once we drove down the mountain.
Since low tide was right around sunrise, we made our way down to Bar Harbor to check out the crossing to Bar Island. This is an island in Frenchman's Bay that is accessible by foot at low tide. The land bridge is found from Bridge Street and it is a short walk across. If you don't make it back before the water rises, you get stuck on the island until the next low tide (or you call the water taxi). As we walked across, we spent a while watching the seagulls, checking out the rocks, and dreaming about what it would be like to have a house on the ocean there. We didn't really spend much time on Bar Island (for fear of getting stuck), and we made it back in plenty of time. If you get there early enough, there is a 1/2 mile hike across the island.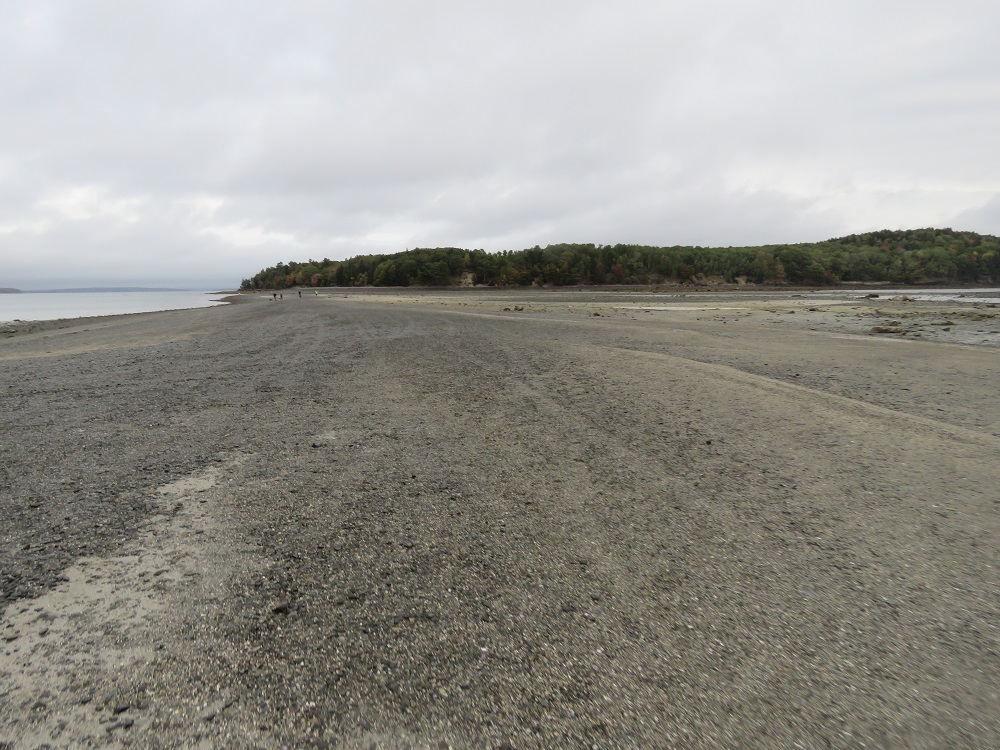 We made our way to Jordan Pond next. Since it was early, there was plenty of parking. We walked down to the lake and then along one of the carriage roads on the island. In addition to the beautiful scenery on the walk, we watched a baby squirrel peak out of a hole in a tree to scold us, in a rather memorable incident for us.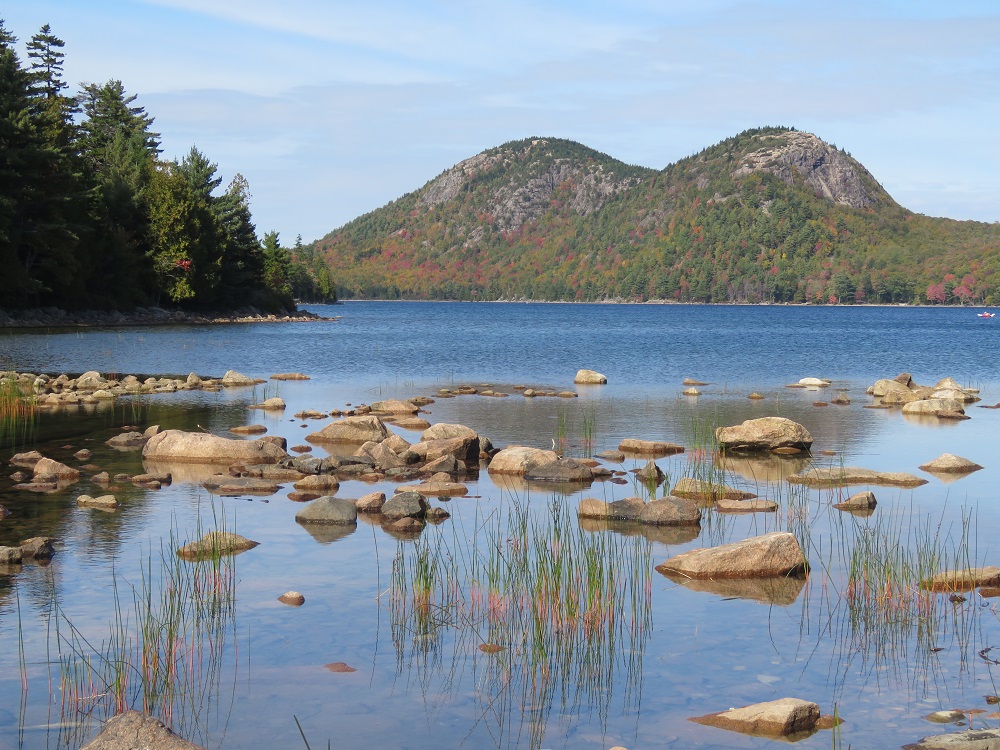 After a stop at the campsite for breakfast, we started our journey back to Thunder Hole. On the way, we saw a few people stopped on the side of the road at a lake and we realized that they weren't just looking at the leaves – they were watching a Bald Eagle perched on a log in the lake. We watched for a while as it moved from a log on the water to a perch in a tree. It really stretched the limit of our zoom, but what a fantastic sight!
Thunder Hole is a spot in the ocean where the waves crash into a small cave among the rocks of Acadia. The best time to experience the sound is two hours before high tide. We showed up then, but we weren't lucky enough to get to hear it. We suspect that the impending rain lead to a higher water level than normal, and if the water is higher than the cave, it doesn't crash and make the same loud noise. We'll have to try again another trip to see the spectacular waves and booming thunder sound it can make, but until then, we'll remember the sound it made Saturday afternoon.
It started to rain on us, so we started our drive over to Southwest Harbor. We wanted to go to the Bass Harbor Head Lighthouse on the other side of Mt. Desert Island as well as get a lobster roll. We stopped at Beal's Lobster Pier and ate on their dock. They've been in business for more than 80 years, and will even ship a lobster to you if you want. We had the garlic and the buffalo lobster rolls, which were excellent.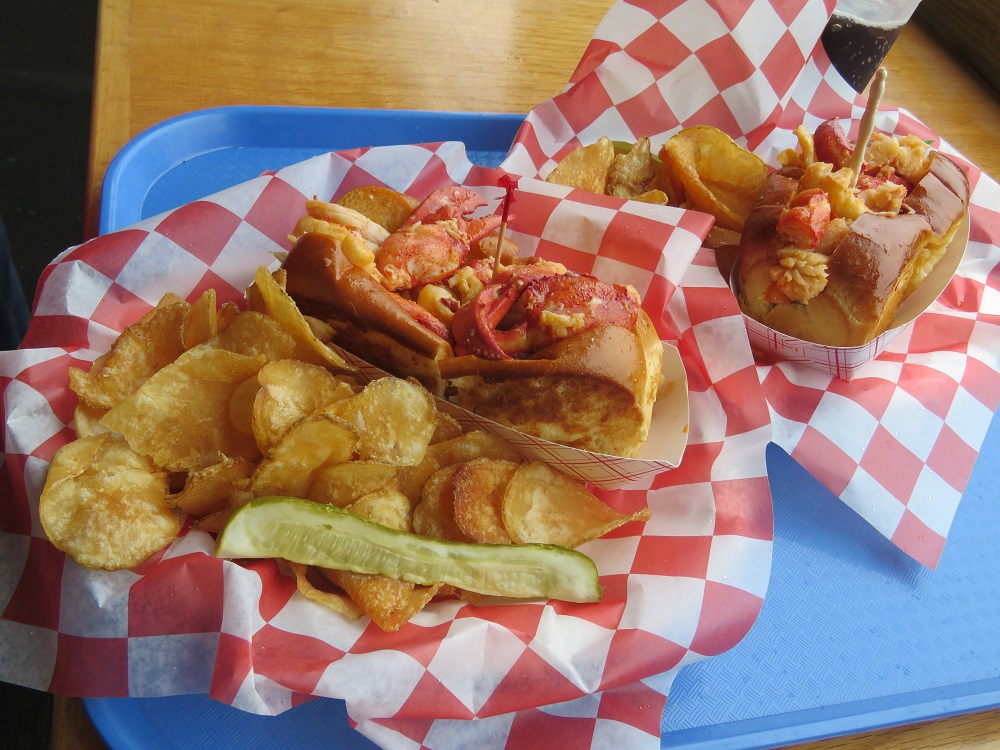 We managed to get over to the lighthouse before the post-rain crowd showed up, and got a parking spot right away. (On the way out, there was a long line since it is a small parking lot.) The lighthouse is the only one on Mount Desert Island and marks the entrance to Bass Harbor. It belongs to the U.S. Coast Guard. We walked down the southern path to get to the lighthouse to start, and then the northern path to make our way down some stairs to the rocks below (and a different view of the lighthouse).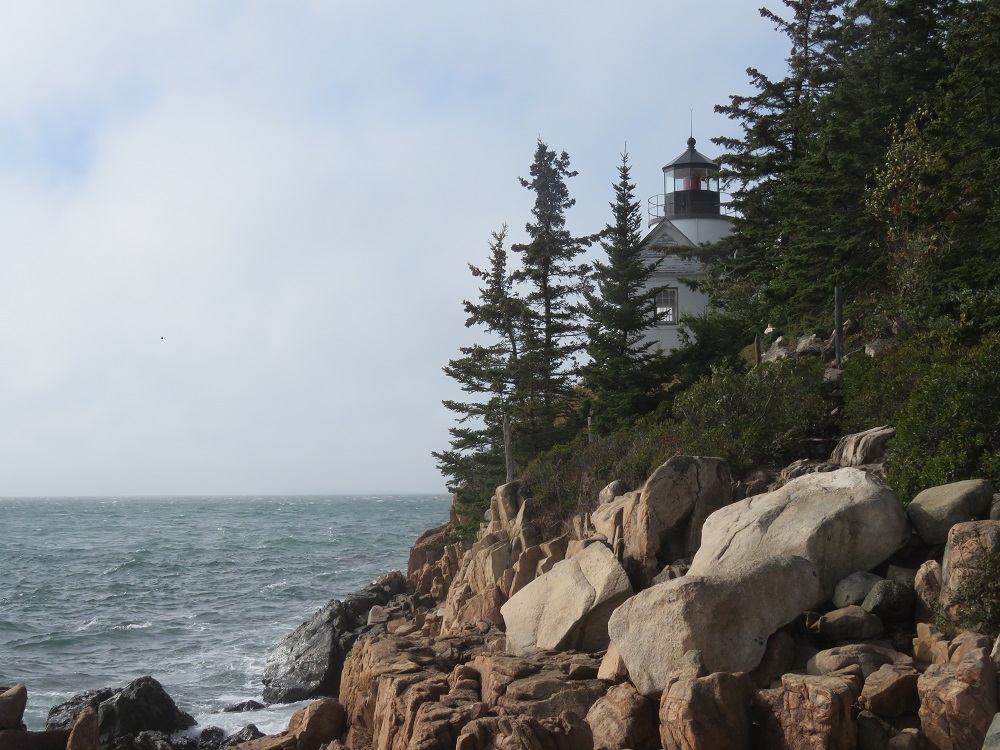 When we left, we drove our way back along the shore, passing Seawall Campground and spending a few minutes walking around the natural seawall accessible from the picnic area as well as the road. On our way back to Blackwoods, we also stopped at a little pond near the harbor in Somesville where there were a bunch of ducks. After taking a few photos and borrowing the library's wifi, we realized that the most photographed bridge in Maine was right behind us. Surrounded by fall foliage and reflecting across the tiny pond, it was a remarkable gem to discover.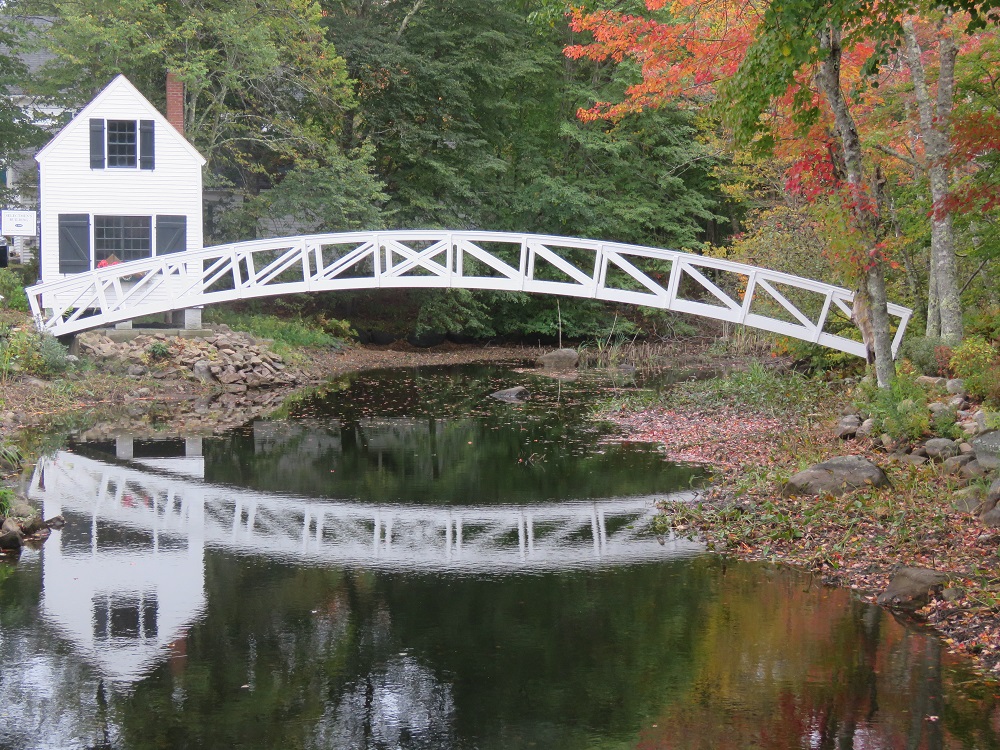 On our drive back, we stopped in to a bakery in Northeast Harbor to get some dessert. We chose a whoopie pie, considered a New England classic (and the current state dessert of Maine), and walked the main street of the small town.
After dinner and before bed, we debated whether it was worth it to wake up early again and try to catch the sunrise. The forecast wasn't good. It was supposed to be cloudy with humidity of 90+ percent. We were dismayed, but we set our alarms anyway.
At 4 AM when I woke up, it was cloudy but I could see the moon, so there was hope. As we rolled out of bed an hour later, we had no idea whether we were going to get to see the sunrise. We drove to Cadillac Mountain, and as we started our way up the road, we realized that there was an orange hue on the horizon and we were going to get to see the sunrise! When we got to the top, there were a few clouds but no fog and we were practically jumping for joy.
We made our way out to the overlook in our pajamas and sat down to enjoy the sunrise with everyone else. It was magnificent and even more special because we thought that we weren't going to get to see it. The Acadia sunrise is just one of the many amazing reasons to visit Acadia National Park.
I took way too many photos here, but here is one that captured the moment well:
On the way out of the park after a stop at Jordan Pond and packing up our campsite, we decided to hike up to Bubble Rock. This is a large rock on the edge of South Bubble that looks like it could fall over at any minute. But it has been up there since it was deposited by a glacier. It is a half mile hike from the Bubble Rock parking lot. We hadn't really done a hike in the park, and this short one before we left worked well for us. It's a bit of an uphill on the way to the rock, but otherwise a short and pleasant hike (we'd give it a 2.5 out of 5 for difficulty, with stairs and incline, but totally worth it for the fantastic views at the top!).
We left the park about 48 hours after arriving, sad that we couldn't spend more time there. But it was already noon and we knew that we had a 12 hour drive ahead of us (plus rain expected all through New England). Since it's not too far for a long weekend trip, we're hopeful that we can get back to Acadia National Park again next year! We took way more pictures than we could pack into this post, so stay tuned for more great photos!