We spent the morning of December 31st searching the Rudyard area of Michigan's Upper Peninsula for our first ever snowy owl sighting. As you can see from the photos, it was a success! We saw four snowy owls in around an hour.
Snowy owls are typically found in the Arctic tundra but some migrate south to Canada and the northern United States in the winter. In some years, snowy owls migrate farther south in greater numbers. This is usually referred to as an irruption.
I found out that the winter of 2017-2018 was a good time to see them after watching the bird-watching movie Big Year and doing some online research about them. Since I haven't ever seen one, I was excited that this might be the year. There were a few found near where we live in Philadelphia. We were also planning to be in the Upper Peninsula of Michigan briefly at the end of the year and this seemed like the perfect opportunity to see one in the wild. It happened!
We left Sault Ste. Marie around sunrise to make the drive down I-75 to the Rudyard exit. The thermometer in the car said it was a brutal -16 degrees Fahrenheit when we got started. By the time we got back, we were experiencing a heat wave: it was around -11 degrees.
Rudyard and Pickford are located about halfway between the Mackinaw Bridge and Sault Ste. Marie. There is a lot of farmland in the area and snowy owls sightings have happened there frequently in the past according to reports on the Cornell eBird website.
We didn't have to wait too long. We took the Rudyard exit off I-75 and then turned south on S Centerline Rd. We were scouring every possible perch in the area but didn't have any immediate luck. We made a left when we reached M-48 and then we saw our first on the south side of the road on a pole near the I-75 overpass. We had only been looking in the area for less than 15 minutes!
Our First Snowy Owl
We actually almost drove right by it at first. We weren't positive it was a snowy owl sitting on top of the pole. But we decided to stop and check it out anyway. As you can see from the below photo, it isn't always easy to pick them out on top of the poles.
We jumped out of the car and once we found it in the telephoto lens of our camera we knew we had found our first snowy owl! You can see the close up photo that we took of our first snowy owl above. After a bit of celebrating, we got cold and decided to jump back in the car, warm up, and continue driving.
Number Two and Three
There were a few recent sightings near Pickford so we decided to drive over there and keep looking. The second bird was sitting just south of the intersection of M-48 and M-129 north of Pickford.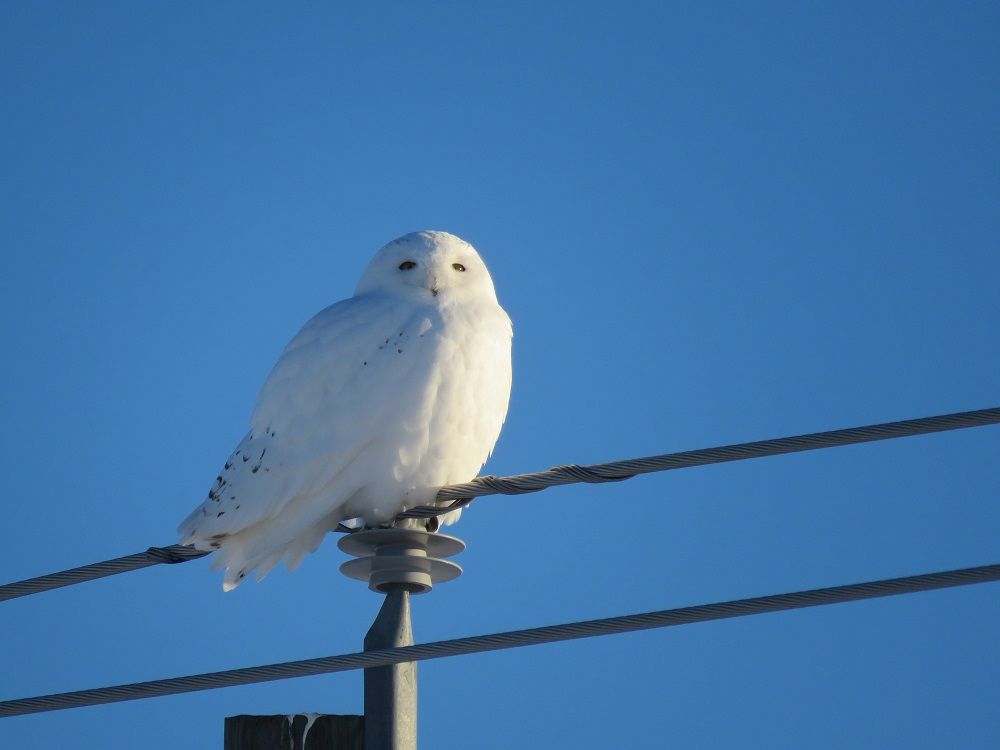 The third one was sitting on a pole by a chiropractor. We had found our second snowy owl in a mile just north of Pickford.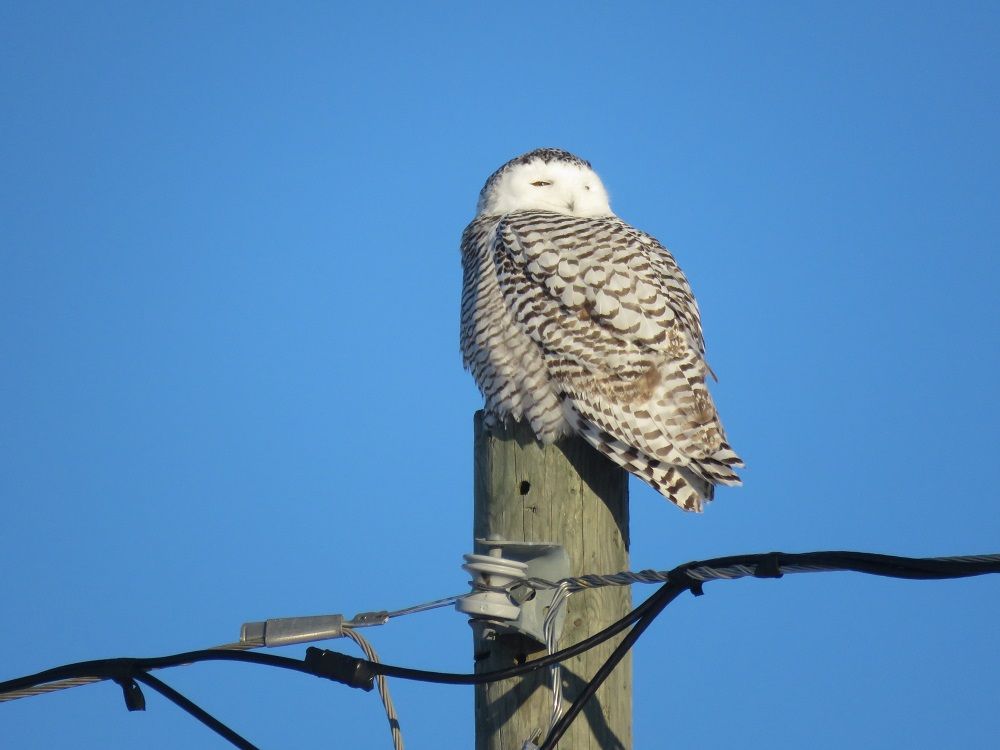 The Last Snowy Owl of the Day
We decided that we were running out of time and should backtrack as we kept looking. The final one was sitting on a pole in a field as we were about to return to I-75. I noticed that there was a small white speck on top of a pole some distance across the field that could not be found on any of the surrounding poles.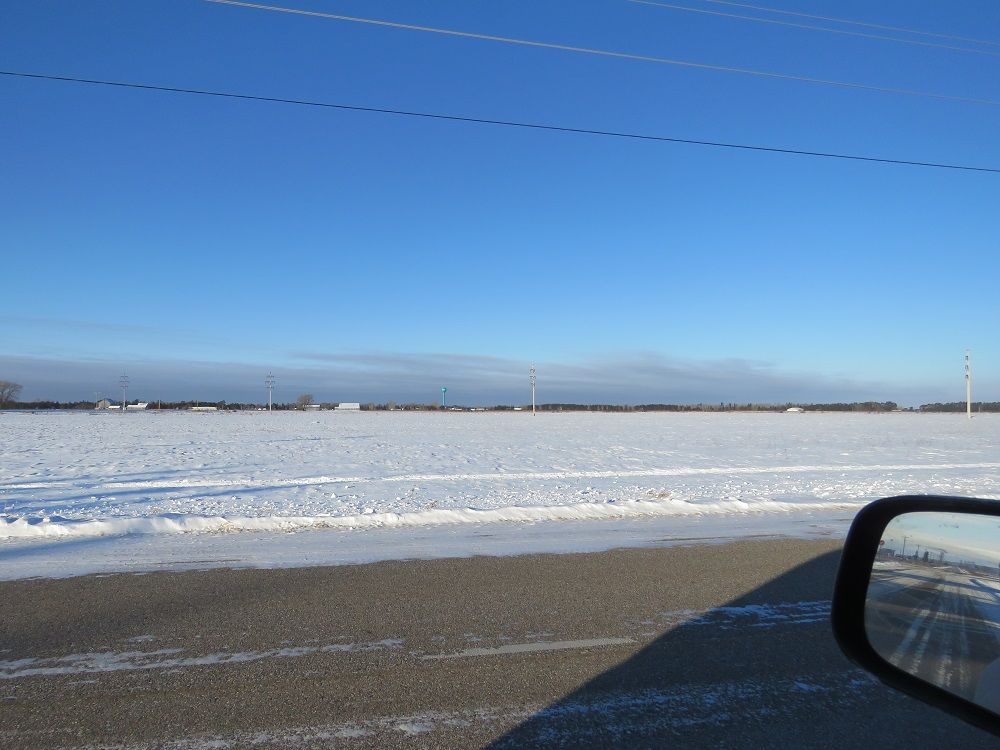 Can you see it in the photo? We moved down the road a bit closer and brought out the telephoto lens. It was clear that it was our fourth snowy owl of the day.
We couldn't get a great picture because the distance was so far and we haven't bought a tripod yet. But after realizing how important it is when trying to take these photos it will be one of our next purchases.
We were pretty much out of free time for the day and decided to call it quits and head back to Sault Ste. Marie. We had a family holiday event to attend and we had already accomplished what we set out to do. I don't think we will ever forget the morning, though. I was definitely celebrating our success like a giddy schoolboy for the rest of the day.