We made a quick trip north of Philadelphia to Tyler State Park in Bucks County for July 4th today! We're still getting used to paddling our new Advanced Elements inflatable kayak so we thought it would be a great opportunity to get some more practice. Plus, it is over 90 degrees so spending some time at the river sounded much cooler than hanging around in the city for the fireworks.
Tyler State Park is a 1,711 acre Pennsylvania state park in Newtown and Northampton Townships. To get there, we headed north on I-95 out of the city and it was only a few miles to the west of the highway. Neshaminy Creek cuts through the park on its way to the Delaware River.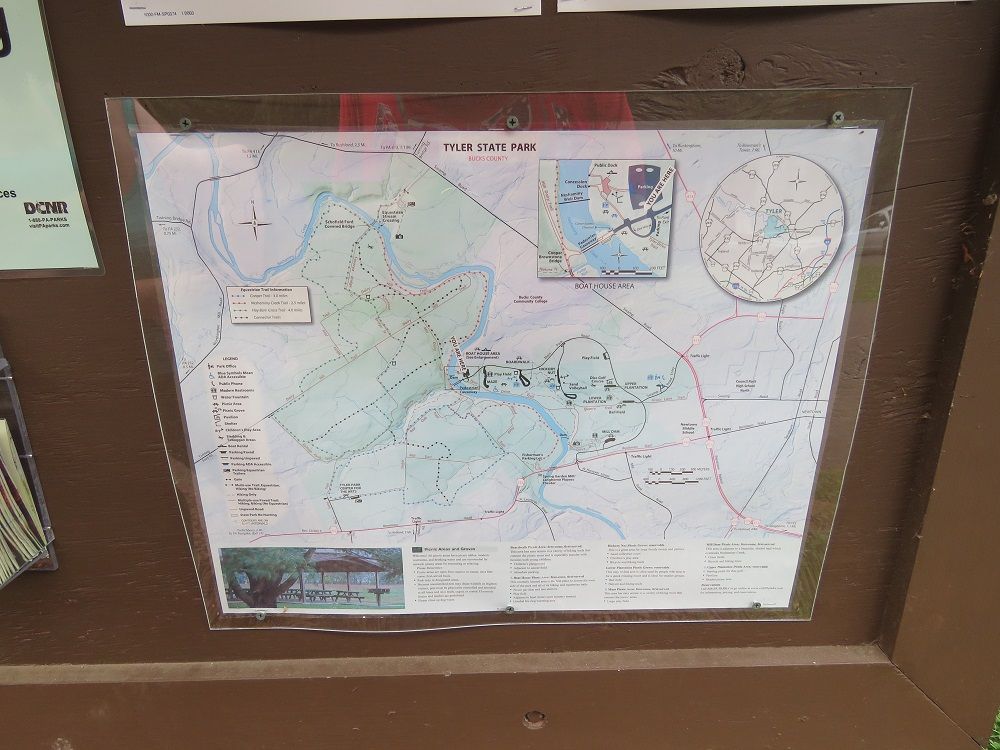 Once you enter the park, the drive down to the river passes a few different fields. We saw a young deer and a bluebird in the fields on the way out (sorry, we had put the camera away at this point!). We did take a picture of one of the fields on the way in however.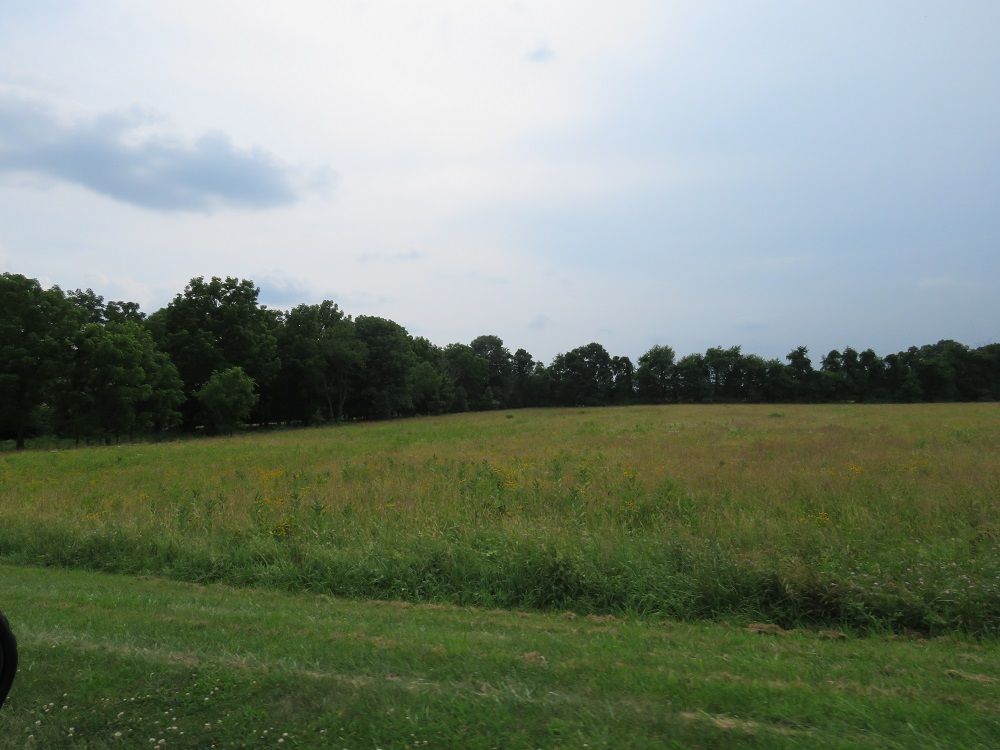 Since we were getting there late in the afternoon, we headed straight for the boat launch area. We managed to follow the signs without any problems. They have a boat rental there where they rent stand up paddleboards, canoes, and kayaks (both single and double). The cost is $20-30 for the first hour and between $50-80 for up to 4 hours (depending on the type of boat that you are renting). But we have our own kayak and gear so we didn't have to worry about this.
There is a small dam and walkway bridge just below the boat launch, which was popular for fishing and swimming (despite the no swimming sign). This isn't a full drive down boat launch – if you are bringing your own canoe or kayak you are going to have to carry it down a grassy strip of land. Boats go upstream from there, which wasn't a problem for us due to the slow current.
We took a quick walk around first to orient ourselves. On our way back up to the car to grab the kayak, we saw this American Robin which had just found a worm. It took a couple pictures for us to get a great one to show you: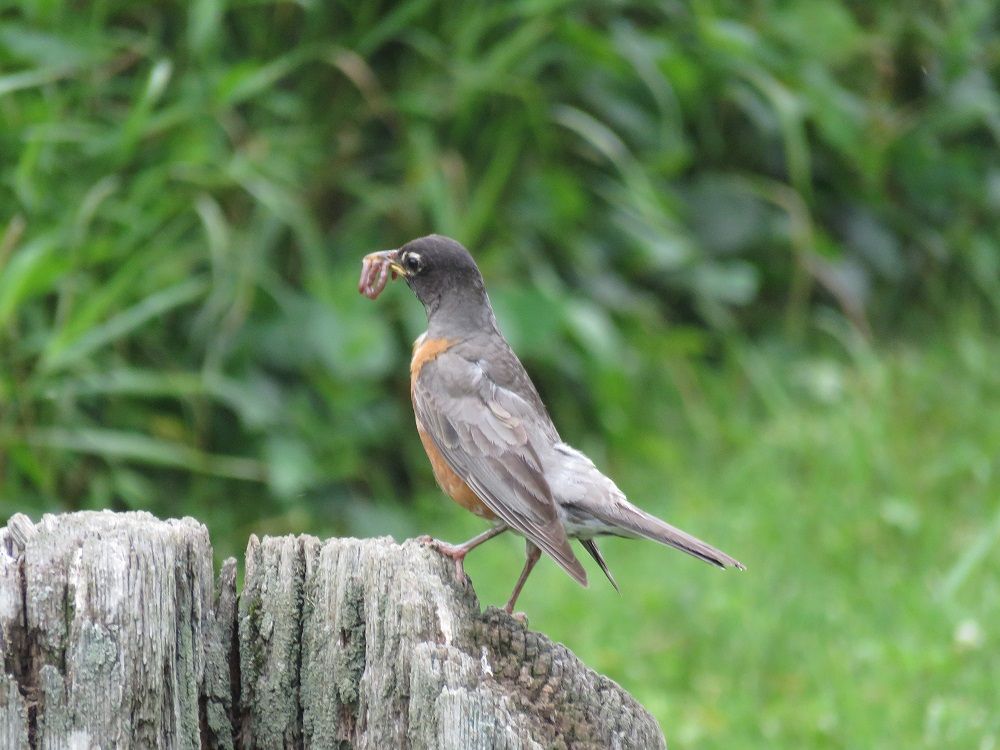 We had two different people comment on our kayak, one just before we were about to inflate it and one while we were on the water (they were in a rental canoe). Everyone thinks it is fantastic.
We timed it this time to see how fast we could get it ready for the water. We took a video to be able to show people and it lasted just over 7 minutes from taking it out of the bag until it was completely inflated. It really only takes us about 3 minutes to blow it up with our Intex manual air pump – the rest was talking into the camera and unfolding it.
We had a great afternoon on the water, rowing upstream and then just drifting back down. It was July 4th, so there were plenty of people on the water in the park, but we still managed to enjoy the serenity of the river despite its higher than typical usage by people.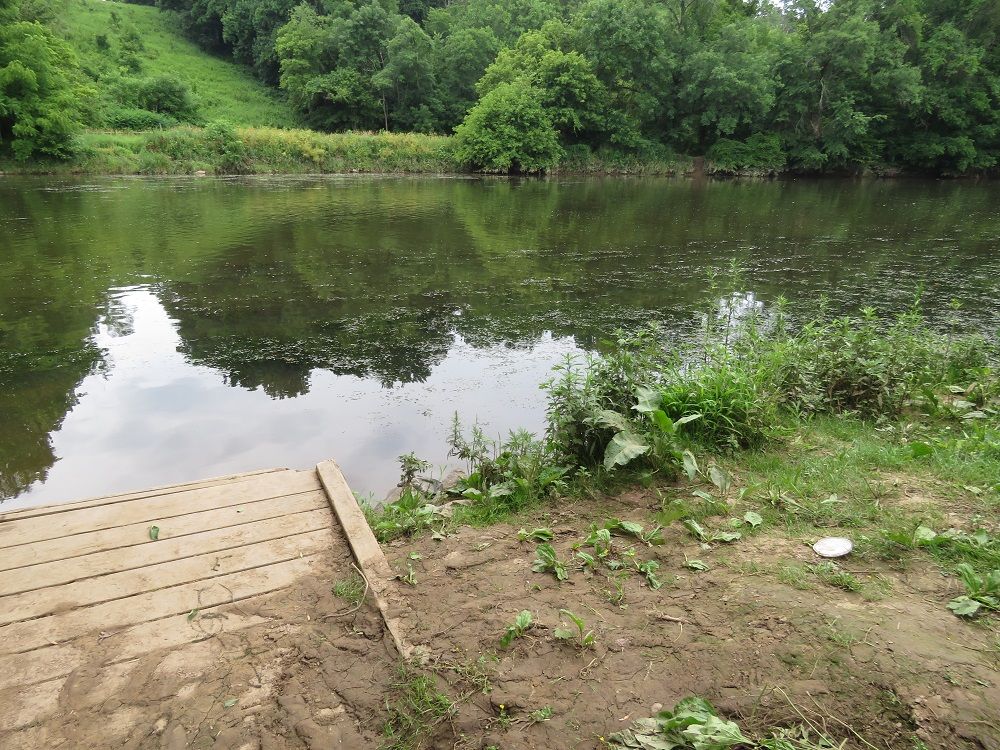 How many people were there? Well, the rangers had put out signs instructing people to use one of the higher parking lots because the two parking lots closest to the river were full. We decided to ignore the signs because it was late in the day and we needed to unload the boat anyway (rather than drag it so far) and it worked out well because we got a parking spot near the boat launch. But if you are planning to use one of the PA state parks near Philly on July Fourth, you should plan to get there early. For example, there was a sign on I-95 as we were driving up around 3:30 PM that Neshaminy State Park was closed because it was at capacity (too many people/cars!). Tyler worked out well for us though!
We didn't have time to make it to the Schofield Ford Covered Bridge, which we hear is one of the main attractions in the park. But since it isn't too far away from us, we will be back to take a few pictures of this bridge built in 1874 sometime soon.
We're sitting at home now enjoying some BBQ and waiting for the fireworks. We can't wait to tell you about our next adventure in a park!