Mormon Row is a popular destination within Grand Teton National Park. The barns are set in front of a backdrop of the Grand Teton mountain range producing incredible photographs amidst the scenic views. The T.A. Moulton Barn here is considered one of the most photographed barns in America, if not the world.
Originally known as Grovont, this area was settled in the late 1890s by Mormons from around Salt Lake. By the 1950s, many families in the area had sold their homesteads to the park. The Mormon Row Historic District was added to the National Register of Historic Places in 1997. The two most photographed barns in the area were built by the Moulton brothers.
T.A. Moulton Barn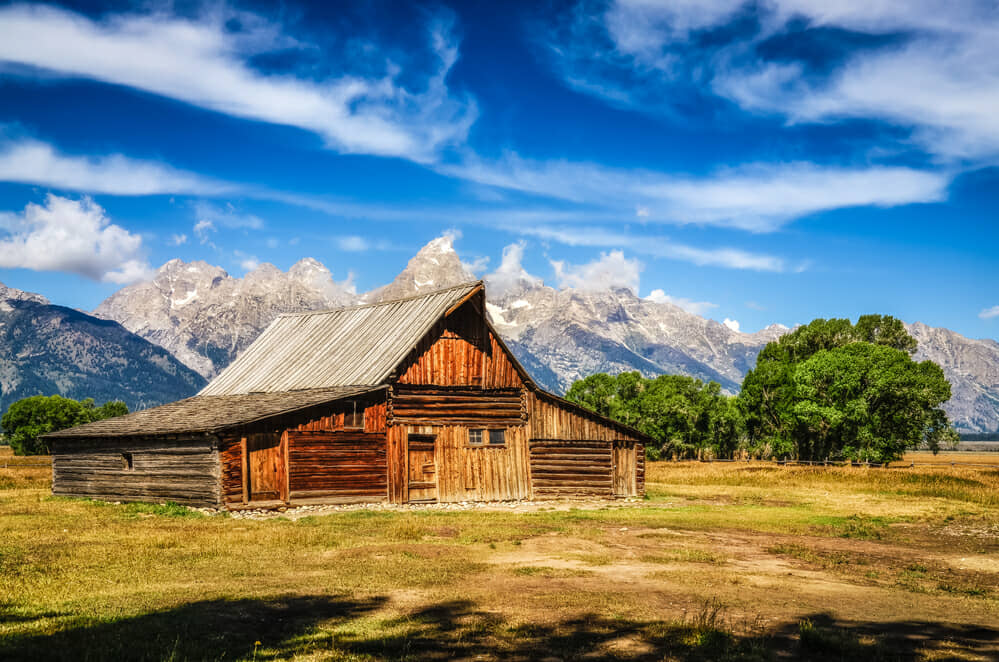 The barn, which sits on the west side of the road at Mormon Row, is the only building left in this homestead. Thomas Alma and Lucille Moulton settled the land in 1910 but T.A. Moulton took 30 years to build the barn.
John Moulton Barn
The modern pink stucco home of John and Bartha Moulton and their barn still stand north of the T.A. Moulton Barn. The home was inhabited seasonally until the late 1980s, and is now part of the national park. This is probably the second most photographed barn along Mormon Row.
Mormon Row Location
When driving north from Jackson on U.S. Highway 191, go past Moose Junction and turn right at Antelope Flats Road. In approximately 1.5 miles, you will see a north-south dirt road and a pink stucco house with a small dirt parking area.