Delicate Arch in Arches National Park is the largest free-standing arch in the park and one of the most famous geological features in the world. It is depicted on Utah license plates. The arch stands 52 feet tall and has a light opening of 46 feet high and 32 feet wide. The iconic photos of Delicate Arch are taken at sunset and it is popular with both photographers and visitors then.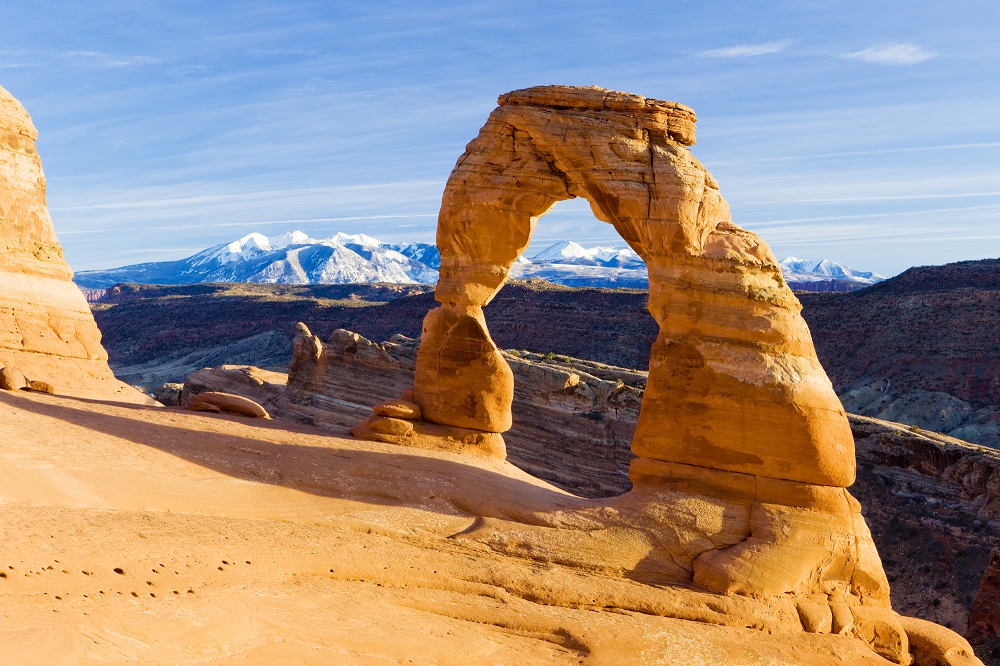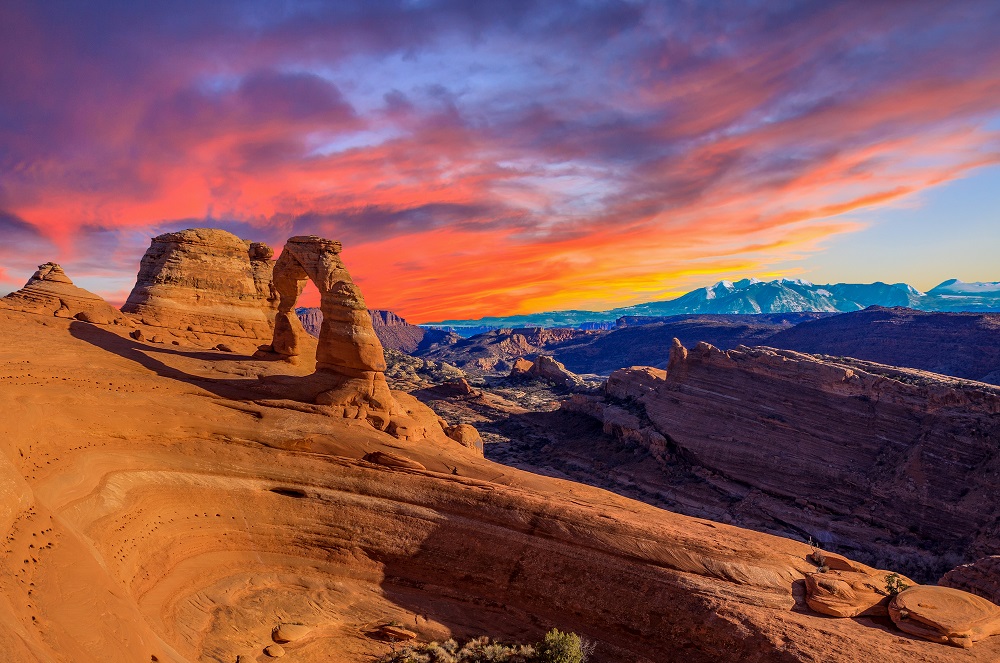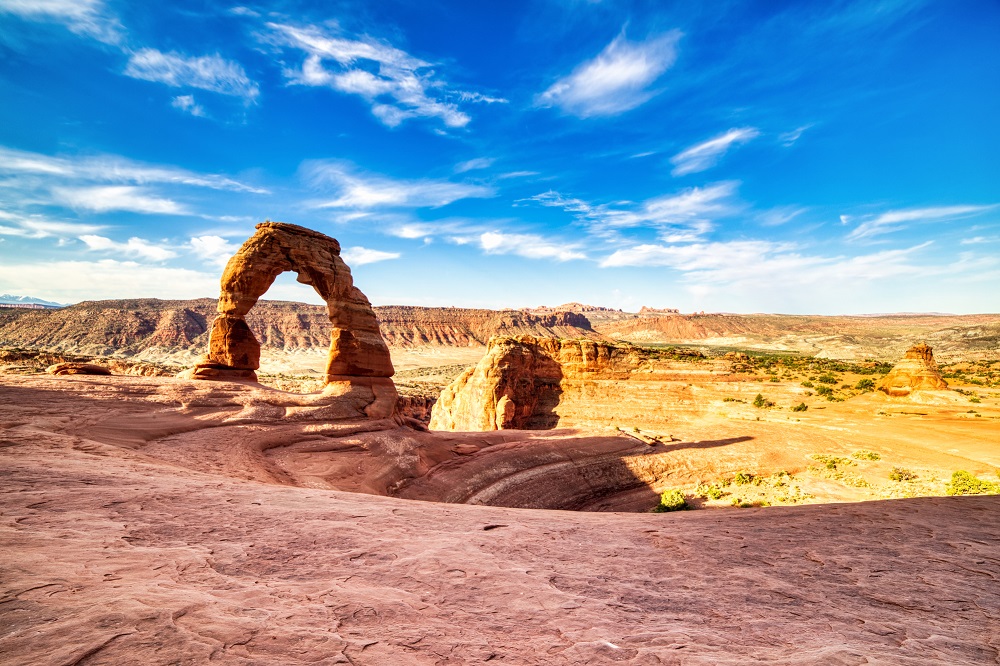 Where is Delicate Arch in Arches National Park?
Delicate Arch is located in the northeast section of Arches National Park past Balanced Rock and Wolfe Ranch. From Moab, enter the park at the entrance station and continue on Arches Scenic Drive past the turnoff for The Windows. The turn for Delicate Arch road will be 2.5 miles from there on the right. The road will take you west to either the trailhead parking or the viewpoint parking.
How Long is the Hike to Delicate Arch?
The trail to reach the base of Delicate Arch is a roundtrip of three miles. If the parking lot at Wolfe Ranch is full, the roundtrip distance to Delicate Arch is instead five miles as guests need to walk one mile along the road to reach the trailhead.
How hard is the Delicate Arch hike?
The national park service lists it as difficult and recommends that you take at least two quarts of water. The trail climbs over rough and steep terrain with an elevation change of about 480 feet. The trail can be extremely hot in the noon sun. The trail can be packed with ice and snow in the winter after a snowfall and the park service recommends traction devices and trekking poles. Only the trail around Wolfe Ranch and the Ute rock art panel is wheelchair accessible. Other sites list it as of moderate difficulty.
Is Delicate Arch better at sunrise or sunset?
Sunset is the time to visit there if you are trying to replicate the iconic photos of this geological feature. However, it is also the most crowded. Sunrise offers the opportunity to see it with fewer people.
Can you drive to Delicate Arch?
Delicate Arch is about a twenty minute drive from the Arches visitor center. There is not a good view from the road.
Delicate Arch can be seen from the Lower Delicate Arch Viewpoint which is 100 yeards from the parking area. Delicate Arch is approximately one mile from this location. The Upper Viewpoint is a half mile (one way) and offers a less obstructed view. The Upper Viewpoint is separated from Delicate Arch by a canyon and has an elevation gain of 141 feet between the parking lot and viewpoint.
The trail to reach the base of Delicate Arch is 1.5 miles (each way) and the trailhead is a separate area from the viewpoint parking. The elevation change is 480 feet.