A 56 mile section of the Southern Outer Banks of North Carolina. It is composed of three undeveloped barrier islands including two historic villages, the Cape Lookout Lighthouse, and Shackleford's wild horses.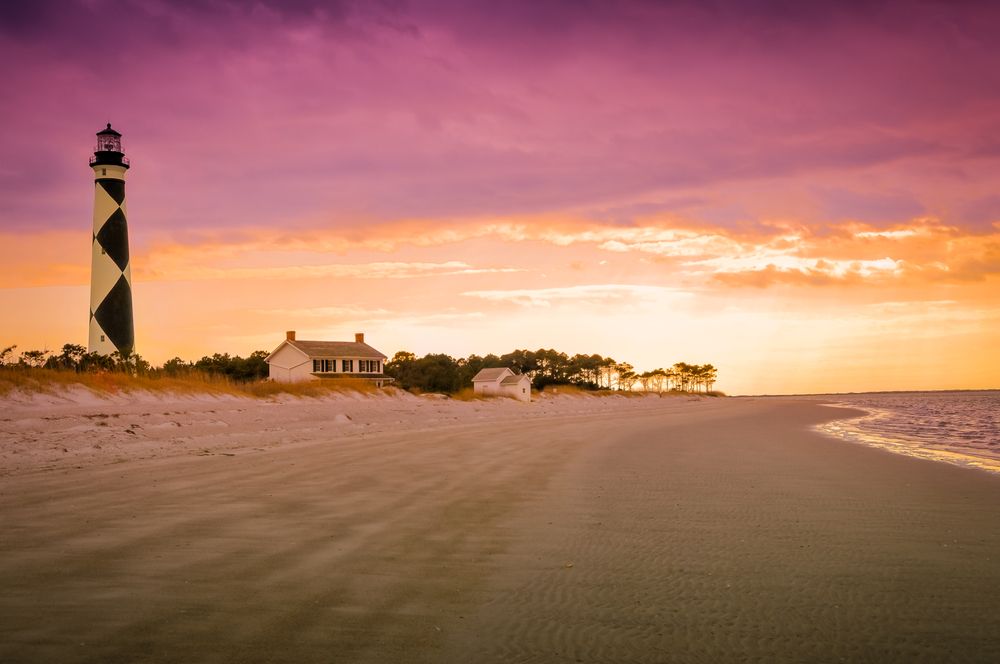 Cape Lookout and Cape Lookout Lighthouse
Cape Lookout at the southern end of the Core Banks is not accessible by driving.
The Cape Lookout Light is a 163 foot high lighthouse known for its distinct black and whit diamond pattern that still operates, flashing every 15 seconds and is visible to a distance of 12-19 miles out to sea. It is open for climbing the stairs to the top from around mid-May to mid-September. The original Light Station was built in 1712 and the second lighthouse was completed in 1859.
The Cape Lookout Coast Guard Station is between Cape Lookout and the Cape Lookout Light. It was built as a lifeboat station in 1916, and subsequently provided rescue services in the Cape Lookout Shoals, a significant shipping hazard that extends ten miles into the Atlantic. It closed in 1982 and was listed on the National Register of Historic Places in 1989.
Shackleford Banks
This is the southern-most barrier island in the national seashore, located just south of Beaufort NC. It is home to more than 100 wild horses, although it is not known how the horses ended up on the island. Shackleford Banks can be reached by the Island Ferry Express or private boat.
Great Island
This is a cabin camp of 23 rustic, wooden beachfront cabins with porches on South Core Banks. It can be reached either by personal boat or the vehicle ferry which crosses Core Sound.
Long Point
Long Point has a cabin camp with 10 rustic, wooden beachfront duplex cabins. Visitors can rent one half (sleeps 6) or the whole duplex (sleeps 12). It is reached by a vehicle ferry from near Atlantic.
Portsmouth Village
A 250 acre historic district on the National Register of Historic Places which was established in 1753 and was once a thriving port town and fishing village. It is on the north end of the national seashoreIt is only accessible by boat, with the park service maintaining a list of authorized ferry services. There are exhibits in several buildings that have survived in the village and are open to the public seasonally. Guided walking tours of the village are offered seasonally.