Cumberland Island National Seashore preserves the beaches, maritime forests, marshes and historic structures of Georgia's largest and southernmost barrier island. It was established as a national seashore in 1972. The passenger ferry service is capped at 300 visitors to Cumberland Island per day.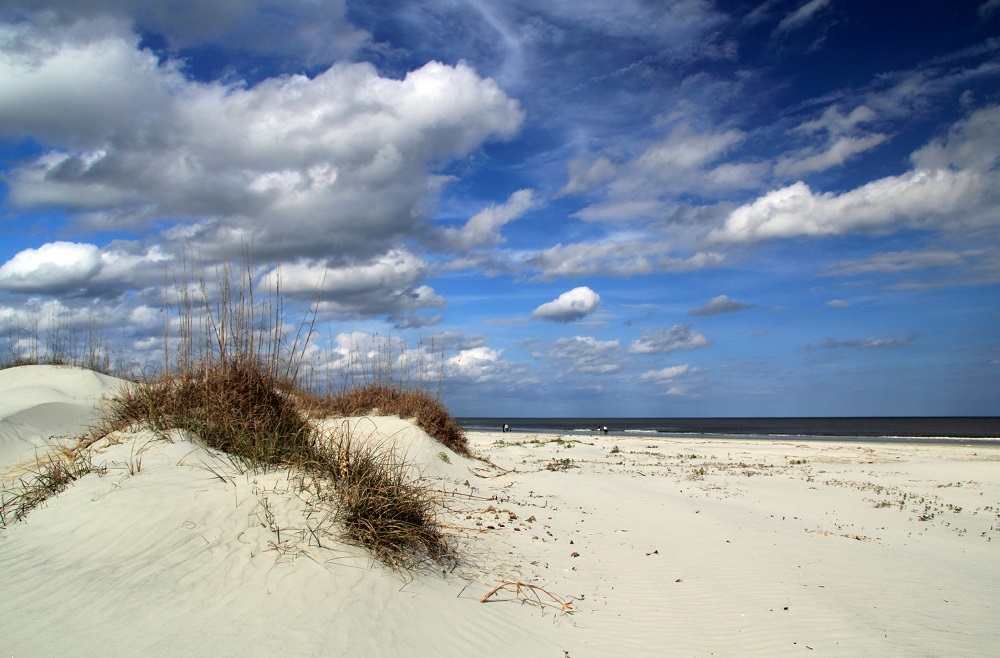 Cumberland Island National Seashore Visitor Center
It is located at St Marys, Georgia which is accessed by State Route 40 off Exit 3 of I-95. A passenger ferry departs from the pier with stops on the southern end of Cumberland Island.
Cumberland Island Ferry
Near all visitors to the national seashore arrive via the passenger ferry. It is operated from downtown St. Marys throughout the day, offering round-trip transportation to Cumberland Island. The ferry ride is approximately 45 minutes to the island.
Dungeness Ruins
The ruins of the Carnegie family mansion on Cumberland Island are preserved here. The first house on this property was built in 1736 as a hunting lodge by James Oglethorpe, who gave it its name. A 4 story tabby mansion was built by the widow of Revolutionary War hero nathanael Greene here in 1803 (it was abandoned in the Civil War and burned in 1866). The brother of Andrew Carnegie – Thomas M. Carnegie – built a 59 room Queen Anne mansion here. It was destroyed by fire in 1959.
Sea Camp Beach and Ranger Station
This is the closest beach to the ferry dock, and the area also contains a campground and ranger station.
Plum Orchard Mansion
This is a 20,000 square foot mansion in the Georgian Revival style that was built in 1898. It is eight miles from the sea camp dock.
Ice House Museum
Located near the Dungeness ferry dock, it is now a museum covering the human history of the island. It was originally an ice house built by Thomas and Lucy Carnegie, used to store blocks of ice brought from the north by ship before ice making equipment made it obselete.
The Settlement
This is a section of the northen end of Cumberland Island that was settled by former slaves in the early 1890s. The First African Baptist Church is here, established in 1893 and rebuilt in the 1930s, 17 miles from the Sea Camp dock.
Wild Horses
Cumberland Island horses have been brought to and removed from the island numerous times, with island landowners often keeping them as free-ranging livestock. By the time the land was acquired by the park service, they had become feral, living on their own on the island.
Cumberland Island National Seashore Camping
Reservations are required to camp in the national seashore. There are 18 sites at the Sea Camp Campground, 10 sites at the Stafford Beach Campground, 4 sites at the Hickory Hill Wilderness Campground, 4 sites at the Yankee Paradise Wilderness Campsite, and 4 sites at the Brickhill Bluff Wilderness Campsite.