Fire Island National Seashore is a 26 mile section of the barrier island known as Fire Island which is separated by Great South Bay from Long Island. It was authorized by Congress in 1964 but established in 1984. Among its gems are a 300 year old holly grove called the Sunken Forest and the William Floyd Estate, home of a signer of the Declaration of Independence.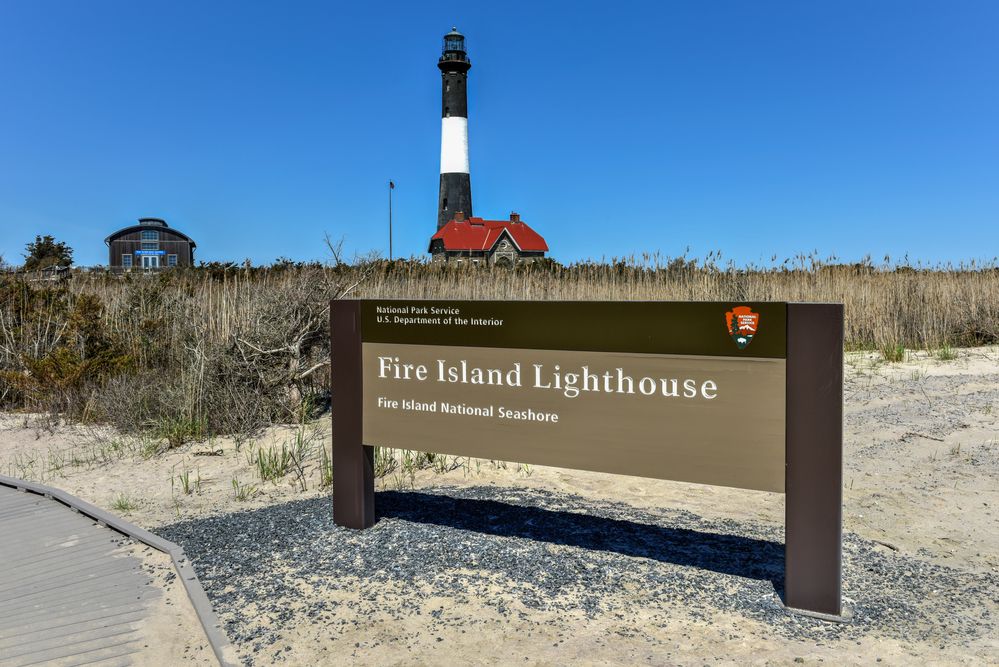 Fire Island Lighthouse
The first lighthouse was completed in 1826 at the end of the inlet, but the westward migration of sand puts the inlet six miles west of this site presently. A new tower was lit on 1858. It was converted to electricity in 1939, and it was decommissioned in December 1973.
Fire Island Wilderness
This section of the park is located at the southernmost end of William Floyd Parkway, next to Smith Point County Park. The area extends from the Fire Island Wilderness Visitor Center to Watch Hill, and contains more than 1300 acres which were designated initially by the Otis Pike Fire Island High Dune Wilderness Act in December 1980.
Fire Island Ferries
Fire Island can be reached by the Fire Island Ferries, which offers a 30 minute trip to seven western towns of Fire Island. The ferry provides access to the Watch Hill Visitor Center from the Watch Hill Ferry Terminal, Sailor Haven Visitor Center from the Sailors Haven Ferry Terminal, and other sections by the Fire Island Ferry Terminal. Access to sections of the national seashore can also be reached by water taxi or the two bridges.
Captree State Park
A 340 acre state park on the eastern tip of Jones Beach Island south of Captree Island. It overlooks the Fire Island Inlet and the western section of Fire Island. It is reached by the Robert Moses Causeway.
Robert Moses State Park
A 875 acre state park that attacts nearly 4 million annually to the five miles of shoreline at this ocean beachfront park. It is located partly on Long Island and partly on Barnhart Island. The Robert Moses Cuaseway and the park provide access to Fire Island National Seashore.
Smith Point County Park
This is a beachfront park on the east end of Fire Island owned by Suffolk County. It is accessed by William Floyd Parkway, which crosses Narrow Bay on Smith Point Bridge. It provides access to the national seashore's wilderness area.